Planning a corporate event that's on the horizon can be a daunting task. In fact, we KNOW it's a daunting task, especially if you haven't booked a venue for that purpose before, or planned a launch party, Christmas party or client event in the past.
Today, Michelle Jakubowska of Alumbra – a sleek cocktail party hot spot and a favourite with corporate celebrations – shares her expertise with those about to embark on the corporate event journey. 
Having had her mitts all over countless corporate events – gala dinners, awards nights, launch parties and end of year events – Michelle has a wealth of experience to share, whether it's must dos, common mistakes, and trends for the rest of 2017.
The Alumbra team's top 'Must Dos' for corporate events


Have a goal, and approach your budget wisely
First things first: have a clear brief. Know in your mind what the event needs to achieve, and whether you have any specific requirements from the get-go. Huge presentation? Intricate lighting? Have a vision for your branding to influence the event styling? Know this, and exactly what your budget is.
When a client is clear with their requirements and their budget, that's when the team at your venue can kick into gear and really build something amazing out of your vision.
According to Michelle, "We can always get more bang for their buck. Liaise with your contact at the venue, and they'll break down each element of the budget and find where we can reduce costs. A cocktail on arrival, adding a dessert element, things like that."  
But that starts with a clear brief, and knowing your "key requirements", as Michelle puts it. What could this entail? Your ideal dates (provide two or three to be safe!), ideal budget, event style (cocktail or sit-down), any dietary requirements from guests, guest numbers (demographics help too!), whether speeches and presentations are necessary, whether you require event engagement (media walls, photographers, photo booths), any accessibility requirements, as well as a deadline for a proposal. 
Think about your food and beverage budget
One of the questions the VenueNow team is most frequently asked by customers is 'how should I divide my budget between food and beverages?'
"Budget for beverages first, and then food," is Michelle's recommendation.
"Beverages are the largest component of your catering budget – think 60% drinks and 40% food. They're more costly than beverages, so keep that in mind."
Besides that, some events will only need a short canapé service priced at $4 a canapé – compare that to a beverage package for three hours. Now that's a price difference worth taking into consideration.
Whenever possible, visit the venue before booking it
"Always see the venue!" says Michelle "Go to the venue for a site inspection with the team and, if the venue is open for trade, book yourself in for dinner and drinks. You'll get to see the vibe, get a feel for the environment, and see the service as well."
We couldn't agree more. VenueNow stats say that around 80% of customers that see the venue they're interested in will end up booking that venue. Experiencing a space in the flesh and seeing it with your own eyes is the best way to judge whether it's actually the perfect venue for you.

Watch out! Common pitfalls and missteps


It's not all cocktails and canapés
One of the most common pitfalls Michelle sees is when clients fail to consider the other elements of an event that will need to fit into their budget.
Food and beverages are the biggest components (and the most fun!) but there's also security to consider, as well as lighting, lighting operators, entertainment – and it'll all depend on the event and what it requires.
Again, a clear goal and objective for the event is absolutely vital.
We repeat: be specific, and communicate your goals
This is just another way of saying 'have a goal and know what it is', but it's worth repeating.
Without a clear event brief, the team at your venue – whichever it may be – can't be as specific as they would normally be regarding what the venue can achieve logistically, and operationally. This can end in disaster.
"Initially a client's requirements might be A, B and C but, without a clear goal and a brief, closer to the night the requirements go out the window. Communication is absolutely key, and it means our team can communicate what might need to be altered."
What's trending in corporate events?


Turn heads, make an impact
Rather than a specific styling trend, one thing Michelle has found clients are asking for is truly unique and striking design for their event styling.
Balloon installations are popular at the moment, and instantly make an visual impact. UV parties, high-impact branding, styling joining forces with entertainment – it all makes for a memorable corporate event and, as a result, a successful event.
This high impact styling can extend to aspects of an event that might be surprising. For instance, the endlessly popular food station – why not make a hanging dessert station? The recent AFLW Brownlow after party – held at Alumbra – featured a dessert station suspended in mid-air, thanks to some ingenious rigging from the ceiling.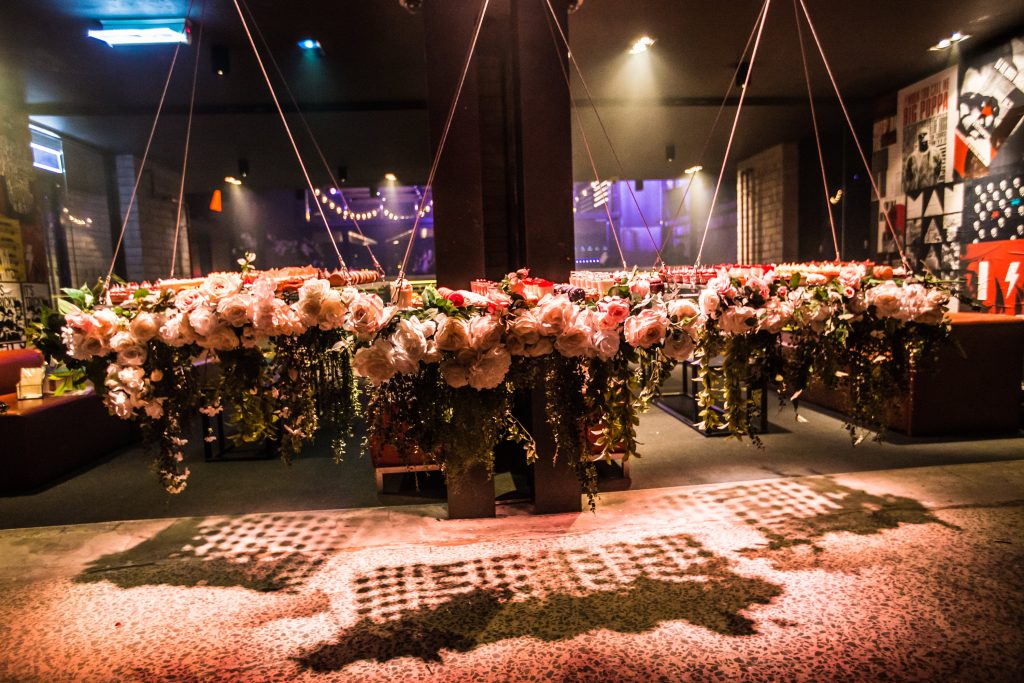 Michelle recalls a couple of Origin Energy events for 1000+ guests that embraced the unique styling route. One was a Hawaiian themed event, complete with tropical styling and the other Great Gatsby-styled event, featuring as much opulence as you would expect. And for a TPG event? A delightfully OTT circus themed soirée. 
Here we are now, entertain us!
What's popular? When it comes to events hosted at Alumbra that need to make an impact, lavish celebrations with equally lavish entertainment, it's all roving entertainers, fire twirlers, aerial performers according to Michelle. When it comes to general events however, bands work really well on the venue's stage. But again, it really depends on the vibe YOU want for your event and what the event needs to achieve.
Get your drink on!
"Generally clients will want a beverage package over a bar tab."
Michelle is of the opinion that clients prefer tray service for beverages – there's no need for guests to line up at the bar in order to access a bar tab. And obviously delays at the bar are frustrating for larger events when guest numbers are high.
And aside from avoiding those pesky wait times, a beverage package means customers receive a higher range of beverage options, and more of that aforementioned "bang for their buck." Unlimited service for the duration of the package? Yes, please.
You know what? Now that you're full of inspiration and ready to start planning a corporate event, launch party, end of year event or EOFY celebration, it's time to find a venue.
Looking for an event venue to hire?
VenueNow has you covered with over 2,000 venues across Australia ranging from large event spaces to small meeting rooms. Find your perfect venue for hire faster than anywhere else.
Call our support team on
1300 647 488 during business hours
AEST or chat online.
© Copyright VenueNow 2020 | SPARE GROUP PTY LTD | ABN 22 607 830 302