It's not many venues that could one minute be the setting of a winemaking workshop – complete with forklifts scooting about laden with barrels of wine – and the next, a stylish and sumptuous Melbourne Food and Wine Festival banquet. Yet here we are, in the midst of Noisy Ritual's vintage 2018 festivities, and a series of dinner collaborations with Le Bon Ton.
As the team dives into the next round of MFWF dinners, we chat to co-founder Cam Nicol and take a look behind the scenes at the many facets of this people-powered urban winery.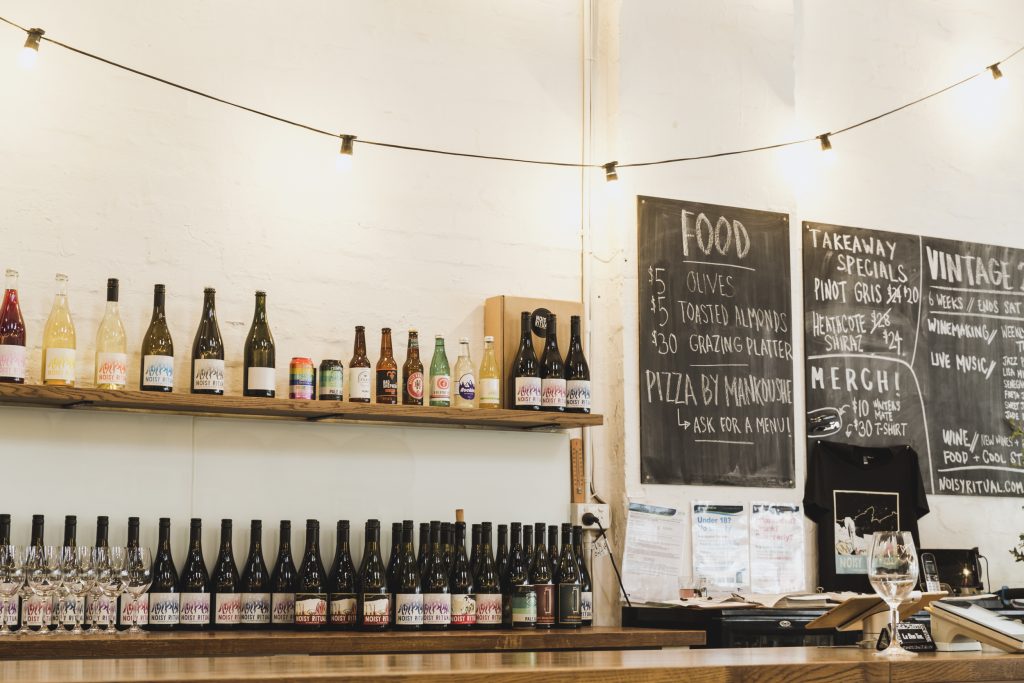 According to a book Cam read during his initial (and recent, all things considered) deep-dive into winemaking, certain cultures throughout history have aided the winemaking process with "quiet reverence", while others attempted to do the same with "noisy rituals".
The jury's out on whether the noisy ritual of getting mates together around food, booze and music actually enhances fermentation. That said, it's a name that seems to fairly well express what Noisy Ritual the urban winery is all about – a through-line from inception to the space/venue/winery's present-day growth.
Another piece of Noisy Ritual's DNA is top-notch luck. After finding a fermenter under his house (one of the better underneath-the-house discoveries you can hope for), former music industry multi-tasker Cam asked a winemaker schoolmate – and soon-to-be co-founder Alex Byrne – how difficult it actually is to make wine. The reply: "It's not, if you know a winemaker."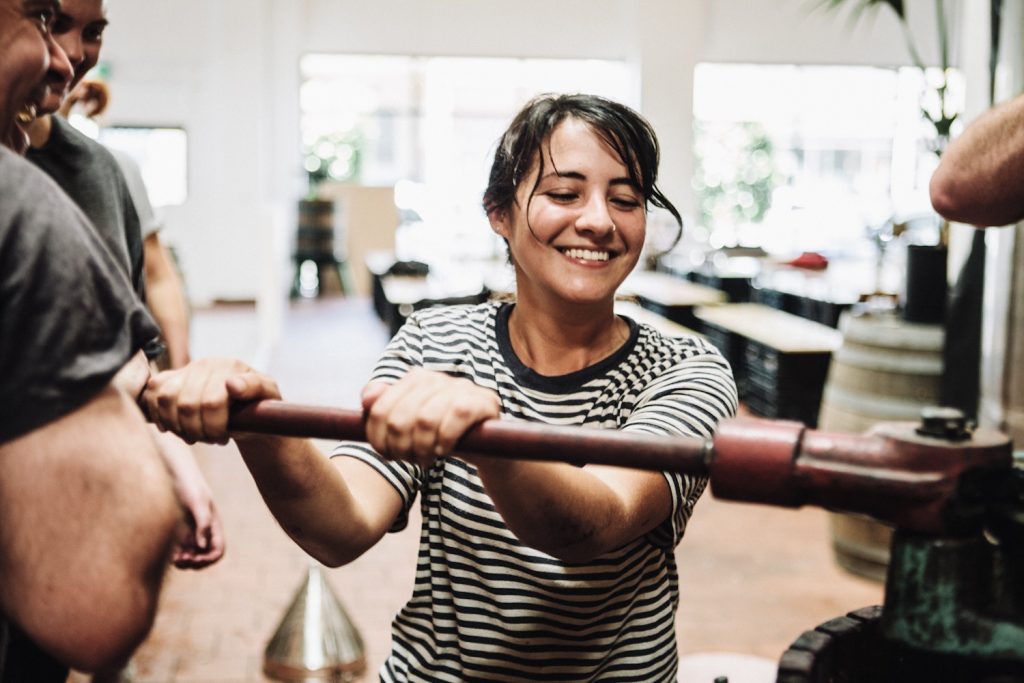 The first Noisy Ritual 'vintage' was the product of a bunch of friends getting together in a backyard, armed with a six-pack of beer and a plate of food, ready to spend the night learning about winemaking and stomping some grapes.
And while Cam tended to the grapes fermenting under his house, word spread. Almost immediately, friends and friends of friends were keen on being involved. And luckily, Alex's credentials working in the wine industry for 13-odd years meant the quality wine produced was worth the excitement.
"The wine was about 10 times better than anything I'd been drinking up until that point," says Cam.
"I'd imagined the world of wine and winemaking as being relatively stuffy and unattainable, but it's actually so much simpler than I thought. You don't have to add anything to the grapes, which I found really surprising."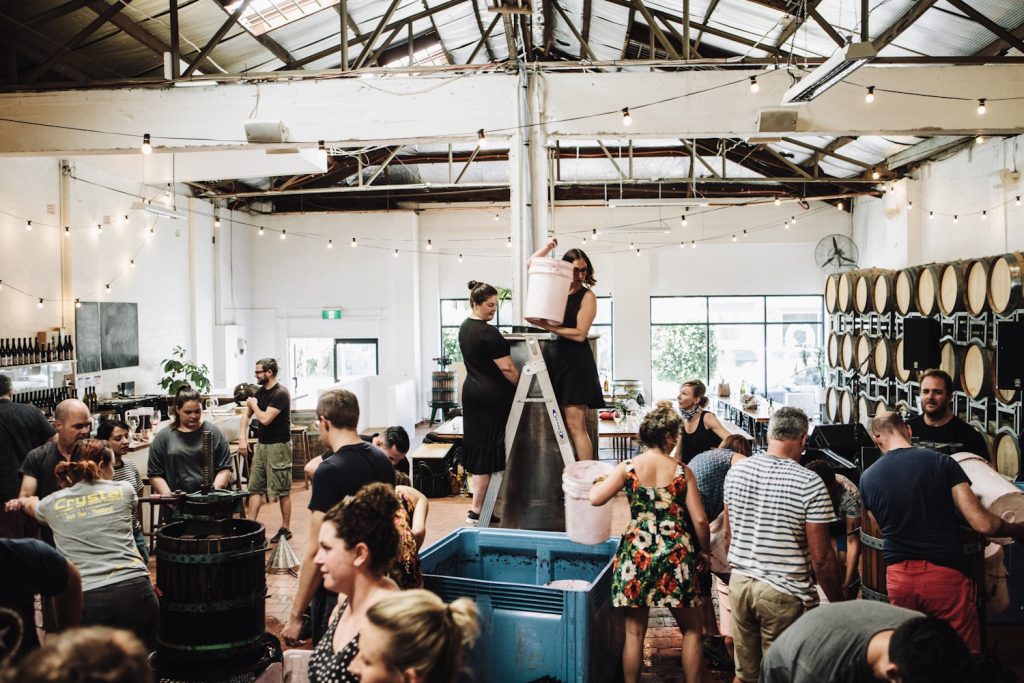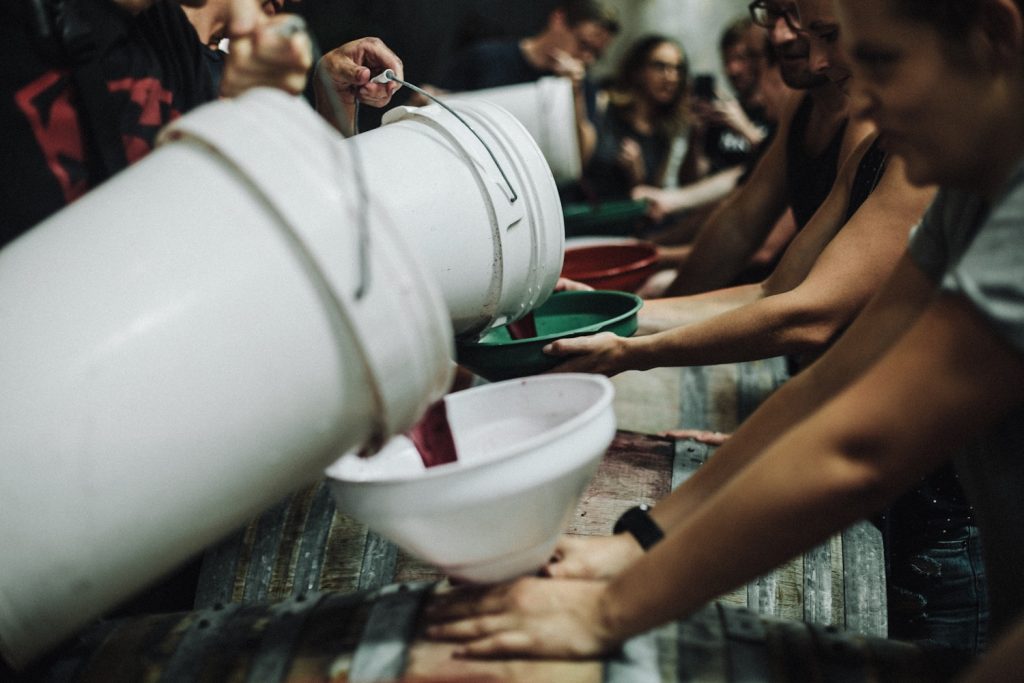 Jump-cut to 2018, and Noisy Ritual is a collection of members (currently capped at 150) getting together to stomp, press and bottle wine – the urban winery's eponymous 'people-power'. It's also a cellar door, popular weekend bar, and function venue. It's a beautiful, fluid space, moving from the industrial to the romantic in moments.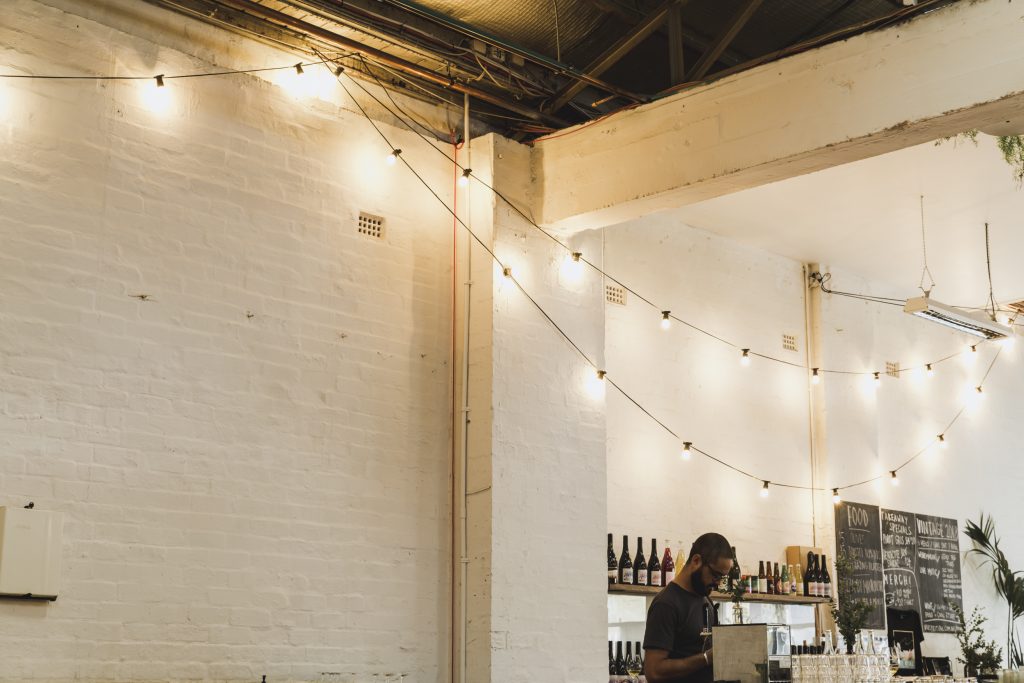 This transformation was in full flight the day of their second Melbourne Food and Wine Festival event. Being time to produce the 2018 vintage, the space began the day as the setting of a winemaking workshop, complete with  lunch, and wine-drinking, obviously, ending as the setting of an elegant four-course banquet collaboration with Le Bon Ton. All this within the space of a few hours.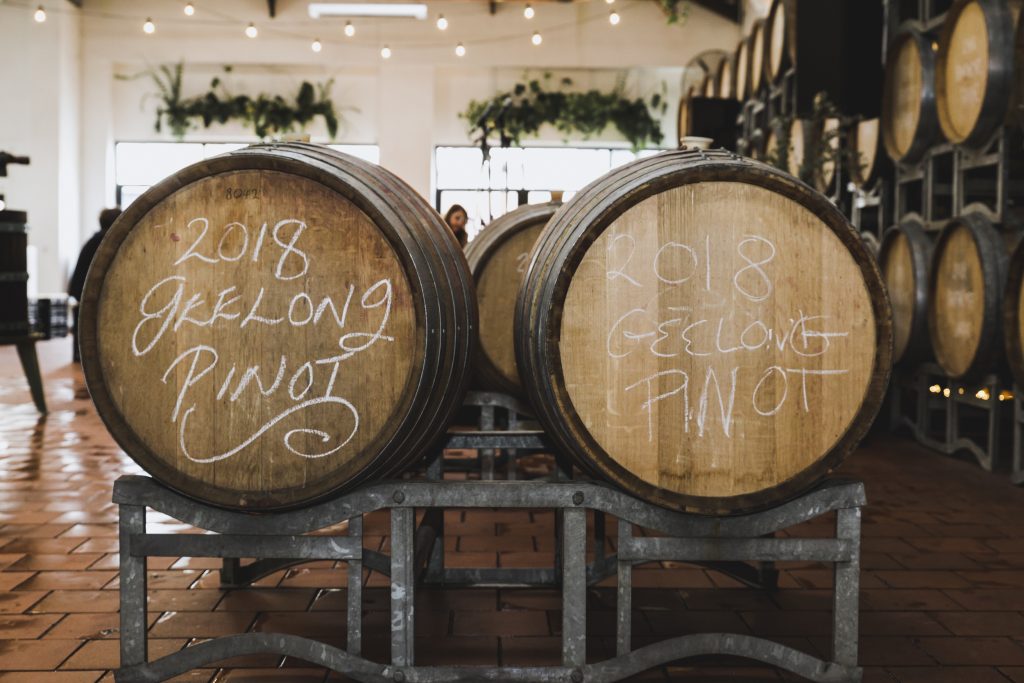 Thankfully, Cam's past life in the music industry, wearing multiple hats and working on Big Day Out events means he's well-versed in "heckers days" of little sleep and heaps to keep track of.
Those organisational skills also serve him well navigating Noisy Ritual's many different moving parts, and the two halves of the team: winemaking, and events.
"I'm sure the winemaking guys would love to just make wine for eight hours a day!" laughs Cam.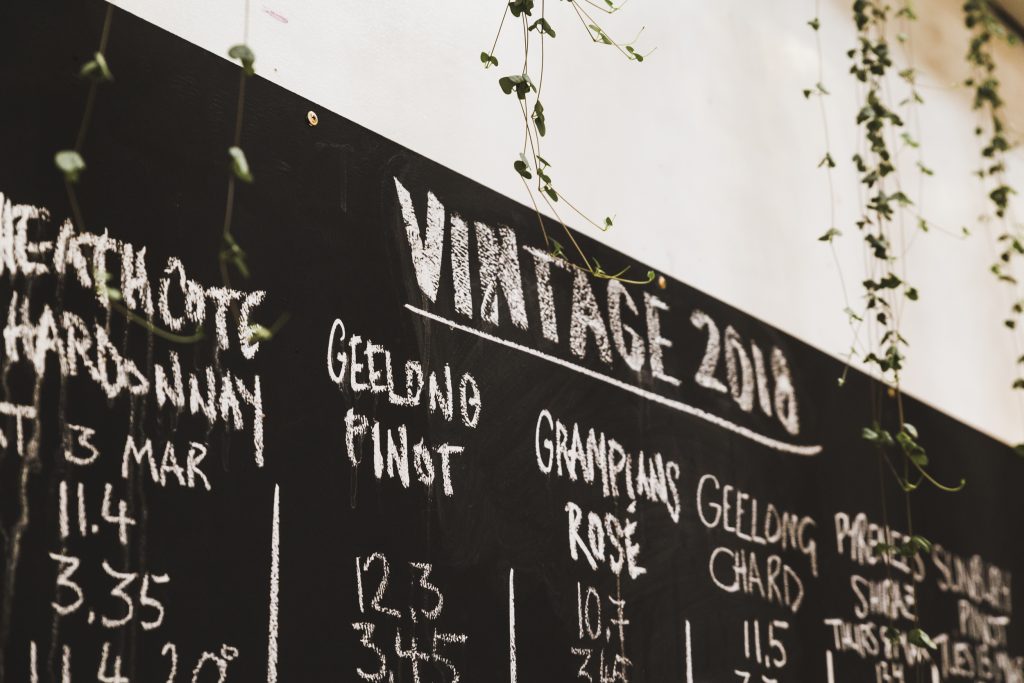 Unfortunately, the venue's many events, banquets, and the fact that the bar's a popular one, means their working day is often a little shorter. It also means that there's plenty of organisation, and planning involved in ensuring every element of the winery runs smoothly.

Post-workshop, the floor is hosed, tables are moved, and big metal receptacles are scrubbed and, in a deft move that's functional as well as aesthetically pleasing, the barrels of wine are forklifted into racks that run along the length of the space's wall.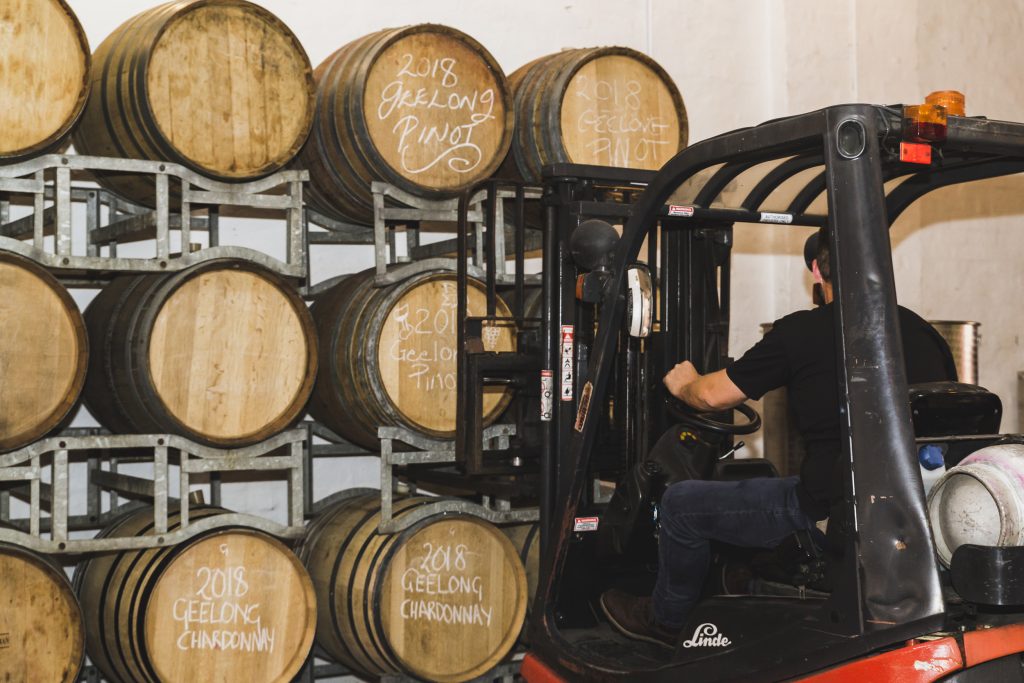 And with that, Noisy Ritual is transformed, nary a sign of machinery screwed into the floor, or the deep red splashes of grape from all the stomping.
Arriving at the Smokehouse BBQ and Urban Winery, the atmosphere is moody yet primed for a good time, with tables arranged in a long banquet style, glasses of sparkling on arrival, and purple lighting projected onto those wine barrels. An ideal vibe for a four-course banquet that's followed by a raucous stint of grape stomping and live music from Freya Josephine Hollick.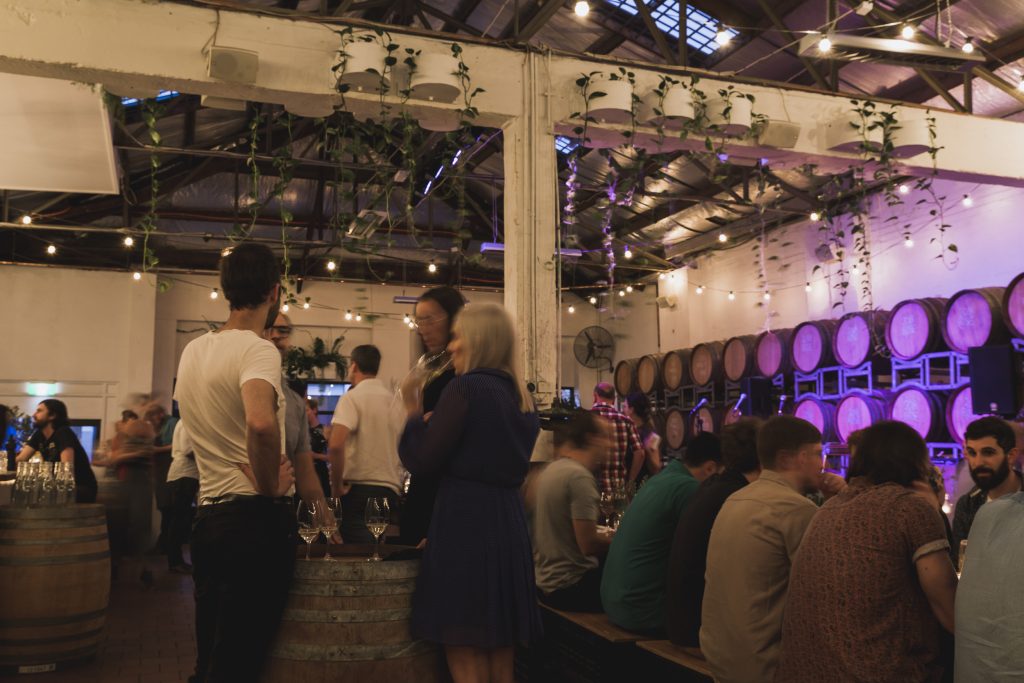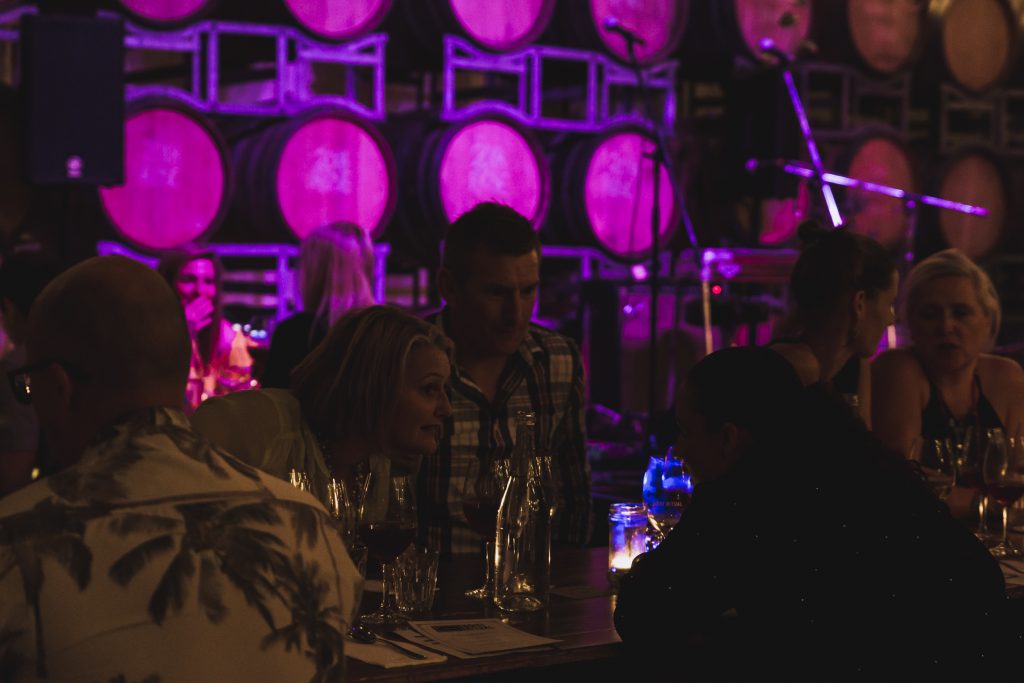 Guests choose a spot to park themselves; there's no seating plan or hesitation in sitting right next to a stranger. With a quick shuck of a Pacific oyster with smoky tomato vinaigrette, and a sip of the paired Noisy Ritual sparkling, the event kicks off.
Course two is our first foray into Le Bon Ton's pit-smoked meats: a pulled pork slider, with fennel and mustard slaw, paired perfectly with Noisy Ritual's 2017 pinot gris. Next, Le Bon Ton's pit-smoked grain-fed Riverina Angus beef brisket, with dill potato salad and apple cider slaw, complemented by Noisy Ritual's 2017 sangiovese.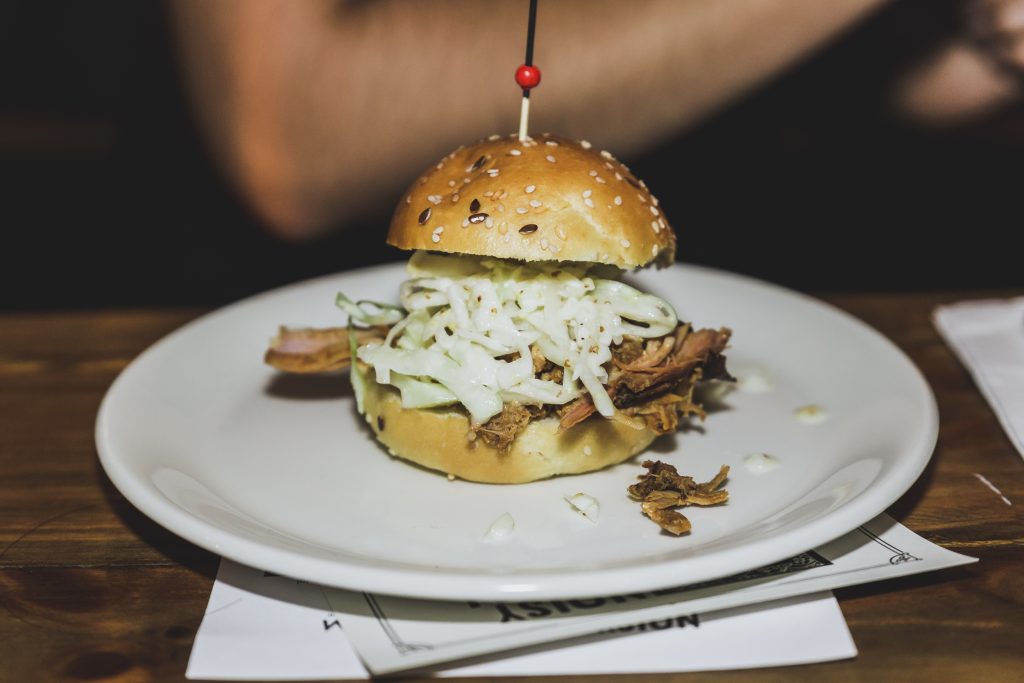 In a subtle but inspired move, wine isn't poured by servers, but by guests from bottles placed along each table – which in turn prompted conversations between groups and duos sitting next to each other. It's excellent, what 'pass the hot sauce' or 'can I steal that bottle for a sec?' can inspire.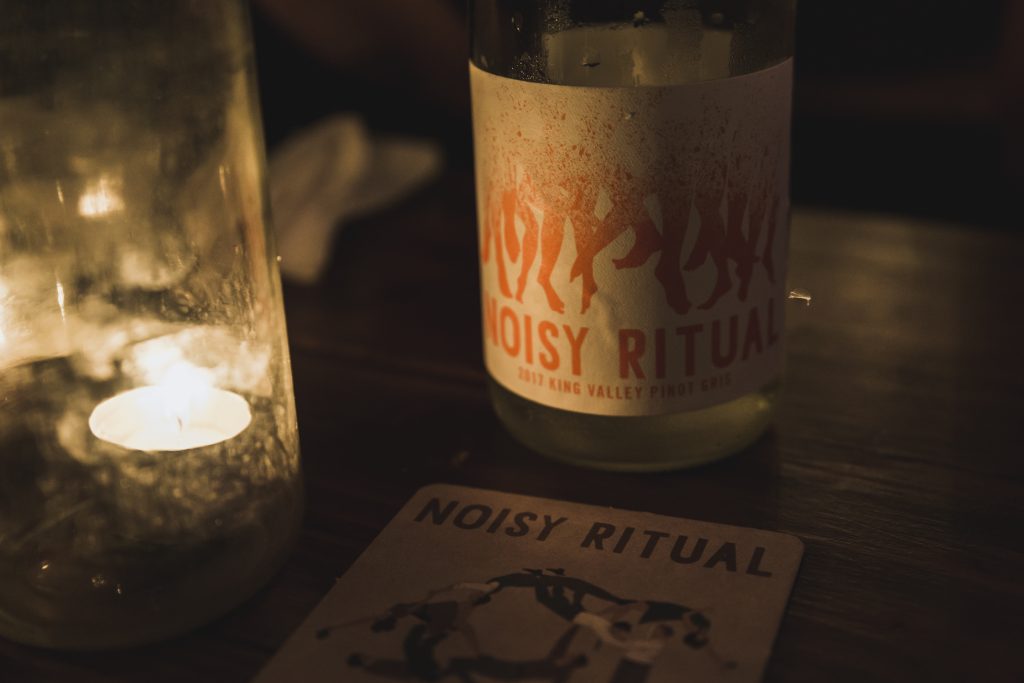 After enjoying a vanilla bean panna cotta topped with passionfruit syrup (and paired with a pink pétillant naturel), the night shifts gear into the second portion of festivities: grape-stomping! It's an announcement met with a few yells of excitement from groups that had obviously bought tickets specifically with this in mind.
For those not in the know – and I certainly wasn't – the process of fermenting grapes means that the grape flesh rises to sit on top of the liquid, due to gravity/chemical reactions/SCIENCE.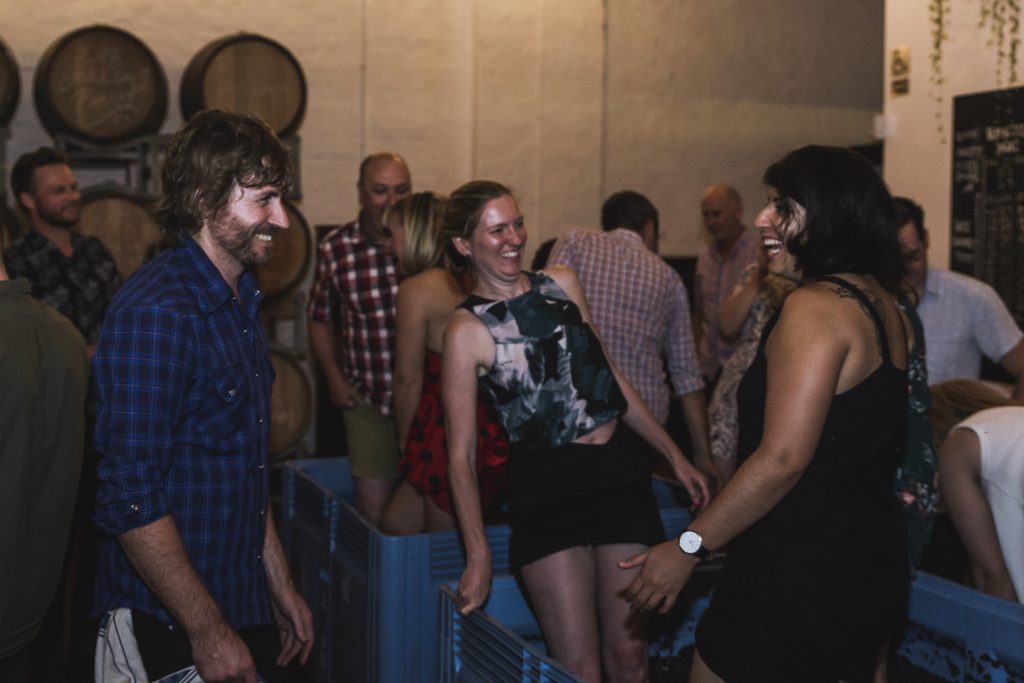 So, a tub full of what looks like a dense carpet of grapes actually gives way to juice once stomped on. It's all very obvious, but inspires plenty of laughter and definitely breaks the ice between strangers as tunes begin via Freya Josephine Hollick. 
Shoes off, pants and skirts hoisted up, guests clamber into the crates to get stomping, with juice rising to knees. One guy even jumps in completely pants-less – such is the pull of doing something you wouldn't normally get to do (after a few wines).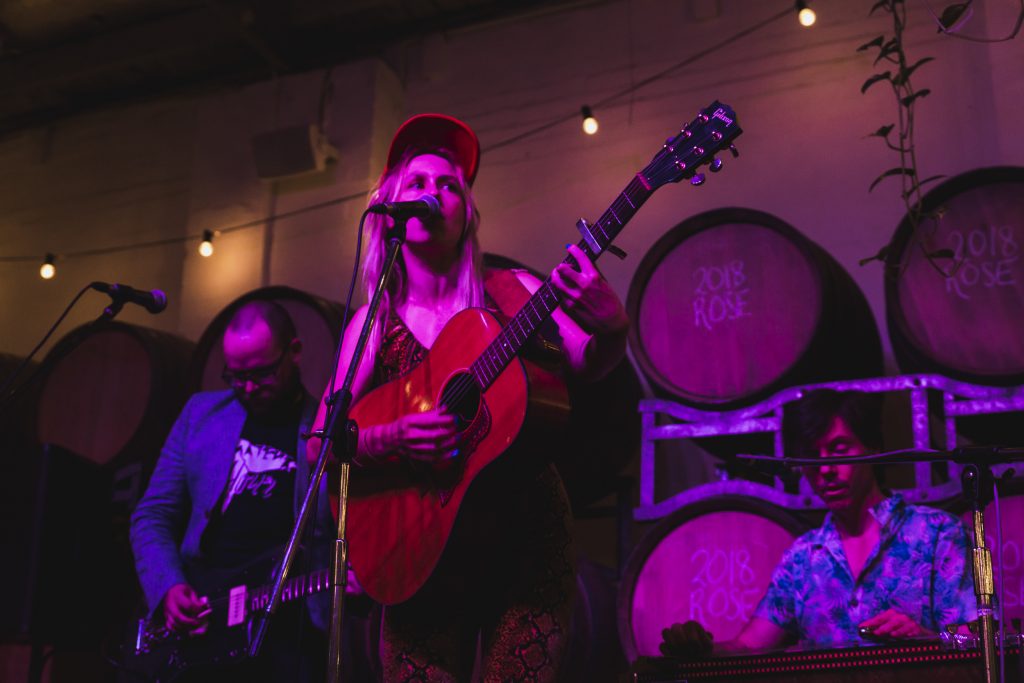 And what about the kinds of events that suit Noisy Ritual, preferably avec pants? It's firstly worth noting that the high-ceilinged space is basically already styled for an event: all white walls, brick floors, festoon lighting, greenery, and those wine-filled barrels.
It's a far cry from the button-down hotel function space or the 'blank space' warehouse that often need a few thousand dollars' worth of flowers and hired furniture to be ready for an event. Rather, Noisy Ritual uses the fact that it's a functioning winery and cellar door to its aesthetic advantage.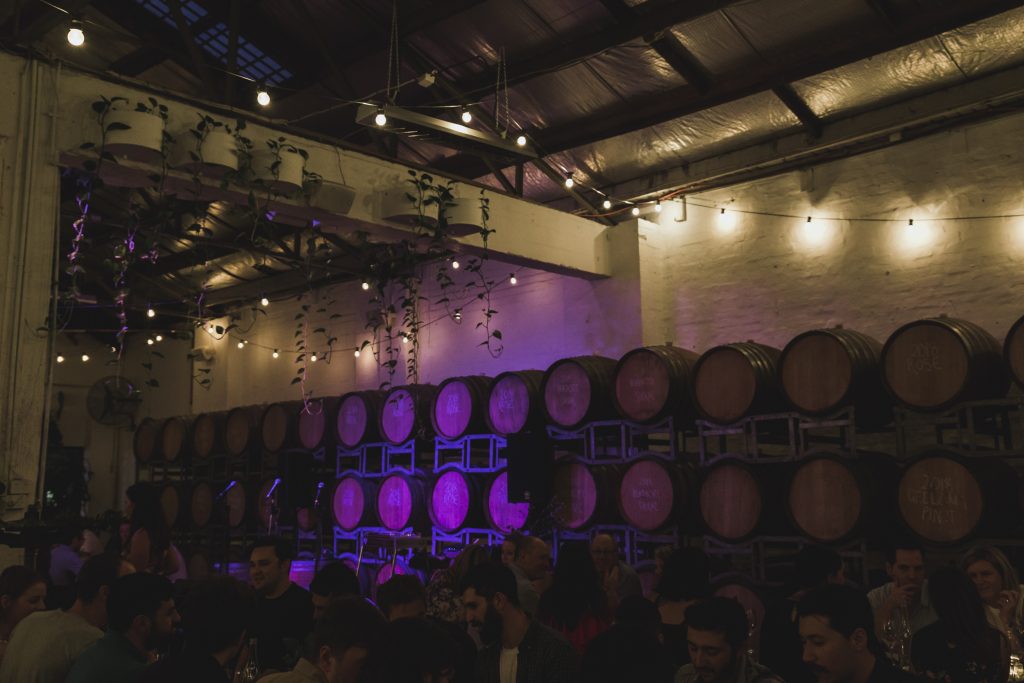 According to Cam, the space naturally lends itself to weddings, larger social events, along with product launches. It's a good one for workshops too, paired with a wine fuelled networking or launch event afterwards.
Those not keen on booking the venue exclusively can utilise a section of the bar space, during regular cellar door opening hours. It's a good option for casual groups of up to 70 guests or so, or with a lower (birthday-sized) budget than those in the midst of planning a wedding.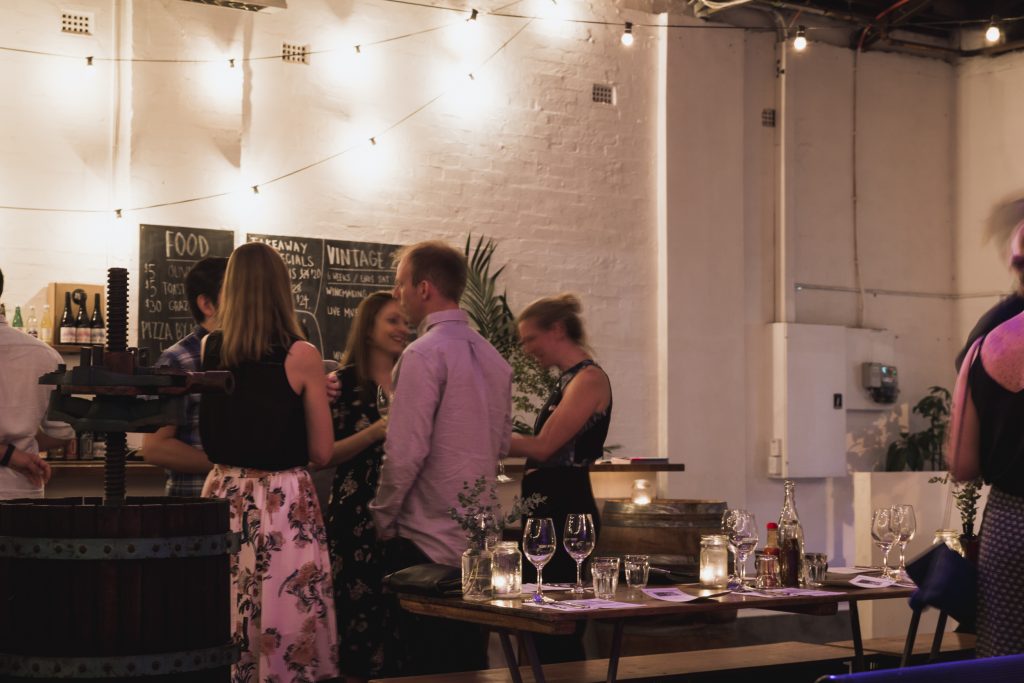 The rest of 2018 will see the team at Noisy Ritual focus on settling into a groove, juggling the different aspects of the venue/winery in a way that "fits". And obviously, they'll be focusing on making and selling wine, and hosting events. Events filled with really really good wine.
Noisy Ritual is hosting two more Smokehouse BBQ and Urban Winery collaborations with Le Bon Ton for Melbourne Food and Wine Festival. Book your tickets here >>
Of course, Noisy Ritual is available for events via VenueNow >>
Photos of Melbourne Food & Wine Festival event by Evan Mery >>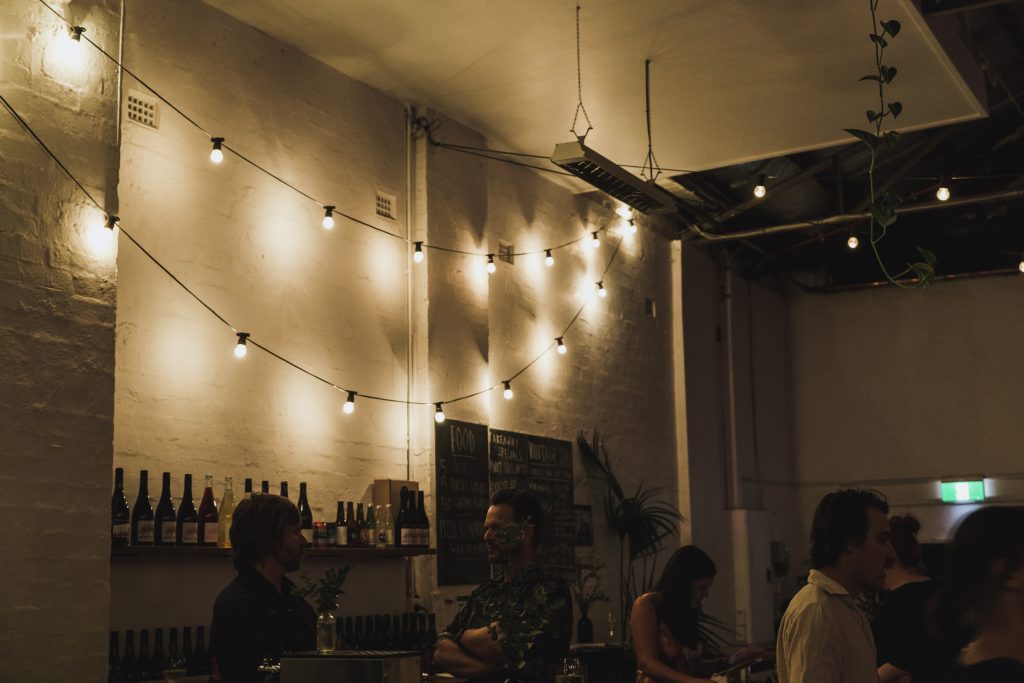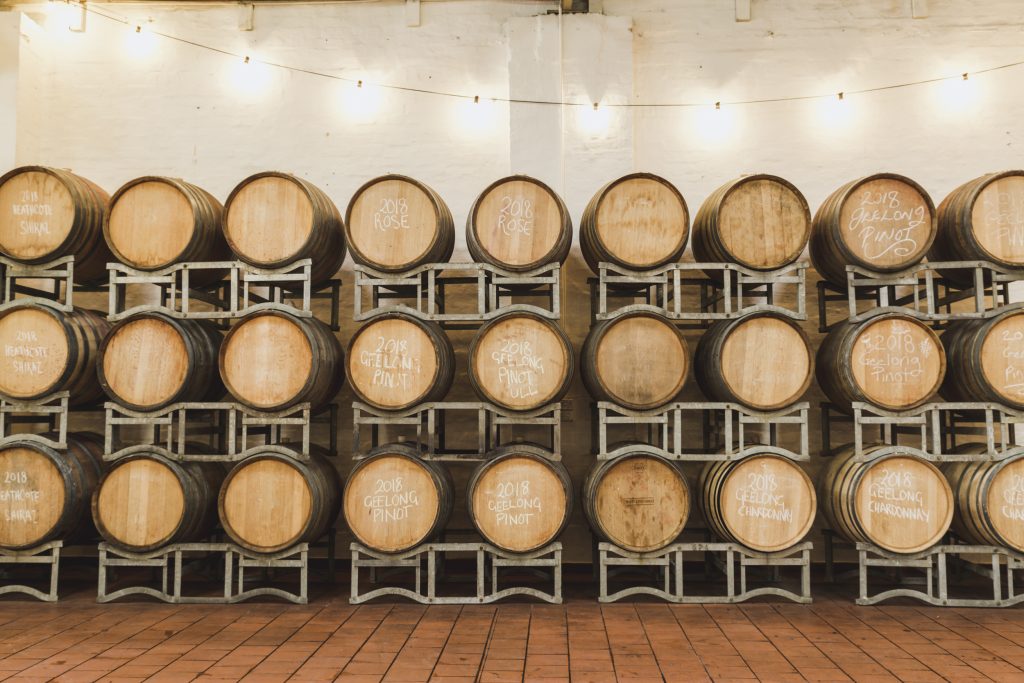 Looking for an event venue to hire?
VenueNow has you covered with over 2,000 venues across Australia ranging from large event spaces to small meeting rooms. Find your perfect venue for hire faster than anywhere else.
Call our support team on
1300 647 488 during business hours
AEST or chat online.
© Copyright VenueNow 2020 | SPARE GROUP PTY LTD | ABN 22 607 830 302