Christmas is a time to celebrate the year that was, and thank your team for working through all the trials and tribulations of the daily grind. While a little bit of liquid courage can help to get the party going, it can still be tricky to break the ice.
It may sound childish, but everyone loves Christmas party games. They're a great way to get all the introverts and extroverts mingling together in the one space. After all, being a full-time adult can be a serious bore sometimes.
Here's our list of Christmas party games to break the ice that involve minimum effort and promise maximum fun.
Choose a venue with activities
If you don't have the time or resources to arrange Christmas party games for your crew, consider choosing a venue that already has the entertainment sorted. Escape rooms, barefoot bowls and karaoke are our favourite crowd-pleasers.
Simply select 'Venues with Activities' in our search filters to narrow your results, or ask our team to find one for you! Submit an event brief and we'll find venues that match all your criteria.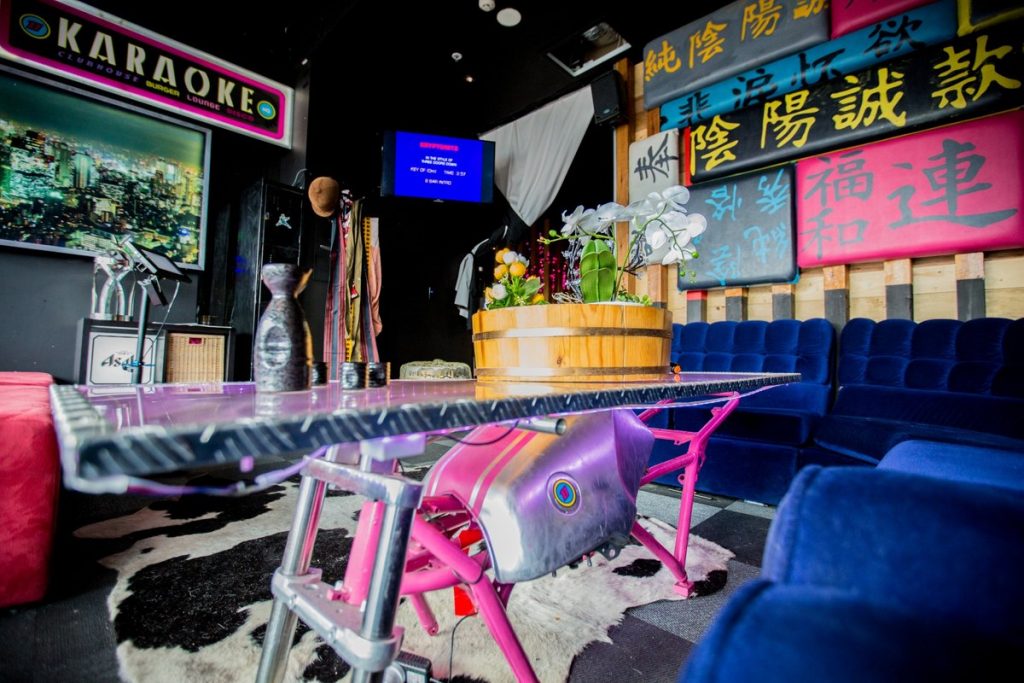 Festive heads
Remember that old favourite, celebrity heads? This festive addition requires you to select popular Christmas characters, Christmas movies or festive objects for your colleagues to guess.
Depending on the size of your group, split into teams and nominate one member of each to be the guesser. Choose a character and write your selection on a sticky note, then stick it to the forehead of your guesser.
Put a timer on and allow your guesser to ask as many questions as it takes to identify the character. The first team to work out the identity of their festive head wins.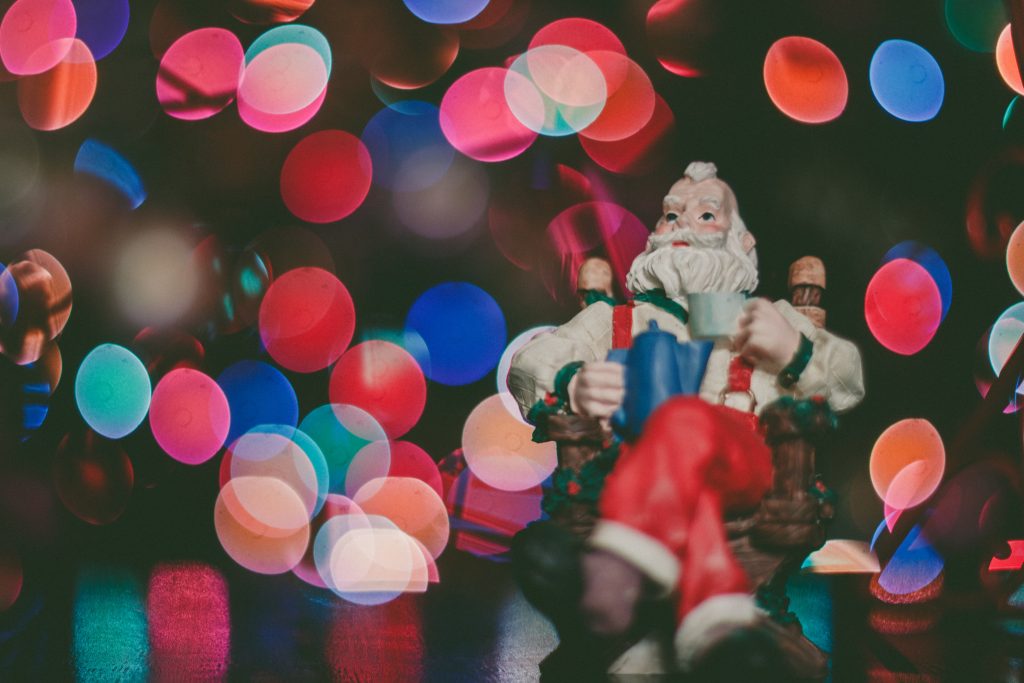 Guess the Christmas baby picture
This is a super adorable game, and a great activity to prompt excited conversation amongst your team.
Collect a baby picture from all of your colleagues in the weeks leading up to your Christmas party, paste a number to each photo and arrange them all on a pinboard that you can transport easily to your chosen party venue. Create a list with all your teams' names, and print off enough copies for everyone.
Place the baby photo board in the entrance to your venue and give a name list to every guest. In their own time, your guests will assess the photos and note a number next to the corresponding name. At the end of the party, call out the correct answers and arrange a prize for the winner.
How much does a Christmas Party cost?
Calculate your event cost in under 5 minutes
Two truths and a lie
You guessed it, it's a festive version of one of your favourite party games! Two truths and a lie is a game that asks guests to share stories or facts about themselves, and thread one lie into play.
It's simple, guests take turns telling two true facts and one lie to their partner, and their partner has to pick out the lie.
This one is best played in rotating pairs, in a speed dating type scenario. Stand in two lines, or have players sit opposite one another and give each pair one minute to chat before moving to the next partner.
Find out some weird facts about those colleagues that you hardly know, and get to know the ones you do more intimately.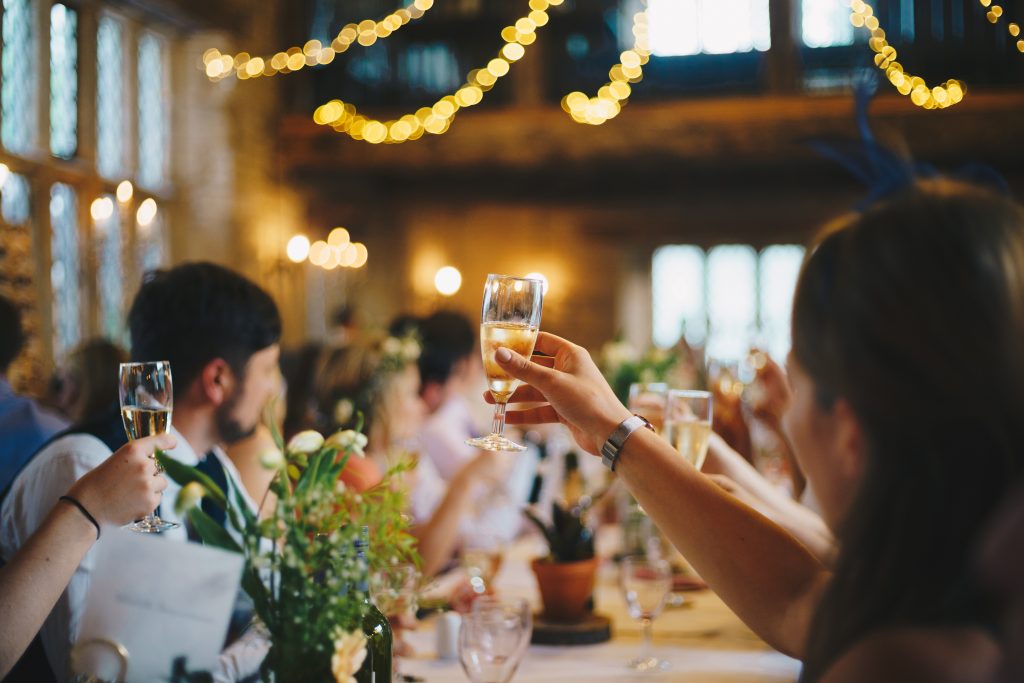 Christmas trivia
Everyone's favourite pub activity, doused in festive spirit. This one takes a little more organisation, but with the questions and teams sorted, this activity will provide enough entertainment for the whole Christmas party.
Split your guest list into teams, and try mixing departments so that new people can get to know each other in the process. Choose four topics or categories and plan one round of trivia for each category.
For the questions, feel free to trawl the internet for inspiration, or come up with an entirely unique list of questions. Think Christmas carols, festive food, Christmas films and Christmas myths and legends.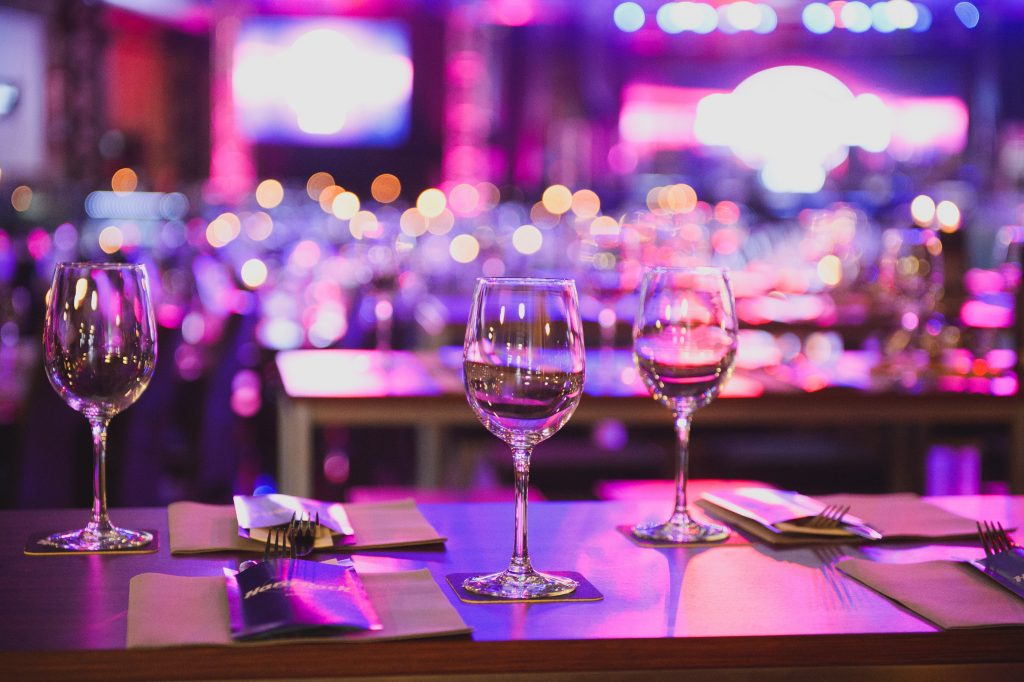 Bad Santa
We had to put a present game in the mix, didn't we? Everyone loves the act of giving and receiving gifts, and this activity turns the annual Kris Kringle gift giving event on its head.  
The game organiser, or your office social committee will need to choose a price limit and ask everyone to buy one obscure gift item to put in the mix.
During the party, get your guests to stand in a big circle, or sit along a long banquet table ready for the game of gift stealing to begin. Everyone chooses a number from a hat or box, and all guests are randomly assigned one wrapped gift from the pile. The person assigned as number one must unwrap their gift first and show it to the group. All subsequent guests will open their gifts and can choose to either keep it or steal a gift from someone who has opened theirs beforehand. There'll more than likely be one gift that reigns supreme and continues to make its way around the table.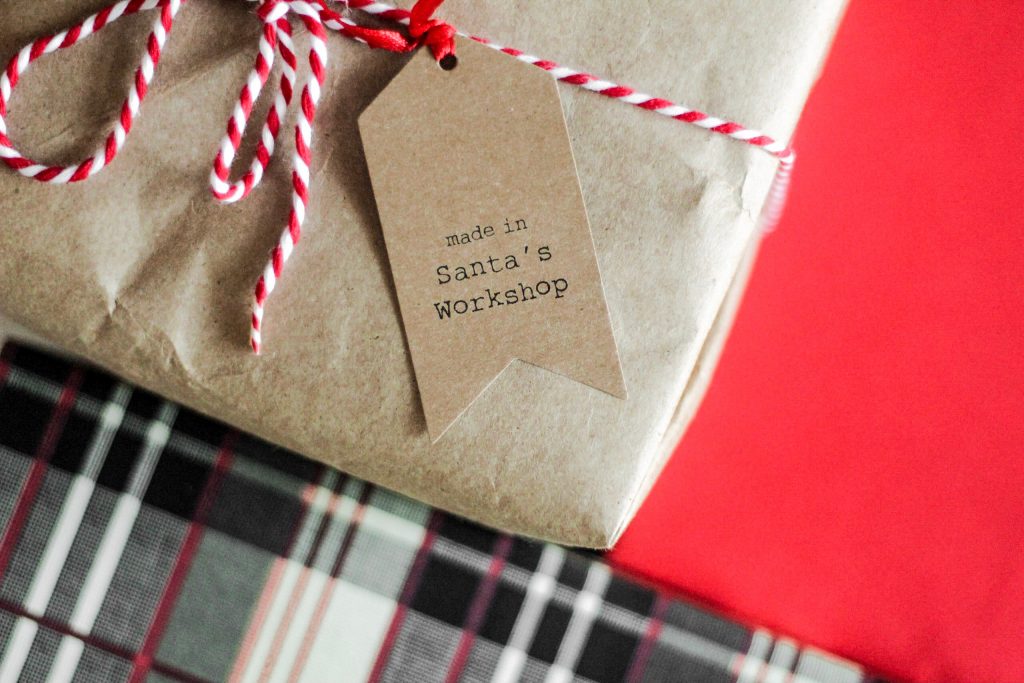 Think you'd be unlucky to be number one? Think again! Once everyone has unwrapped their gift, the person who kicked off the proceedings gets to make the last move, and steal any gift that tickles their fancy.
Message in a bottle (or under a plate)
This Christmas party game will have everyone laughing from the moment you begin, and is guaranteed to break the ice at your party. It's best suited to a sit-down dinner function, but can be adapted to suit your occasion.
Prepare for this game in advance by writing odd Christmas themed phrases on napkins and hiding them under each guest's plate. Think of phrases that are appropriate enough for a work function, but odd enough that they wouldn't normally fit into dinner conversation.
Once everyone has taken their seat at the table, ask them to read their phrase in secret and prompt them to insert the phrase into conversation at some point during the Christmas party. See if you can catch your colleagues using their funky phrase during the evening. If you catch a colleague out, they have to buy you a drink!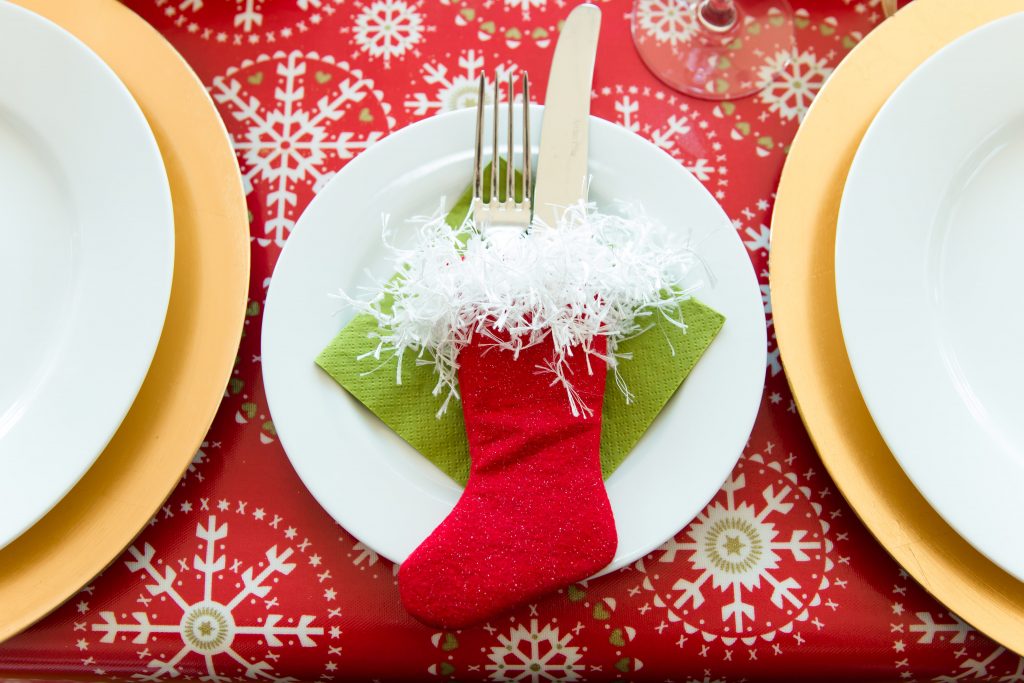 Whether you're celebrating over a long boozy lunch, hosting a lavish festive themed cocktail party or leading the team to your favourite local for a few knock-off beers, these Christmas party games promise to break the ice so you can spend more time celebrating.
Looking for a Christmas Party Venue?
VenueNow has you covered with over 2,000 venues across Australia ranging from large event spaces to small meeting rooms. Find your perfect venue for hire faster than anywhere else.
Follow us on social media to stay up to date with the latest news
Call our support team on
1300 647 488 during business hours
AEST or chat online.
© Copyright VenueNow 2022 | SPARE GROUP PTY LTD | ABN 22 607 830 302