The wedding playlist can feel like make or break territory. You want that ideal mix of dance songs, romance and recent hits. Everyone's music taste is different which means there's no single perfect playlist. But, there are a few classic wedding songs that hit all the right notes with a big crowd. We've put together 50+ of the best wedding songs to help inspire your wedding playlist.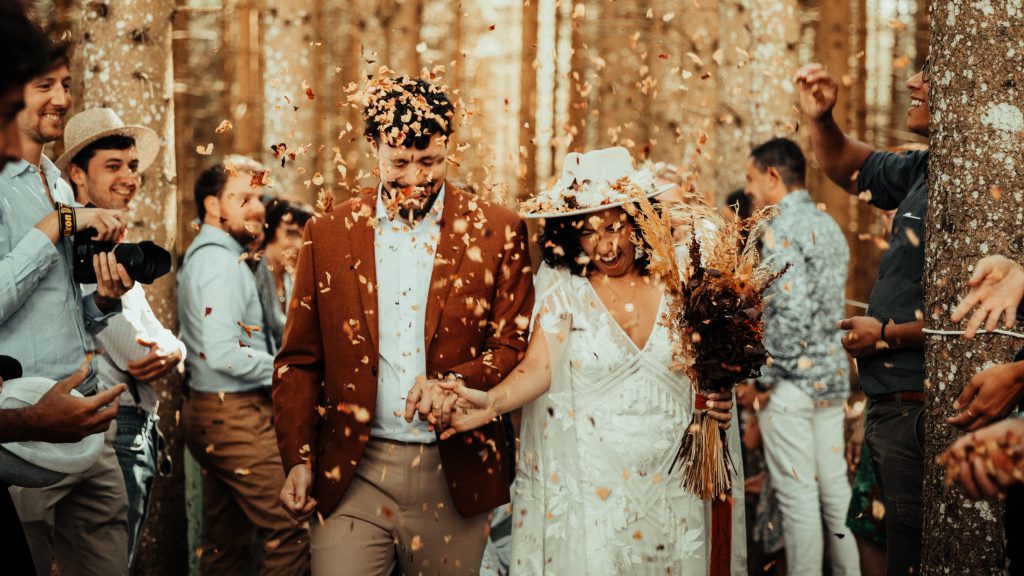 Classic wedding songs
Is it even a wedding if Elvis hasn't played yet? These 5 classic wedding songs are the ones every guest expects to hear. Don't disappoint! Give the people what they're dreaming of.
1. All You Need Is Love - The Beatles
Top Lyrics: All you need is love / All you need is love / All you need is love, love / Love is all you need
2. Can't Help Falling In Love - Elvis Presley
Top Lyrics: Take my hand / Take my whole life too / For I can't help falling in love with you
3. For Once In My Life - Stevie Wonder
Top Lyrics: For once I can say, "This is mine, you can't take it" / As long as I know I have love, I can make it
4. Your Song - Elton John
Top Lyrics: I hope you don't mind / I hope you don't mind / That I put down in the words / How wonderful life is while you're in the world
5. I Wanna Dance With Somebody - Whitney Houston
Top Lyrics: I need a man who'll take a chance / On a love that burns hot enough to last / So when the night falls / My lonely heart calls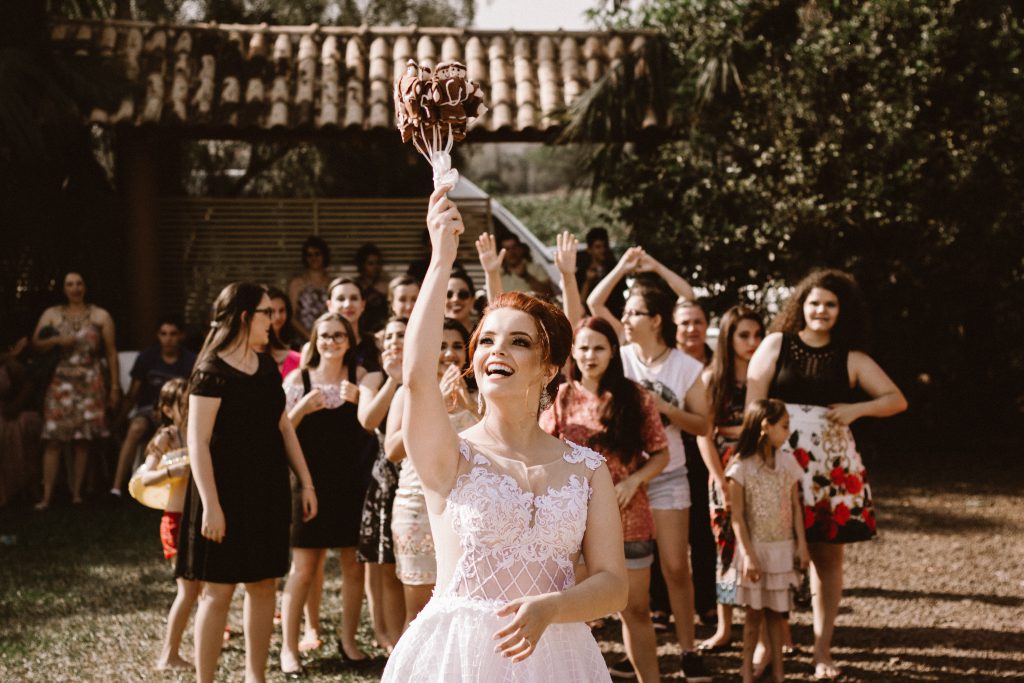 Most popular wedding songs
Every year there's one wedding song to top them all. Maybe it's heard in every ceremony, on the walk down every aisle or at every after-party. If you're not feeling the most popular wedding songs of this year; why not look to history for some inspiration?
1. A Thousand Years - Christina Perri
Top Lyrics: And all along I believed I would find you / Time has brought your heart to me / I have loved you for a thousand years / I'll love you for a thousand more
2. All Of Me - John Legend
Top Lyrics: Give your all to me / I'll give my all to you / You're my end and my beginning / Even when I lose I'm winning
3. Make You Feel My Love - Adele
Top Lyrics: When the rain is blowing in your face / And the whole world is on your case / I could offer you a warm embrace / To make you feel my love
4. If I Ain't Got You - Alicia Keys
Top Lyrics: Some people want diamond rings / Some just want everything / But everything means nothing / If I ain't got you, yeah
5. Thinking Out Loud - Ed Sheeran
Top Lyrics: And I'm thinking 'bout how people fall in love in mysterious ways / Maybe just the touch of a hand / Oh me I fall in love with you every single day / And I just wanna tell you I am
6. Everything - Michael Buble
Top Lyrics: And in this crazy life, and through these crazy times / It's you, it's you, you make me sing / You're every line, you're every word, you're everything
7. I'm Gonna Be (500 Miles) - The Proclaimers
Top Lyrics: And I would roll 500 miles / And I would roll 500 more / Just to be the man who rolled a thousand miles / To fall down at your door
Fun Fact: A re-released version of this popular wedding song from 2007 changed the lyrics from 'walk' to 'roll'. It was inspired by two characters in wheelchairs. 
8. Just The Way You Are - Bruno Mars
Top Lyrics: And when you smile / The whole world stops and stares for a while / 'Cause girl, you're amazing / Just the way you are
9. Marry Me - Train
Top Lyrics: Promise me you'll always be / Happy by my side / I promise to sing to you / When all the music dies / And marry me
10. Crazy In Love - Beyonce feat. Jay Z
Top Lyrics: Such a funny thing for me to try to explain / How I'm feeling and my pride is the one to blame / 'Cause I know I don't understand / Just how your love can do what no one else can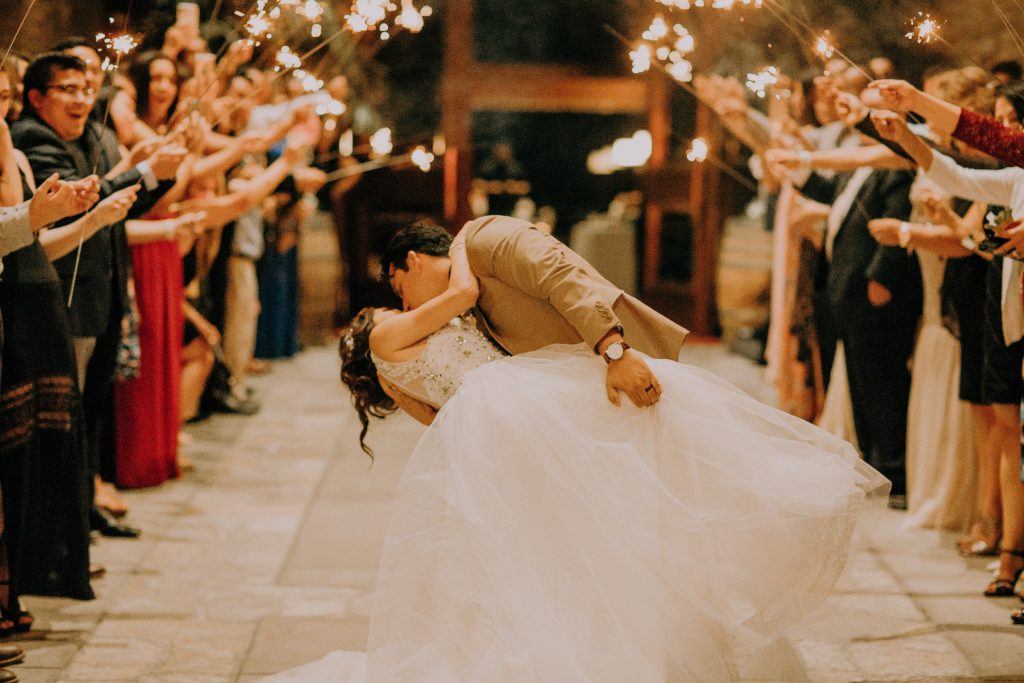 Songs to walk down the aisle
The walk down the aisle is the first of many moments to shine. Whether you're looking for an interesting instrumental or a lyrical love song; here's five great songs to walk down the aisle to.
1. A cover by Vitamin String Quartet
Bridgerton fans will instantly recognise this group, but they've been around far longer than the Duke. Since 1999, Vitamin String Quartet have been creating instrumental covers of the most popular songs around. They even have a few wedding albums if you want to make pop instrumental the theme of your whole wedding day.
2. Marry You - Bruno Mars
An upbeat walk down the aisle can still be romantic. With this hit song it'll be more like a dance down the aisle. 
3. Your favourite film score
From Love Actually to Harry Potter and the Disney classics; film scores are pure magic. Personalise your wedding entrance with a favourite film score played as you walk down the aisle.
4. Wagner's Bridal Chorus
It's easy to forget that the quintessential 'here comes the bride' tune has a proper name. For a traditional walk down the aisle, you can't get much better than this.
5. I'm Yours - Jason Mraz
Imagine a mellow melody like this with a live acoustic guitar playing at your garden wedding. Dreamy, hey? It doesn't matter if you play it on speakers or get a cover artist; this song has all the low-key romance for your walk down the aisle.
It's a walk to remember at this picturesque wedding venue in Mosman, NSW.
Fun wedding reception entrance songs
You did it! Congratulations - you're officially married. The entrance to your wedding reception is a moment to celebrate the start of your new life together. Kick it off with the best wedding entrance songs. Here are five we swear by:
1. Happy - Pharrell Williams
Top Lyrics: Clap along if you feel like a room without a roof (Because I'm happy) / Clap along if you feel like happiness is the truth (Because I'm happy)
2. On Top Of The World - Imagine Dragons
Top Lyrics: I've been waiting to smile, 'ey / Been holding it in for a while, 'ey / Take it with me if I can / Been dreaming of this since a child / I'm on top of the world
3. Rather Be - Clean Bandit feat. Jess Glynne
Top Lyrics: If you gave me a chance I would take it / It's a shot in the dark but I'll make it / Know with all of your heart, you can't shame me / When I am with you, there's no place I'd rather be
4. This Will Be (An Everlasting Love) - Natalie Cole
Top Lyrics: You brought a lot of a sunshine into my life / You filled me with happiness I never knew / You gave me more joy than I ever dreamed of / And no one, no one can take the place of you
5. Shut Up And Dance - Walk the Moon
Top Lyrics: A backless dress and some beat up sneaks / My discotheque Juliet teenage dream / I felt it in my chest as she looked at me / I knew we were bound to be together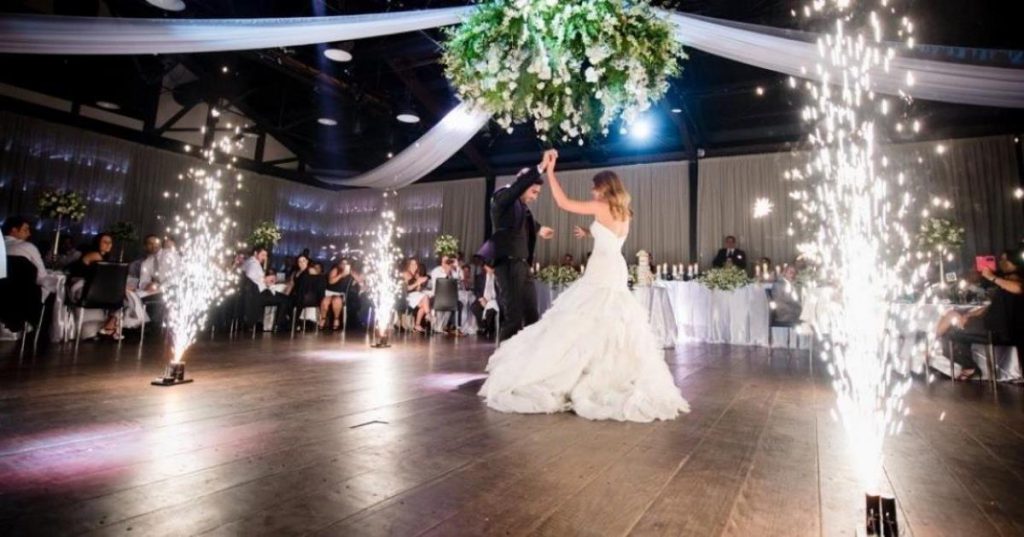 Light up the floor at this industrial glam wedding space in South Wharf, VIC.
Songs for your first dance
Some couples choose a waltz, others choose to whip out their best dance choreography. The perfect wedding song for your first dance will be meaningful to you as a couple. Need some ideas? Here are five endlessly romantic options for your first dance wedding song.
1. Perfect - Ed Sheeran
Top Lyrics: I found a love for me / Oh darling, just dive right in and follow my lead / Well, I found a girl, beautiful and sweet / Oh, I never knew you were the someone waiting for me
2. This Moment Now - Tyrone Wells
Top Lyrics: So good to feel this way / Can't find the words to say / But I'll show you how / All my life / I've waited for this moment now
3. Conversations In The Dark - John Legend
Top Lyrics: I will never try to change you, change you / I will always want the same you, same you / Swear on everything I pray to / That I won't break your heart
4. I Get To Love You - Ruelle
Top Lyrics: Whatever may come your heart I will choose / Forever I'm yours, forever I do / I get to love you / I get to love you
5. Yours - Ella Henderson
Top Lyrics: 'Cause I, I feel like I'm ready for love / And I wanna be your everything and more / And I know every day you say it / But I just want you to be sure / That I'm yours
How much does a wedding cost?
Try our event calculator to estimate the cost of your wedding in under 5 minutes.
Father-daughter wedding dance songs (or any special person)
If traditions are important to you, you might choose to have a father-daughter dance. Finding just the right father-daughter wedding dance song can be tricky. Some classics are below:
1. Daughters - John Mayer
Top Lyrics: Fathers be good to your daughters / Daughters will love like you do / Girls become lovers who turn into mothers / So mothers be good to your daughters too
2. I Loved Her First - Heartland
Top Lyrics: From the first breath she breathed / When she first smiled at me / I knew the love of a father runs deep / And I prayed that she'd find you someday / But it's still hard to give her away / I loved her first
3. The Way You Look Tonight - Frank Sinatra
Top Lyrics: Some day, when I'm awfully low / When the world is cold / I will feel a glow just thinking of you / And the way you look tonight
4. Lean On Me - Bill Winters
Top Lyrics: If there is a load you have to bear / That you can't carry / I'm right up the road / I'll share your load / If you just call me
5. Have I Told You Lately - Rod Stewart
Top Lyrics: Have I told you lately that I love you / Have I told you there's no one else above you / You fill my heart with gladness / Take away all my sadness / Ease my troubles, that's what you do
You may not have a father to share this moment with, or you may have another special person who you'd love to invite to dance. Rather than get caught up in it being only a father-daughter wedding dance; open up your options with some universal wedding songs. Here are three more ideas:
6. When You Need Me - Bruce Springsteen
Top Lyrics: When you need me call my name / 'Cause without you my life just wouldn't be the same / If you want me come sunny skies or rain / When you need me just call my name
7. Close To You - The Carpenters
Top Lyrics: Why do stars fall down from the sky / Every time you walk by? / Just like me, they long to be / Close to you
8. Count On Me - Bruno Mars
Top Lyrics: If you ever find yourself stuck in the middle of the sea / I'll sail the world to find you / If you ever find yourself lost in the dark and you can't see / I'll be the light to guide you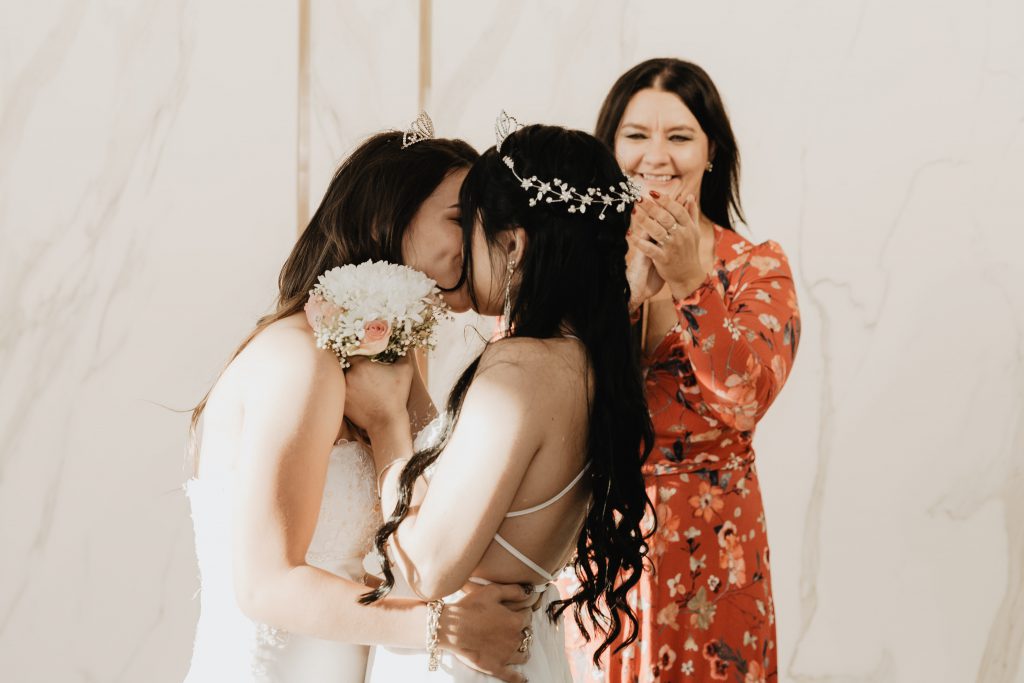 Country wedding songs
Kickin' it country style at your wedding? Then it's sure to be a great party. Here are five country wedding songs from some of the biggest artists on the scene.
1. Amazed - Lonestar
Top Lyrics: I don't know how you do what you do / I'm so in love with you / It just keeps getting better
2. From This Moment - Shania Twain
Top Lyrics: You're the reason I believe in love / And you're the answer to my prayers from up above / All we need is just the two of us / My dreams came true because of you
3. 10,000 Hours - Dan + Shay, Justin Bieber
Top Lyrics: I'd spend ten thousand hours and ten thousand more / Oh, if that's what it takes to learn that sweet heart of yours / And I might never get there, but I'm gonna try / If it's ten thousand hours or the rest of my life / I'm gonna love you
4. Our Song - Taylor Swift
Top Lyrics: Our song is the way you laugh / The first date; "Man, I didn't kiss her and I should have" / And when I got home, 'fore I said "Amen" / Asking God if he could play it again
5. Making Memories of Us - Keith Urban
Top Lyrics: And I wanna stand out in a crowd for you / A man among men / I wanna make your world better / Than it's ever been
Upbeat wedding songs
Are you ready to hit the dance floor? The perfect upbeat wedding songs are ones that get everyone out of their seats. It's hard to stay away when the DJ hits play on these five upbeat wedding songs.
1. Love On Top - Beyonce
Top Lyrics: Honey honey / I can see the stars all the way from here / Can't you see the glow on the window pane / I can feel the sun whenever you're near / Every time you touch me I just melt away
2. Sugar - Maroon 5
Top Lyrics: Yeah, you show me good loving, make it alright / Need a little sweetness in my life / Your sugar, yes please / Won't you come and put it down on me?
3. Sucker - Jonas Brothers
Top Lyrics: I'm a sucker for you / You say the word and I'll go anywhere blindly / I'm a sucker for you, yeah / Any road you take, you know that you'll find me
4. I Like Me Better - LAUV
Top Lyrics: I like me better when I'm with you / I knew from the first time, I'd stay for a long time 'cause / I like me better when / I like me better when I'm with you
5. Black And White - Niall Horan
Top Lyrics: I see us in black and white / Crystal clear on a starlit night / There'll never be another / I promise that I'll love ya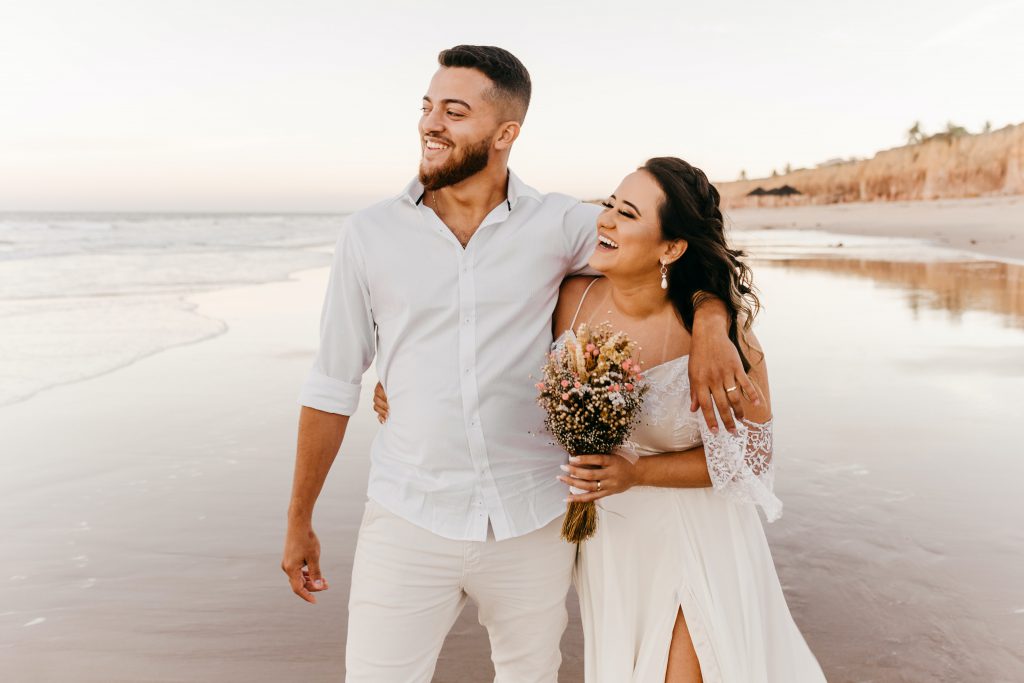 Acoustic wedding songs
The right vocals can give you chills. Acoustic wedding songs are beautiful whether they're performed by the original artist or you find a great cover band. They can be played anytime; from your walk down the aisle, to the ceremony and reception to keep things relaxed. Here are five beautiful acoustic wedding songs for your big day.
1. Budapest - George Ezra
Top Lyrics: My friends and family / They, don't understand / They fear they'd lose so much / If you take my hand / But, for you / You / I'd lose it all
2. One Call Away - Charlie Puth
Top Lyrics: Now don't you worry, it won't be long / Darling, if you feel like hope is gone / Just run into my arms / I'm only one call away
3. Say You Won't Let Go - James Arthur
Top Lyrics: Darling, your love is more than worth its weight in gold / We've come so far, my dear / Look how we've grown / And I wanna stay with you until we're grey and old
4. Fire And The Flood - Vance Joy
Top Lyrics: You're the fire and the flood / And I'll always feel you in my blood / Everything is fine / When your hand is resting next to mine
5. I Choose You - Sara Bareilles
Top Lyrics: My whole heart / Will be yours forever / This is a beautiful start / To a lifelong love letter
Romantic cover songs for weddings
Last, but never least, you might want to fill your playlist with romantic cover songs. If you're sick of the same artists being played over and over - here are five great wedding songs with amazing cover versions.
1. Can't Help Falling In Love - Kina Grannis
The Elvis classic gets a beautiful redo in a version that was featured in the movie Crazy Rich Asians.
2. A Sky Full Of Stars - Boyce Avenue
Boyce Avenue are one of the most popular cover artists out there and they have a huge selection of wedding songs for your list.
3. Simply The Best - Noah Reid
This version from the sitcom Schitt's Creek is pared back perfection. There's as much emotion as the Tina Turner version, but its simplicity makes for a more romantic wedding song.
4. Friday I'm In Love - Janet Devlin
Carrying on with rock 'n' roll covers, The Cure gets a makeover with uniquely charming vocals from Janet Devlin. It's the wedding song you love, with a twist.
5. Your Song - Ellie Goulding
Never been an Elton fan? You can still enjoy the beauty of his lyrics with this ideal wedding cover song.
Playlist? Check. Venue? We have it handled.
Now that you have a full playlist, you need the perfect place to play them loud. Find the wedding venue of your dreams with ease on VenueNow. Browse thousands of beautiful wedding venues in every city of Australia.
Looking for the perfect wedding venue?
VenueNow has you covered with over 2,000 venues across Australia ranging from large event spaces to small meeting rooms. Find your perfect wedding venue for hire faster than anywhere else.
Call our support team on
1300 647 488 during business hours
AEST or chat online.
© Copyright VenueNow 2020 | SPARE GROUP PTY LTD | ABN 22 607 830 302