Planning a unique wedding is intense and time consuming. It's the kind of experience that'll have you hiding away once you realise just how much work it is. Stress aside, however, it's also a time for creativity, expressing your vision, and pulling out all the stops for the ultimate celebration.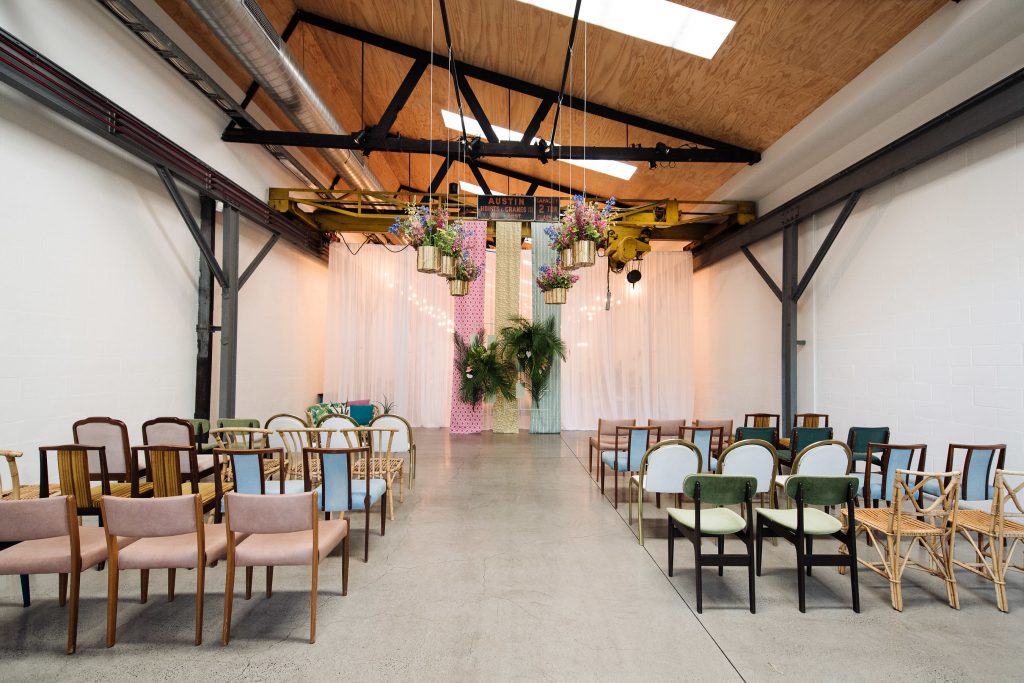 One of VenueNow's  very own Venue Booking managers, Em, hosted her wedding at stylish blank canvas space, Two Ton Max.  Em's industry insider knowledge helped her plan the perfect day for herself and her partner with maximum sparkle (she literally rocked sparkly sneakers on the dance floor!) and minimum stress.
Planning a wedding is a very personal endeavour, and everyone does it differently, but Em has a couple of crafty tricks to help you perfect those devilish details and successfully plan a unique wedding.
Choosing your space
You probably have a beautiful picture in your mind of the perfect space for your big day, but before you even go out looking for the vessel to suit your vision, it's important to know what you want from your event.
Em's experience as a venue booking agent armed her with the knowledge it takes to know what type of space would suit her personality. Knowing her guests were a social bunch, and lovers of a good boogie, Em decided on a cocktail style wedding in a flexible space, with room for a large dance floor at one end and a cosy vintage-style lounge on the other.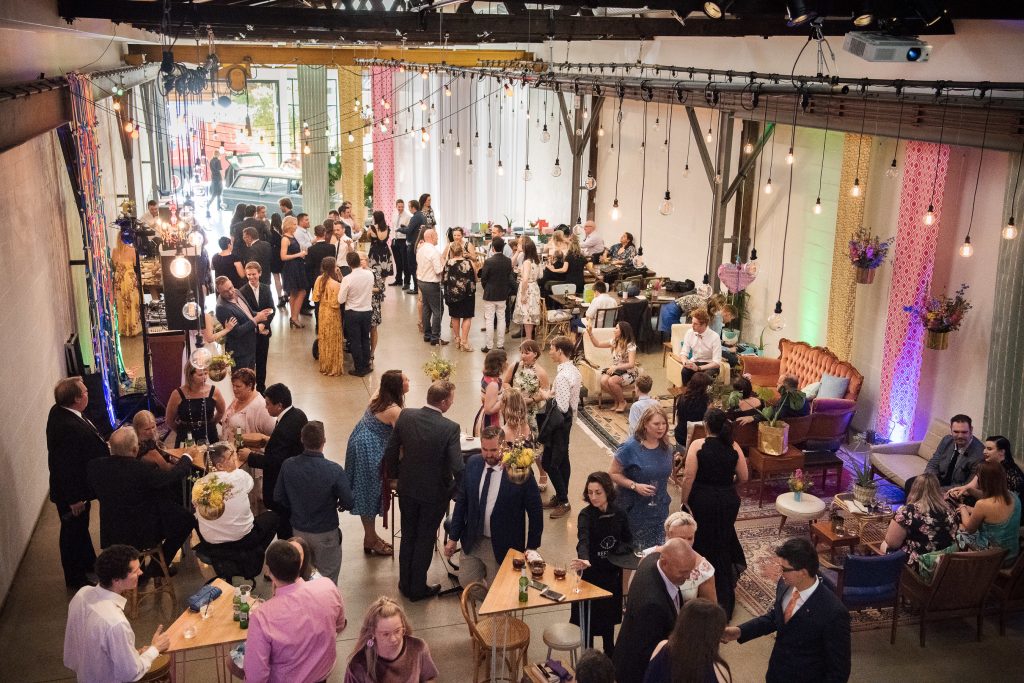 We're not all lucky enough to know the ins and outs of different venue types, or the myriad of services that venues can provide, so it's important to always ask. Function venues will often offer an in-house team of event planning professionals who can help guide your vision, or make suggestions for how to configure your selected space.
Em suggests asking each venue you enquire with about the expertise of their events team, and for a full list of venue provisions.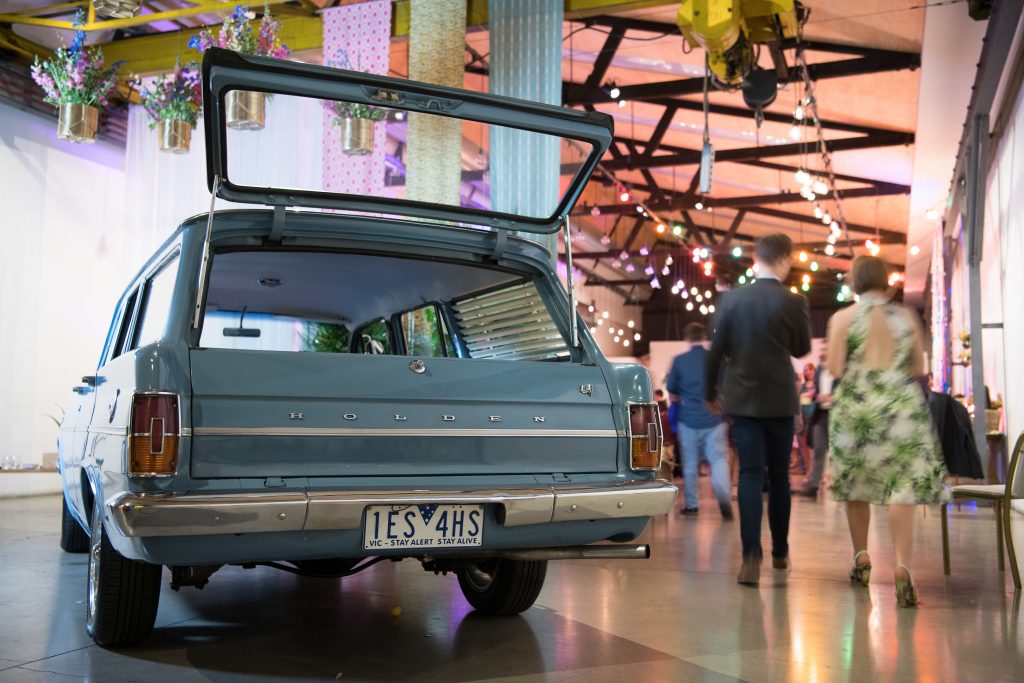 Tip: arm yourself with three must-haves, and other compromisable items before beginning your venue search.
Dressing your space
Once you've selected the venue for your unique wedding, you'll want to fill your space with decorations that make it shine. This step can be super overwhelming, particularly because you'll presumably have a million ideas running through your head.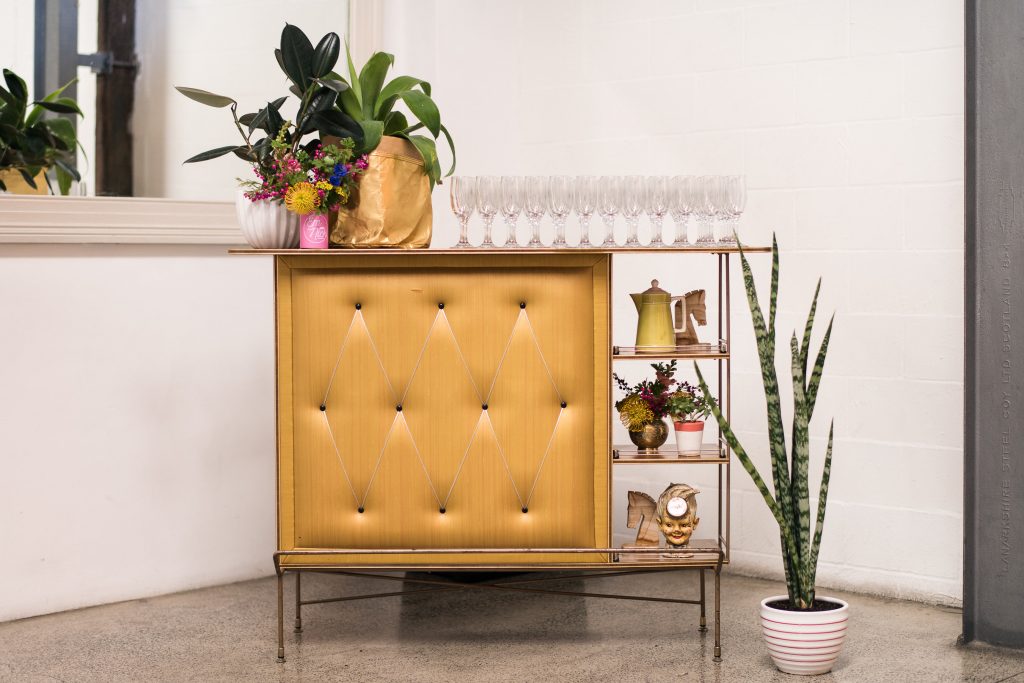 Depending on the amount of spare time you have on hand, or how many hands you have on hand, it can be a great move to hire an event stylist to help build your vision. Choose a theme or colour scheme and stick to it, then trust your stylist to get everything in order. If you'd rather save on a stylist, and spend on materials for a whole lot of DIY then you can round up your mates for a BBQ crafternoon or a couple of wedding working bees.
Sustainability is important to Em and her partner Nick, and they're both lovers of live music, mid-century modern furniture, tacos, and tequila. Put all of this together and you get a theme that she'd call 'mid-century Mexicana.' Think colourful wall hangings, eclectic seating, indoor plants, and a mobile cantina.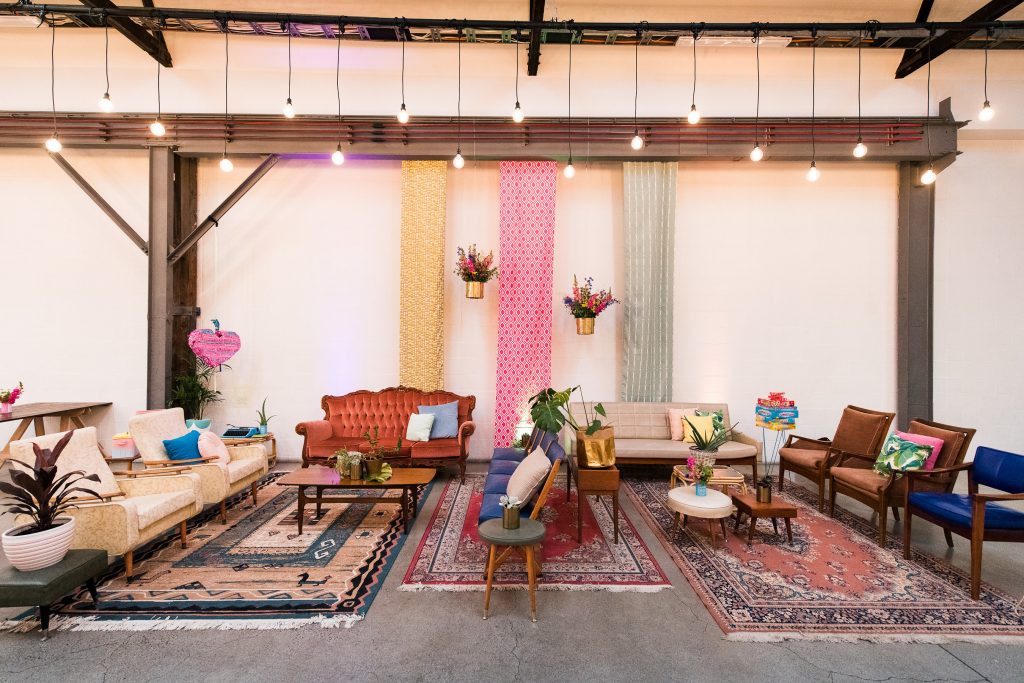 Em and her partner love DIY, but know that it can be a wasteful way to decorate a space. To cut costs and save the environment, they made a concerted effort to source reusable materials to build their vision, making fabric wall hangings that can be used for future events. For flowers, they selected a sustainable florist, Good Grace & Humour who collected the bouquets after the celebration, and donated all the flowers to a local nursing home. For invitations, they went digital, using Paperless Post to design and send 'save the date' reminders to guests.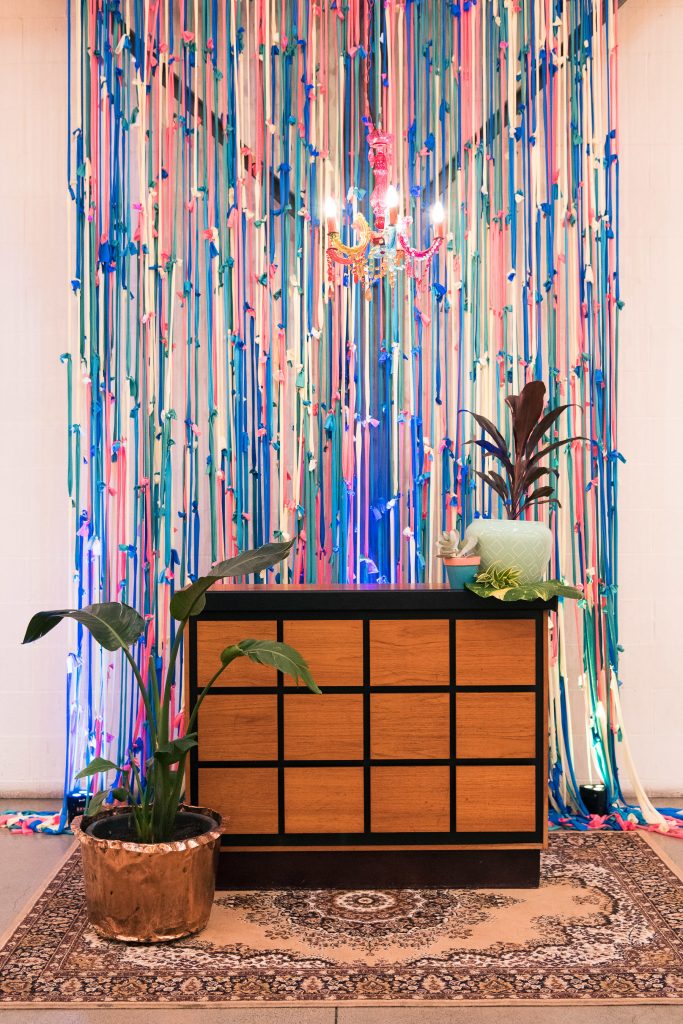 Tip: decide how much time you can realistically allocate to DIY crafting, and hire a stylist that understands your vision to lighten the load.
Filling your space with fun
You've got a venue, and a picture of how you want it dressed, so food and entertainment are next on the list. For Em, it's all about matching these elements with the theme of your unique wedding. Having selected a cocktail style wedding from the get-go, Em chose food and entertainment that could be enjoyed as guests roamed around the space.
Possessing a knack for food styling, Em styled her own gourmet dessert table and worked with Cured to Crumble to put together a grazing table to line her guests' bellies in preparation for the steady flow of espresso martinis to come. Dinner was a smokey Mexican feast, served straight from the couple's favourite food truck, Dos Diablos Mobile Cantina.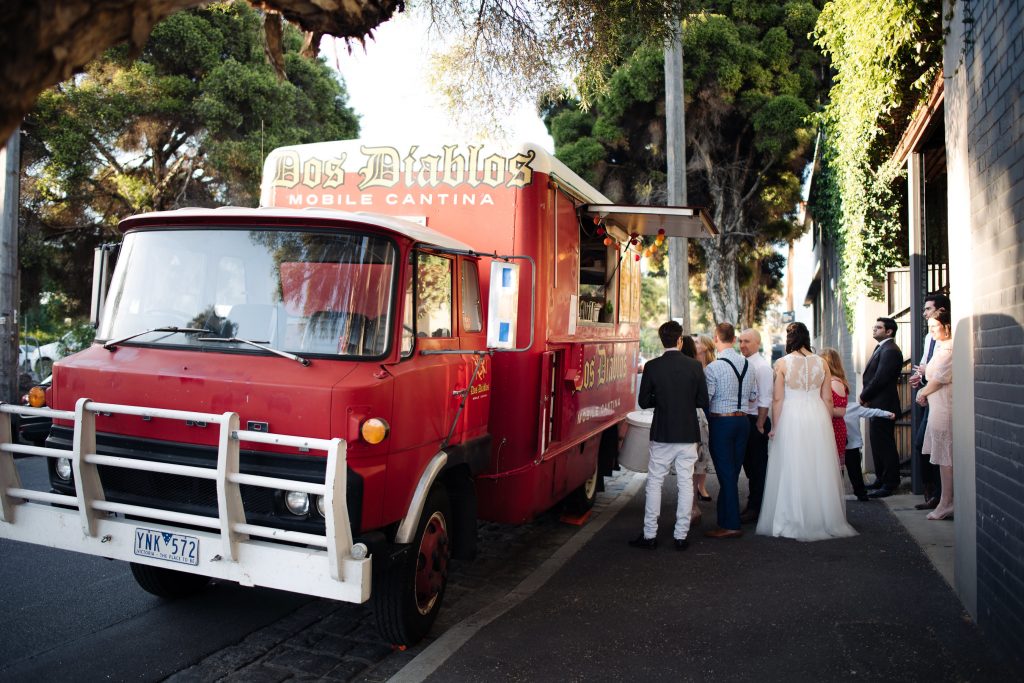 And, as if the dance floor, fun food and delicious cocktails weren't enough, Em and Nick pulled out all the stops with activities to suit every little kid and big kid in the room. A games lounge, with games sourced from a local garage sale was set up in one corner, while guests got their competitive juices flowing at the custom decorated, vinyl-clad ping pong table. A DJ commanded the dance floor with soul and disco classics, and a station wagon photo booth allowed guests to play dress-ups all night long.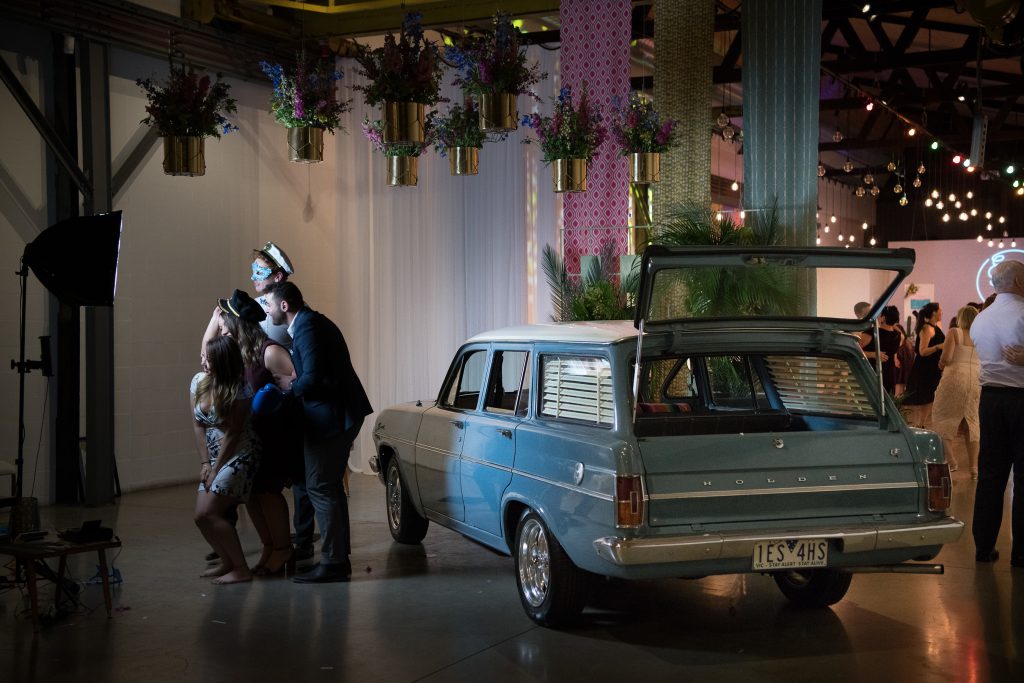 Tip: choose vendors that you have a good relationship with (and can share a cheeky beer with), and if you have crafty mates, call on them to help you cut costs and maximise fun.
Our final top tips for brides and grooms planning a unique wedding? Enter the experience with a clear vision, ask lots of questions when selecting your venue, don't be afraid to ask for help, and remember to take a step back from the planning so you can enjoy the day with your love.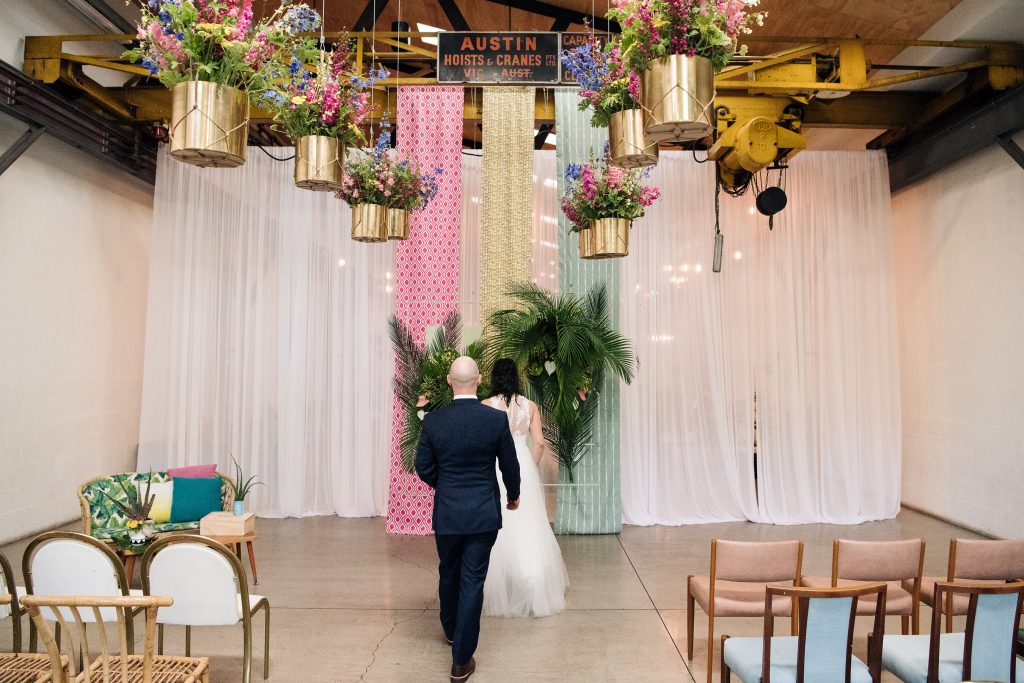 Em and Nick's wedding was produced with the help of a bunch of beautiful friends, family and hard working suppliers.
Photographer: Jerome Cole
Stylist & Design: Good Day Rentals
Venue: Twotonmax / Refresh Hospitality
Florist: Good Grace & Humour
DJ: Mercury DJ
Food: Cured to Crumble,  Dos Diablos, Messina, Butterbing, Phillipa's,  Miss Ladybird Cakes
Want to activate your creative streak and plan a unique wedding like Em and Nick's? Check out our favourite blank canvas venues in Melbourne!
Looking for an event venue to hire?
VenueNow has you covered with over 2,000 venues across Australia ranging from large event spaces to small meeting rooms. Find your perfect venue for hire faster than anywhere else.
Call our support team on
1300 647 488 during business hours
AEST or chat online.
© Copyright VenueNow 2020 | SPARE GROUP PTY LTD | ABN 22 607 830 302