Planning a networking event can be a stressful undertaking – especially if you've never done it before. Never fear though, there are a few things you can do to ensure yours is smooth sailing, whether it's a registration app to your food and beverage selections.
Leah Harley of AV Technology is well-versed in the ways of pulling off successful networking events. Fresh from planning and executing a string of corporate events around Australia, she's here to impart some knowledge for those about to network.
First things first, the venue. Or is it?
Actually, we lie. The actual first step is knowing exactly what you hope to achieve with your event. With that locked in, you'll be able to confidently book a venue that aligns with your theme, your audience, and potentially the brand of the company hosting the event.
"Aligning the venue to match the purpose of the event is key for the audience. If I'm arranging a high-end networking event or product launch then I'm not going to select a pub or a local RSL.
"And when I say 'aligning the venue', that also stretches across to the physical location of the venue, AV capabilities, catering – this all needs to be carefully considered and reviewed before selecting a venue."
And if you're in doubt? "Sourcing a space that is something new, that people haven't seen before, can also be a drawcard for higher attendance". Give guests every reason to sway from 'eh, maybe' to 'absolutely attending'. And remember, there are a few killer options out there to help you book the perfect, unique venue once you know the basics of what you're hoping to achieve.
Harder than you think: food and beverage
Unfortunately for those who planned on food and beverage catering being an easy item to tick off the to-do list, Leah names this as one of the most difficult parts of planning an event. Food and beverage can make or break an event, we all know that.
"It's a tough one, managing the balance of food and beverages to hit as close as I can to the total event numbers, at the same time as meeting one's event budget. You need to accommodate for a number of guest drop offs, while also accounting for guests to show ups on the day without having registered in advance."
Leah's standard approach? "Always over-cater slightly. Don't let your guests go home hungry! I always aim to have a wide selection of catering choices – even if this means going outside the generic function packages. Adding a bit of theatre is always a nice touch too."
Work with the venue on your requirements
The VenueNow Marketplace and Events teams agree: don't let your guests go hungry, and don't be surprised if managing the split between food and beverage is a tricky juggling act.
That said, it's also easier than one might think to go 'outside the venue's generic function packages'—all you need to do is ask. Once you contact a venue with your requirements or a brief, they'll be able to tailor packages and experiences to suit your needs. The reason is simple: venues want to win your business, so they'll go the extra mile to wow your guests.
And how do you ensure you wow your guests no matter what? Leah names as current trends: food stations, food trucks, serving region-specific wines and boutique beers. Yet another reason to research your audience and your potential venues.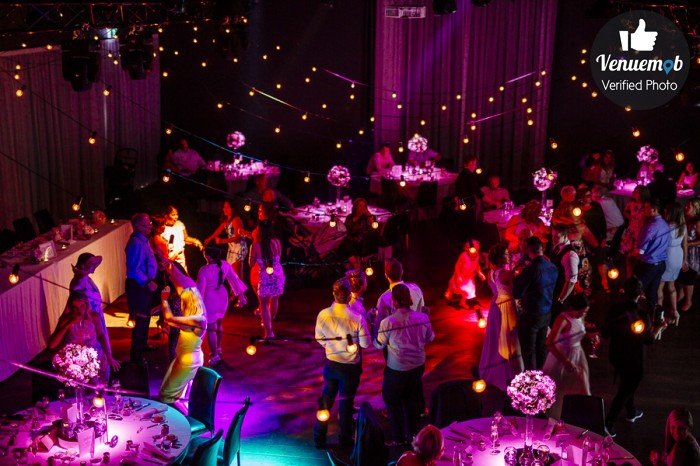 Registration apps: first impressions count
Registration apps for your networking event really comes down to what you have at your disposal. "I have used a few standard apps and programs in the past like Showgizmo or Eventbrite, but I prefer a customised registration portal made by our graphic design team – it's event branded and can be totally customisable for the event I am running."
This won't always be within reach for people organising their first networking event. Once you've hit your stride, however, it's worth investing in that consistent branding for your company or event.
"It also enables me to easily make changes to the registration requirements for each audience" adds Leah. Because as we know, every audience is different and you need to know whose yours is.
It's happening! What to do on the night
As the one who's planned, booked, and delivered the event, Leah is generally the first one on-site and the last one to leave. "I arrive before the rest of my team, running through the event plan, timing and other requirements with the venue manager. Then I conduct an event briefing with my internal team a few hours before the event."
Once the event is in full swing, it's time to pre-empt any crises or changes. Ensure catering is on time, manage stakeholder requests throughout the day, and then scampering off to do meet and greets at registration.
Let's face it— networking events can be prone to awkwardness. Leah admits managing the flow of the room and ensuring guests are mingling and networking within the space can be tricky. The solution? "Strategically placed beverages and food service can help with this flow."
Post-event: always follow up
According to Leah, following up post-event is an important part of a well-rounded event. It's also a main factor in reporting on the ROI of any event she manages.
"In most cases I have an event survey sent the morning after an event, so key feedback can be captured by attendees. This is all reviewed for improvement come the next event.
Social media plays a large part in following up, thanking people for attending – and providing a call to action (CTA) where required. For instance, 'contact us for more information' or photos of the event."
That's a lot. Is there ONE vital tip to keep in mind when planning a networking event? 
Research and know your audience, align your venue with your audience and ALWAYS add a 'wow' factor. And that's all a result of knowing your event purpose.
Feeling a little more confident about your upcoming networking event? Time to find and book the perfect networking event venue >>
Looking for a networking event venue to hire?
VenueNow has you covered with over 2,000 venues across Australia ranging from large event spaces to small meeting rooms. Find your perfect venue for hire faster than anywhere else.
Call our support team on
1300 647 488 during business hours
AEST or chat online.
© Copyright VenueNow 2020 | SPARE GROUP PTY LTD | ABN 22 607 830 302