It's one thing to know how to party, it's another thing to know how to party right.
29th Apartment seem to have an exceptional handle on how to keep the good times going and keep you sustained with the kind of salty snacks you start craving when your stomach is predominantly lined with alcohol.
They're advocates for eating buffalo wings and pizza around the 11pm mark of a party to keep you fed, which could probably save you from drunk-texting your ex. Isn't that kind? 29th Apartment is that amazing friend who has your back on a night out and gets you fed before you start saying every song is your "jam". The party vibes are only emphasised by the venue's fittingly lit location in the heart of St Kilda, surrounded by a bunch of hot spots for dancing and a fair share of kebab joints.
So what can you expect? "A New York experience in St Kilda" says 29th Apartment's Tamara Archibald. "St Kilda is always vibing, a great place for travelers, locals, drinkers and dancers".
They even have a 'shot cake', which is exactly as it sounds—shots layered like a cake, to which Tamara says: "didn't you hear drinking your cake is the new chocolate cake?" I sure hope so, birthdays are about to LEVEL UP.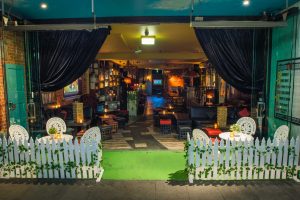 Not only is 29th Apartment your guardian angel for a night out, it's a really, really cool one. Fitted out with decor reminiscent of a New York apartment, the venue pays homage to the NYC apartments we can only dream about from our Melbourne office. 29th Apartment is kitschy, stylish, and doesn't take itself too seriously. As for the function spaces, you can choose between "Bedroom", "TV Area", "Fire Escape Room" and other delightfully-named places to get your groove on.
Hitting the big 3-0? "30th Birthdays are a big hit at 29th. We have DJs playing from 9pm Saturday and Sunday, so everyone stays around for a dance until the early hours", says Tamara. 29th Apartment is ideal for birthdays, celebrations, hens nights, Christmas parties, or just a solid boogie with your friends on a Saturday night.
SPECIAL OFFER!
Pssst… one more thing: host your event at 29th Apartment and treat yo self to free platters of food for the party—we're talking popcorn chicken, gourmet pizza bites, calamari rings, mini meat pies, and other tasty treats. Yes please.
Not to mention, enquire for a hens night at 29th Apartment to partake in a cocktail class with your favourite girls!
Click here to book 29th Apartment for your next event!
Browse thousands of amazing function venues on VenueNow >>
Looking for an event venue to hire?
VenueNow has you covered with over 2,000 venues across Australia ranging from large event spaces to small meeting rooms. Find your perfect venue for hire faster than anywhere else.
Call our support team on
1300 647 488 during business hours
AEST or chat online.
© Copyright VenueNow 2020 | SPARE GROUP PTY LTD | ABN 22 607 830 302