First of all, a toast to your engagement! 🥂 You're about to set off on a beautiful adventure and we're so excited for you! Now whilst the news is still fresh, it's time to start thinking about your engagement party.
If this is your first time hosting an engagement soiree, you probably have heaps of questions about planning the event. "When should we celebrate?", "Who should we invite?", or even "Should we have an engagement party?"
Have no fear — here are our answers to the most frequently asked questions about engagement party rules and etiquette.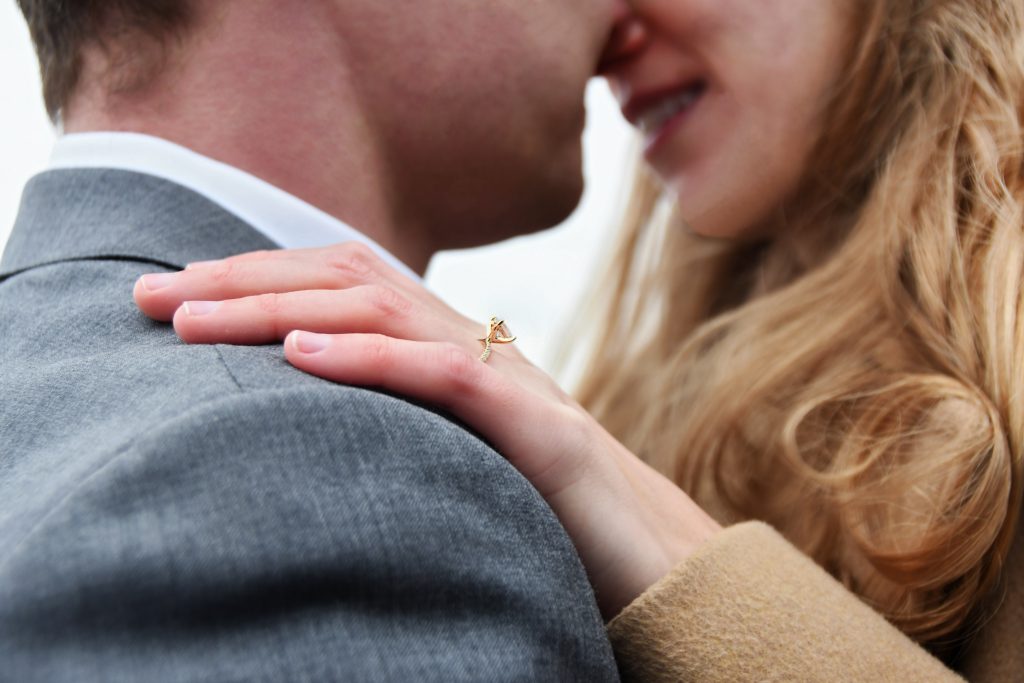 What are engagement parties for?
You know all about hens and bucks and rehearsal dinners. With so many pre-wedding events to hold, are engagement parties necessary? Let's take a look.
Is an engagement party necessary?
This is entirely up to you. Some couples choose to skip this tradition and just celebrate their engagement on the day of their nuptials. Many couples also find that there's just not enough time between the proposal and the wedding to plan an engagement bash, which is understandable.
Meanwhile, some couples opt to host an engagement party so that their families and friends can meet and raise a glass to the happy news before the big day. And if you're planning on having a long engagement, hosting a party allows you to celebrate without having to wait until the wedding itself.
Why do people have engagement parties?
The engagement party allows you to share the news with your nearest and dearest in a meaningful way. It's also a great opportunity to bring your future wedding guests (and bridal party) together. More importantly, if your families have yet to meet, this is a good time to introduce them. And, bonus: planning your engagement party can be a practice run for planning your wedding.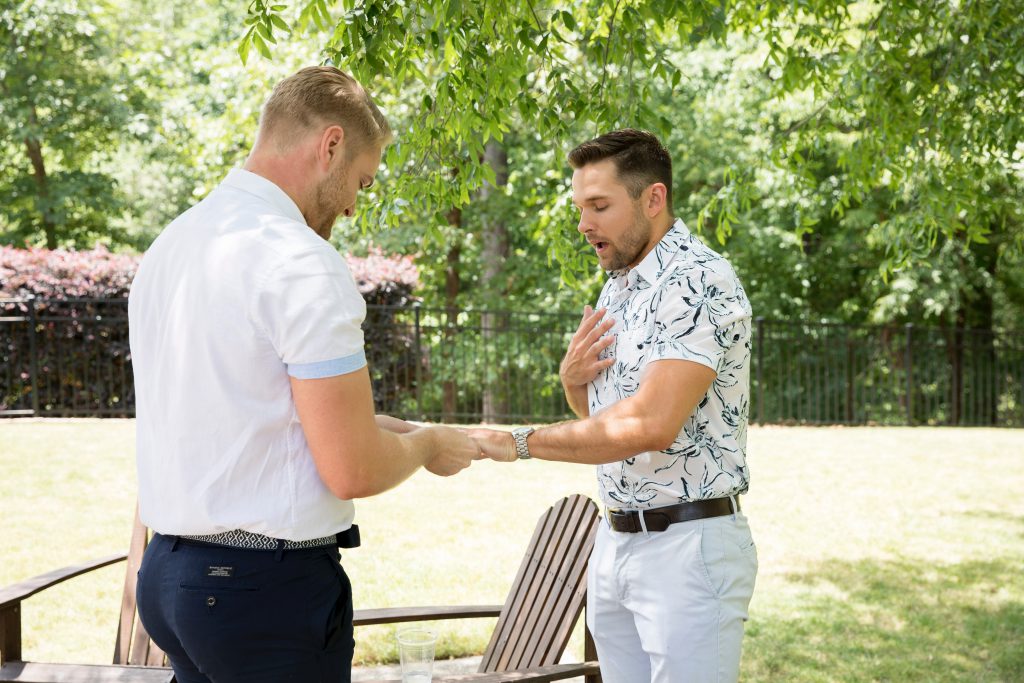 When should you have your engagement party?
If you've decided you do want to celebrate your engagement, the next thing you need to know is when to host your engagement bash.
When should I have an engagement party?
Whilst there are no fixed rules about engagement party dates, you should generally try to have your engagement party not long after the proposal, i.e., before it becomes old news. You should also try to put some space between the engagement party and the wedding itself, as the pressure of planning two important events too close together will drive anyone mad.
As a rule of thumb, your engagement soiree should be held two to four months after the engagement and at least half a year before the big day.
Is there such a thing as celebrating an engagement too early?
The simple answer is no. However, you'll want to take some time to just soak in that newly engaged bliss before you get down to planning your wedding and everything attached to it — pre-wedding festivities, honeymoon and so on. Getting engaged is the first step in a life-changing journey. Take a couple of weeks or even a month to just revel in this new chapter and not stress yourself out planning an engagement party.
9 Engagement Party Themes and Venues to Match
Looking for creative engagement party ideas that will wow your guests? We've rounded up our favourite engagement party themes (and venues that match!)
How many people should you invite?
Now on to the guest list — the thorniest part of event planning.
The most important thing to remember is that you should only invite the people closest to you and your partner — those you want to celebrate one of the most unforgettable days of your lives with. Don't invite people just because you feel obligated to do so.
There are a couple more things to think about. First, if you invite someone to your engagement party, they'll expect to be invited to your wedding as well. But if you're planning a destination wedding or a small ceremony, you could take this opportunity to celebrate with the people who won't be at the wedding. Just set expectations by letting these people know that your wedding will be a very intimate affair with just your closest family and friends.
Next, engagement parties are generally smaller and more relaxed than the wedding itself, so you might want to keep the guest list small. But if budget is not an issue, go ahead and throw a big engagement bash!
Engagement party etiquette
There's always a bit of confusion with wedding-related activities, engagement party protocol and etiquette included. How do engagement parties work? Let's set some things straight:
Who should host?
Traditionally, engagement parties are hosted by the parents of the bride-to-be. But it's also perfectly fine for anyone else — your siblings, your friends, or you and your partner — to host the affair. There may be more than one engagement party — a formal dinner hosted by your parents and an informal gathering hosted by your friends. If your families live in different parts of the country (or the world), they may even host separate engagement parties.
Who pays for the engagement party?
Generally, whoever's planning the party covers the costs. If you're arranging your own, remember that an engagement party can be as small and simple or as big and lavish as you like. If you find that a formal dinner is too costly, consider hosting a cocktail party at a classy rooftop venue or even drinks at a popular local pub where you can put up an initial bar tab or deck out a private area.
Are gifts customary?
Traditionally, guests are not expected to bring gifts to an engagement party. However, times have changed and some couples set up a gift registry to avoid fielding questions about what they want to receive. If you decide to take this route, you could add some low- to mid-range items to your wedding registry and include a link in your invite. If you prefer not to receive gifts, you can make it clear by saying so on your invite. 
What is the average cost of an engagement party?
The average cost of an engagement party varies depending on many different factors, including where you live, the type of venue, the guest size and the time of year. For a small gathering, you can expect to spend a minimum of $200 for the venue, whilst a larger event may cost you as much as $20,000. Add to this the cost of food, booze, party favours, invitations, entertainment, photos, and decorations. All of this will depend on what you want to include in your engagement party and how formal or casual you want your celebration.
How much does an engagement party cost?
Use our calculator to estimate your engagement party budget in under 5 minutes.
Are engagement parties passé?
It may seem like nothing more than an excuse to spend money and receive pre-wedding presents, but engagement parties are about so much more. An engagement party is a wonderful opportunity to celebrate one of the biggest moments of your life with the people you love most. It helps break the ice between families, gives eager family members the chance to throw you a party, kickstarts bonding amongst the bridal party, and is a great dry-run for the actual wedding.
So, are engagement parties tacky? We definitely don't think so. At the end of the day, you should do what you're comfortable with — and if that means hosting a party to celebrate your engagement, then why the heck not?
Kick off the wedding festivities with a bang!
Once you've decided on a guest list and have figured out how laidback or fancy you want your party, it's time to start looking into engagement party venues. Whether you're aiming for a small get-together or want to go all out with a themed party, VenueNow will help you find the perfect space to fulfil your vision.
Find your ideal engagement party venue
VenueNow has you covered with over 2,000 venues across Australia. Find your perfect engagement party venue in just a few clicks.
Follow us on social media to stay up to date with the latest news
Call our support team on
1300 647 488 during business hours
AEST or chat online.
© Copyright VenueNow 2022 | SPARE GROUP PTY LTD | ABN 22 607 830 302