Congratulations on your upcoming nuptials! Before you embark on a months-long wedding-planning journey, why not kick things off with an engagement party?
There are no strict rules about what you can and can't do to celebrate your engagement. Whether you go for a casual outdoor gathering with your closest family and friends or throw a themed affair at a swanky venue, it's all up to you! Think of it as a way to practice your party planning skills for the big day.
Looking for creative engagement party ideas that will wow your guests? We've rounded up our favourite engagement party themes (and venues that match!) to help you plan a truly unforgettable engagement soiree.
1. Under the stars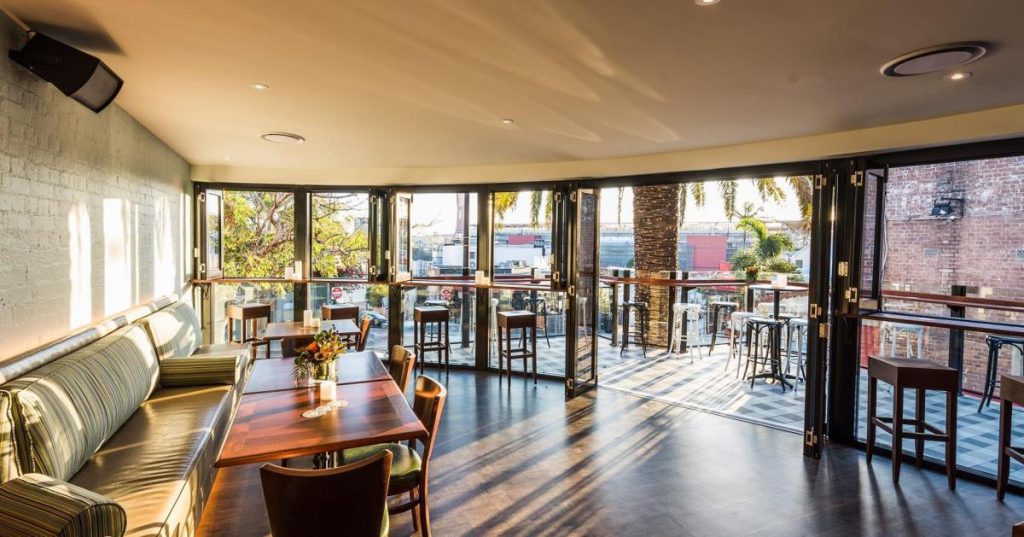 There's something super romantic about a party held in the warm night air, under the stars, with the view of the glittering city skyline all around. If you live in a big city, a rooftop bar is the perfect setting for a cocktail reception.
Set the mood with lanterns and fairy lights, make sure there are heaps of comfy cushions and hire a musician for some live romantic tunes in the background. Obviously, good weather is never guaranteed, so look for a venue that can accommodate all weather conditions. This inner-city heritage venue has both indoor and outdoor space - perfect for year-round celebrations.
2. Blooming florals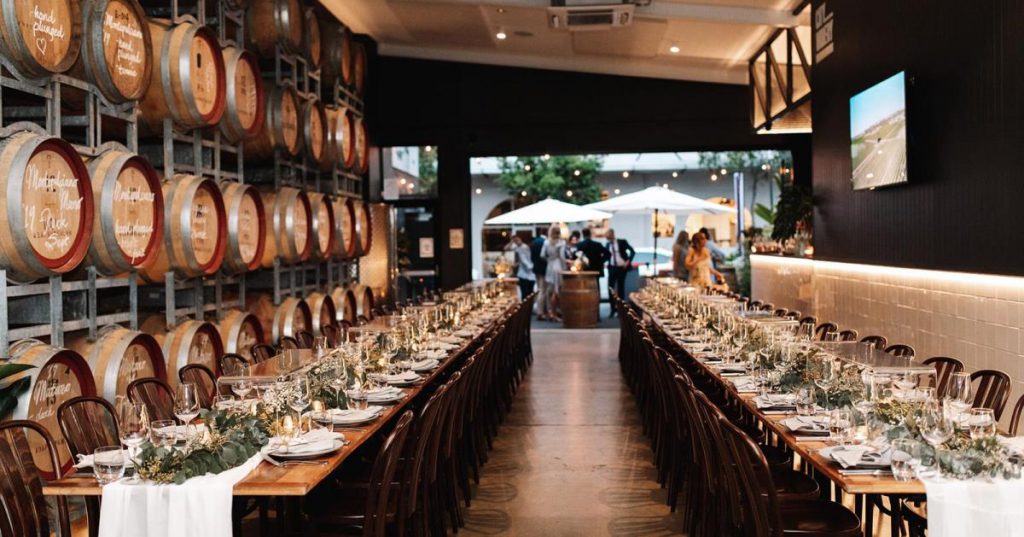 Get into the wedding spirit with a floral-themed engagement bash. An outdoor engagement party set amidst the lush foliage of a botanic garden is absolutely dreamy and easy to set up. And you don't even have to be outdoors for this theme to work! Book a rustic venue like this beautiful Brisbane winery then bring in fresh flowers and greenery for a picturesque engagement soiree.
3. Roaring '20s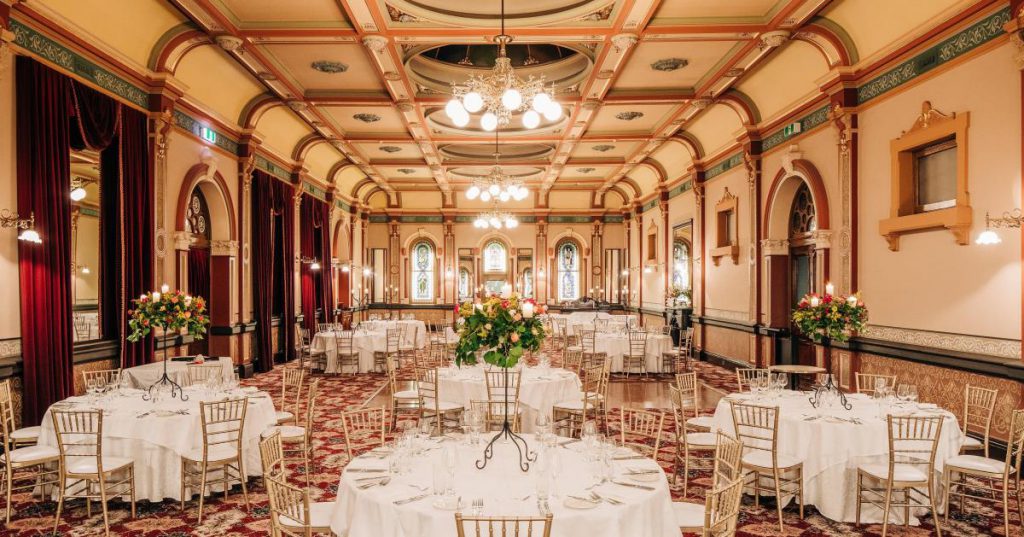 One of our favourite vintage engagement party ideas is a 1920s gangsters and molls theme. Channel the glamour of the '20s with champagne towers, flapper-inspired outfits, feather boas, pearl necklaces, cocktails in coupe glasses and gold and black balloons. If you and your partner are vintage lovers, adore history or classic literature, this is a great way to celebrate that shared interest.
For an opulent 1920s-themed soiree, you'll love this heritage-listed ballroom with soaring stained glass windows, a wooden dance floor and grand marble fireplaces.
4. Minimalist tropical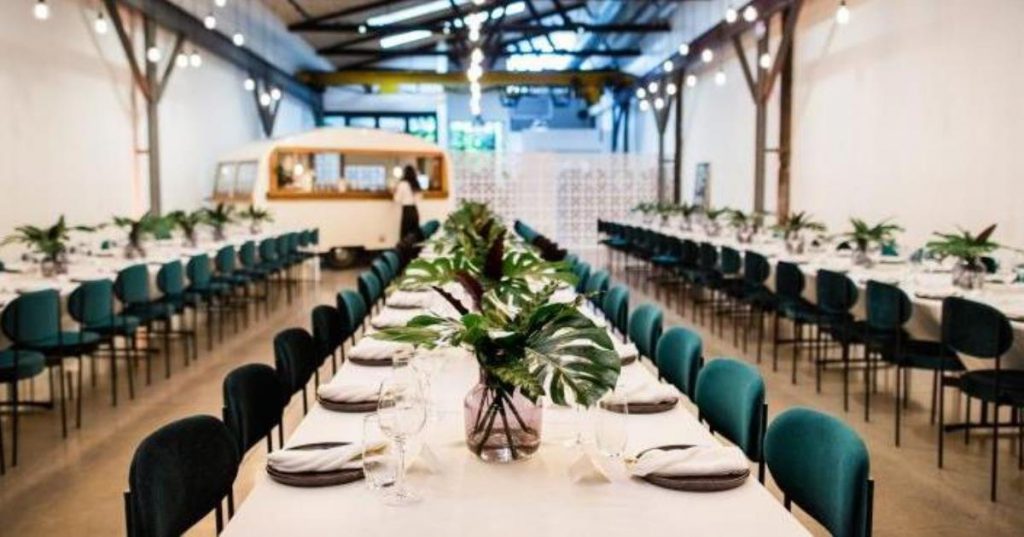 Give this time-honoured theme a modern spin. Instead of bright summery pastels and plastic flamingos, think tropical plants, white linen and clean lines. Make your minimalist theme pop with a tablescape made from palm fronds and monstera leaves. Serve poke bowls from a food truck and make sure there's a steady stream of piña coladas and Mai Tais. A blank canvas space with an industrial vibe provides the perfect backdrop for this cool engagement party theme.
5. Something blue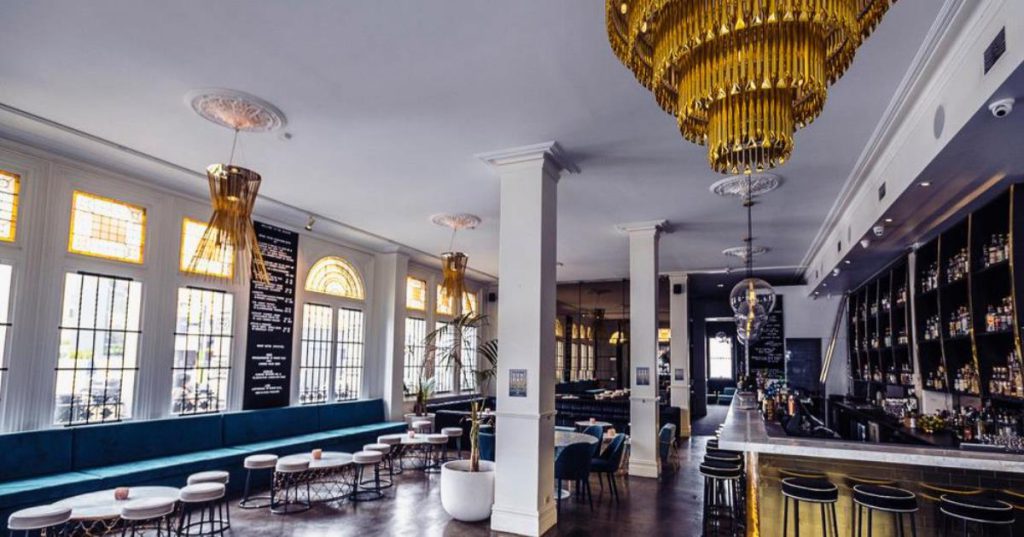 How easy is this theme? Kick off your wedding journey by throwing a "something blue" party. This is a classy engagement party idea that allows for a themed gathering with minimal fuss. Serve blue drinks, order blue flowers and deck out the space in blue decor. And look, we've found you the perfect blue and gold venue.
With space for up to 200 guests, this impeccably designed whiskey bar in gorgeous shades of blue looks tailor-made for your engagement bash. The luxe venue has multiple cosy spaces available for private hire and boasts a premium beverage selection that includes more than 500 whiskies from around the world!
How much does an engagement party cost?
Calculate the cost of your dream engagement party in under 5 minutes!
6. Boozy brunch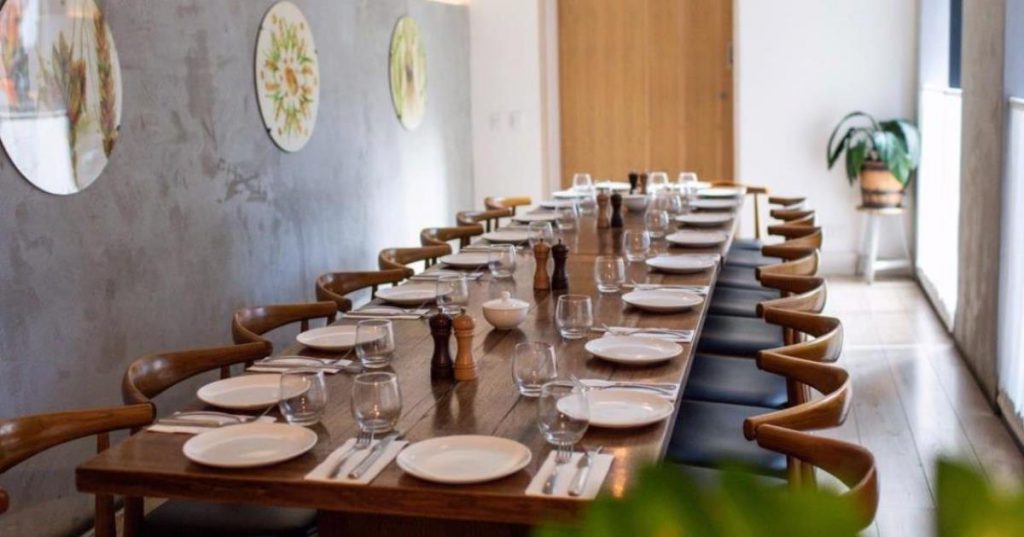 No one can resist a good breakfast spread (especially if there are mimosas involved)! For a no-frills engagement celebration, invite your nearest and dearest to a brunch buffet! Book your favourite brunch spot and serve mouthwatering breakfast-themed food. Make it memorable by setting up a DIY cocktail bar.
7. Formal dinner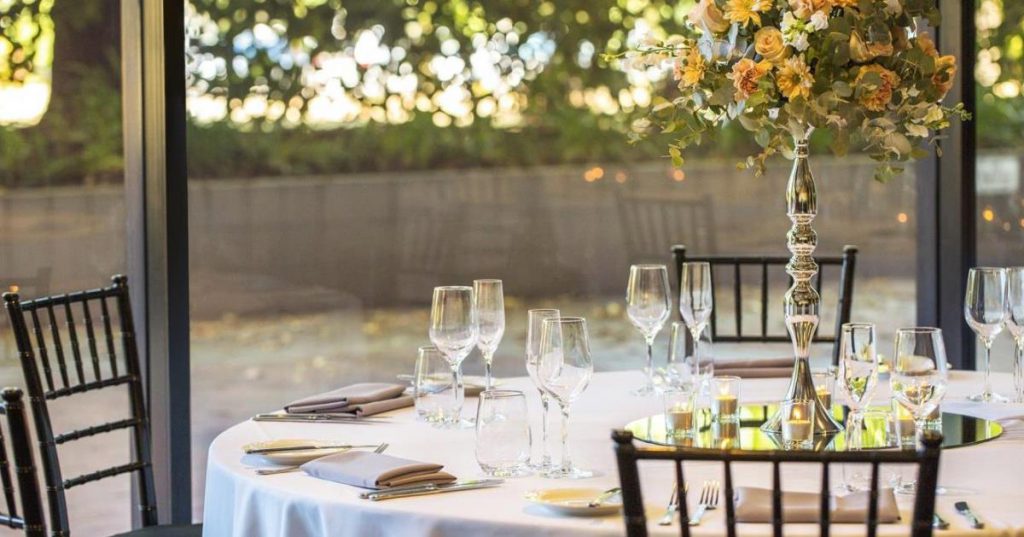 If engagement party themes aren't your style, that's totally okay. You can have an engagement party with serious "wow" factor without having to wear a costume or follow a theme. A formal sit-down dinner is a great way to celebrate the news of your engagement with your family and friends.
First step: choose a stunning venue like this stylish function room with an outdoor terrace. Next, encourage a semi-formal to formal dress code to elevate the event. Then deck out the space in flowers and moody lighting. The food will be one of the focal points of the party, so make sure to book a top-notch caterer for your event.
8. Family picnic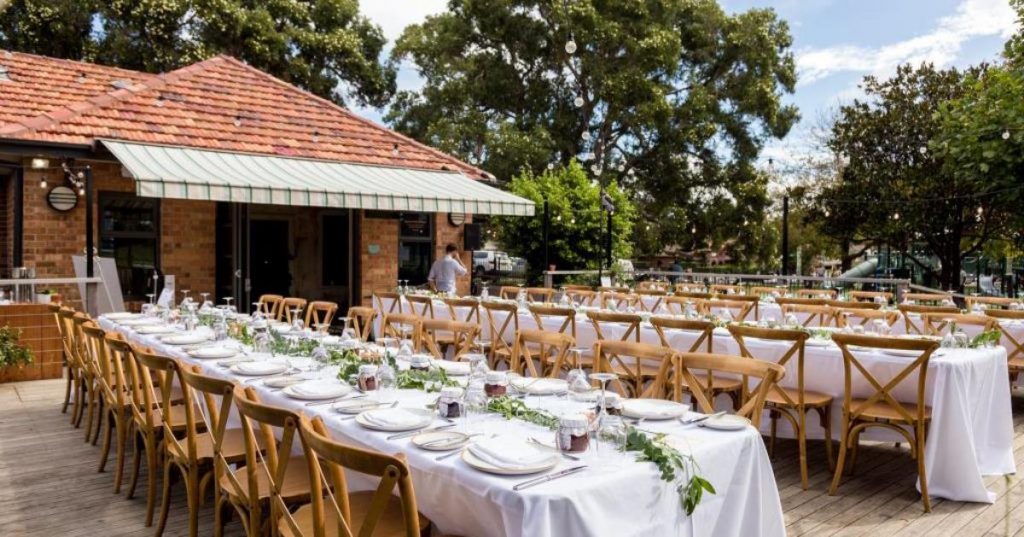 Parks and other outdoor venues are great if you have kids attending the event. Head to your local park or botanic garden, or book this sun-soaked deck surrounded by rolling green playing fields, for a casual gathering with your friends and family. Hang streamers and string lights, bring outdoor games for the kiddos and serve a picnic-style feast.
9. Farm to table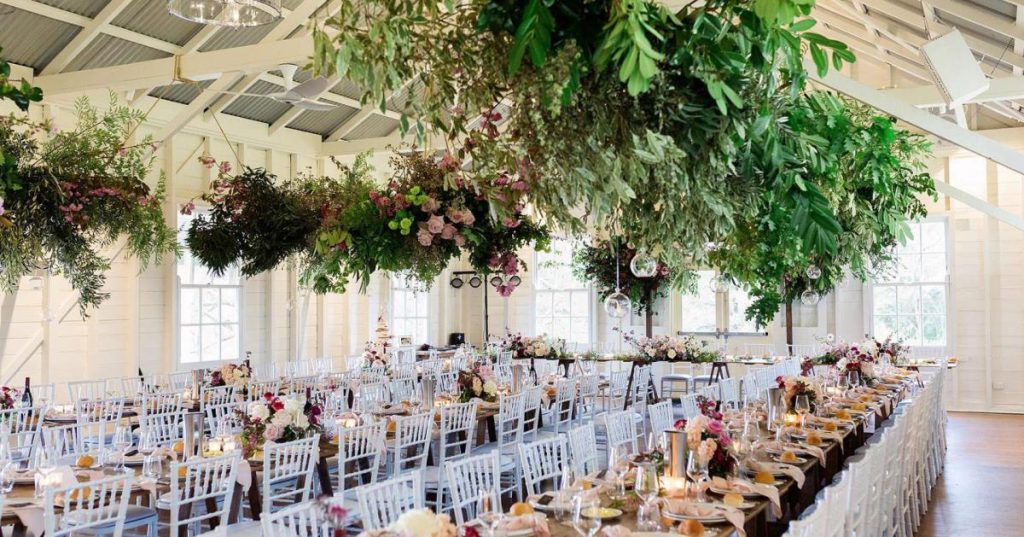 Love eating local? Throw an engagement party that highlights fresh local ingredients. A rustic themed engagement party held in a charming barn-like venue or outdoors at a vineyard is a fitting setting. Style the venue with vibrant linens and heaps of fresh flowers. For extra fun, hire a local sommelier to guide a wine-tasting session for your guests.
Get planning!
If any of these engagement party themes and creative ideas struck your fancy, check out the matching venue. Then head to VenueNow, the country's largest and most trusted venue marketplace, for more handpicked engagement party locations across Australia!
Looking for an engagement party venue?
Browse hundreds of stunning engagement party venues across Australia with VenueNow. Find your perfect venue in minutes, not hours.
Call our support team on
1300 647 488 during business hours
AEST or chat online.
© Copyright VenueNow 2022 | SPARE GROUP PTY LTD | ABN 22 607 830 302