It is the ultimate show-stopper. The moment that elevates an already-enjoyable event to one that is unforgettable, and remarkable. A black curtain is raised, and suddenly you're looking out onto the string section of the Melbourne Symphony Orchestra, three tiers of theatre seating and the realisation that you are currently dining on the State Theatre stage at Arts Centre Melbourne.
"The idea is completely unassuming," smiles Steve Bayliss, the head of sales and events for Arts Centre Melbourne. "Then the curtain at the front of the stage goes up and the guests realise they're on the State Theatre stage and it's just amazing."
Seasoned corporate professionals could be forgiven for suffering from event fatigue. There go the goat's cheese canapes. There are the pretty flower arrangements. And, right on time, here come the speeches.
It can be difficult to find a space that inspires, transports and delights even the most experienced clientele. The team at Arts Centre Melbourne know this better than anyone.
"The corporate market is always looking for new experiences", says Steve. "Typically, they're confined to one space, a space that has minimal ability to change.
"Here, we can offer both a totally blank space to begin with, and then an amazing, unique experience like this. And being able to offer that kind of experience, it really is a pleasure."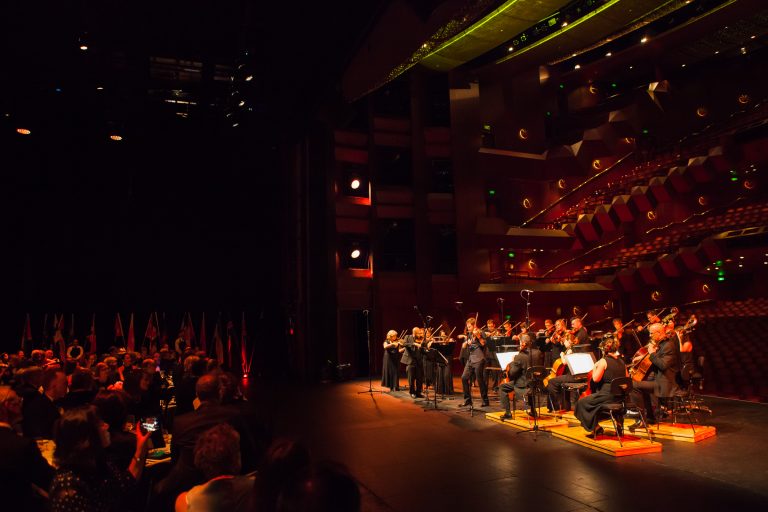 Unique and amazing is right. Watching the string section of the MSO play through their chosen concerto, the regal red tiered seating of the State Theatre forming an incredible backdrop, it is an awesome experience, even for those of us present for just the set-up. One can only imagine how the guests must feel once that black curtain rises, the MSO serenading them with world-class classical music.
"Holding a dinner overlooking the auditorium truly makes your guests feel like they are a star for the night," says event sales manager Dominoe Aranyi.
You'd be forgiven for thinking that the planning and execution of such an event would take weeks, if not months.
"Ideally, it is great to have a few months lead time to put something like this       together," explains Dominoe. "But our team can come together in a month if need be to create something spectacular."
"For this particular dinner tonight, we received the brief six weeks ago," says Steve. "And bump-in began this morning at 10am."
Just six weeks to plan such a remarkable event, and less than 10 hours to completely transform this blank canvas into a refined event space suitable for the most distinguished of guests.
That's not to say it's a particularly simple process.
For an event of this nature, Arts Centre Melbourne's events team have to find a time when the stage isn't in use, and be wary of any shows that may be using the theatre. They need to coordinate with the Melbourne Symphony Orchestra team, select the music and allow enough time for rehearsal. And on the day of the bump-in, they need to install the necessary rigging and lighting – for which there is a separate lighting manager who calls the cues for the event, as they would any production.
"One of the challenges is this event crosses five different departments," says Steve.
"The amount of people and departments that come together to pull this off is amazing," says Steve, with admiration for the team that surrounds him. "And the key really is communication. It's really important that we communicate effectively with one another."
If this event is any measure, it's safe to say the channels of communication between the teams at Arts Centre Melbourne are well and truly open. With less than an hour to go, there's no yelling, no running – it's just quiet, with staff purposefully adding the finishing touches. Everyone knows their position, their individual role.
So, when the curtain closes at the end of the night, it is safe to assume the event was a smashing success.
Discover how you can take your event to the next stage with Arts Centre Melbourne >>
Feature image credit: Image of Melbourne Symphony Orchestra by Mark Gambino, courtesy Arts Centre Melbourne.
Looking for an event venue to hire?
VenueNow has you covered with over 2,000 venues across Australia ranging from large event spaces to small meeting rooms. Find your perfect venue for hire faster than anywhere else.
Call our support team on
1300 647 488 during business hours
AEST or chat online.
© Copyright VenueNow 2020 | SPARE GROUP PTY LTD | ABN 22 607 830 302