As far as work events go, the annual Christmas party is the event of the year. On the top of everyone's shortlist is 'unique Melbourne Christmas party venues'. Luckily, what with this city being such a cultural hot spot, we've got plenty of those. So, grab your shortlist of unique Melbourne Christmas party venues, and let's compare notes.

Hold your event amongst the treetops, surrounded by prehistoric creatures, even next to tissue specimens! Melbourne Museum has a bunch of spaces to choose from, including many of the (semi)permanent exhibitions and galleries. Learning can be fun, especially when there's wine and delicious canapés involved.

Take a tumble down the rabbit hole to StoryVille. This quirky CBD venue brings all your childhood fairytales to life and adds the irresistible combination of brightly coloured cocktails and tunes. The interiors are something to behold, and the incredible decor makes for a venue where you don't need to lift a finger.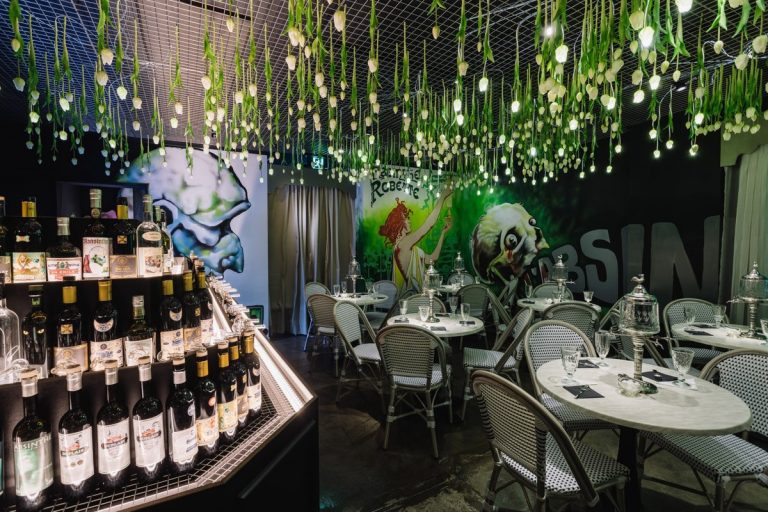 How much does a Christmas Party cost?
Calculate your event cost in under 5 minutes
Ever wanted to party with the green fairy? Absinthia is a unique venue located in Melbourne's inner north. Boasting one of the country's largest collections of absinthe, this venue is a beautiful combination of  contradictions. Punk gothic motifs and artwork sit side by side with cute Parisian and romantic detailing. Gather your group and kick back with a snifter or four of the green stuff.
Many will recognise Abbotsford Convent as the historic hidden gem of the inner north. Surrounded by greenery, Abbotsford Convent is an urban oasis. Within this heritage-listed venue's beautiful walls are a number of private function spaces.  Historic and utterly charming, the team at Bursaria have created a fantastic menu to complement the unique setting of Abbotsford Convent.

Melbourne is beautiful city. And arguably, one its finest features is the Yarra River at night–Flinders Street Station glowing golden, the lights from Southbank shining brightly. By opting for a river cruise for your Christmas party, you're bound to see Melbourne from all her good angles.

This beautiful Victorian building is a dynamite spot for a mid-afternoon work party. After all, it's a brewery and the home of Carlton Draught. It also has a big sunny courtyard where you can opt for a gourmet barbecue. Or, theme your event for that extra level of merriment. How about an Oktoberfest party, or casino night?

Enter into the weird and wonderful Bobby McGee's space, and you'll be instantly transported. This venue is where the events team from Rydges Melbourne get to unleash their creative, and boy, do they ever! There are three themed bars, a dance floor and the option for extra (delicious) quirks such as a donut wall, or gelato cart. Topsy-turvy tasty fun times.

Need some more inspiration? Click here to see what other unique Melbourne Christmas party venues we have to offer >>
Looking for a Melbourne Christmas Party Venue?
We've got you covered. VenueNow has the most extensive collection of spaces, perfect for your event. Click below to get started.
Call our support team on
1300 647 488 during business hours
AEST or chat online.
© Copyright VenueNow 2020 | SPARE GROUP PTY LTD | ABN 22 607 830 302