Team building is an essential part of any successful business. By creating opportunities to work together in new and exciting ways, businesses can foster collaboration between employees, leadership development, develop relationships, and encourage problem-solving. But where should you go for corporate team-building activities?
If you've been tasked with booking a venue for a company workshop or retreat, one of the most important things to consider is whether or not the venue is set up for team-building activities. These can be anything from arcade games to a ping pong table, cooking or art classes. Activities like these give you the opportunity to engage in friendly competition, collaborate and get to know each other better, which will help you build the social capital that's so important to building a resilient and efficient team.
Luckily, there are plenty of these venues in Australia that will suit your needs! Here are some of our favourite conference venues/corporate venues with team-building activities.
1. Karaoke Bar (Sydney)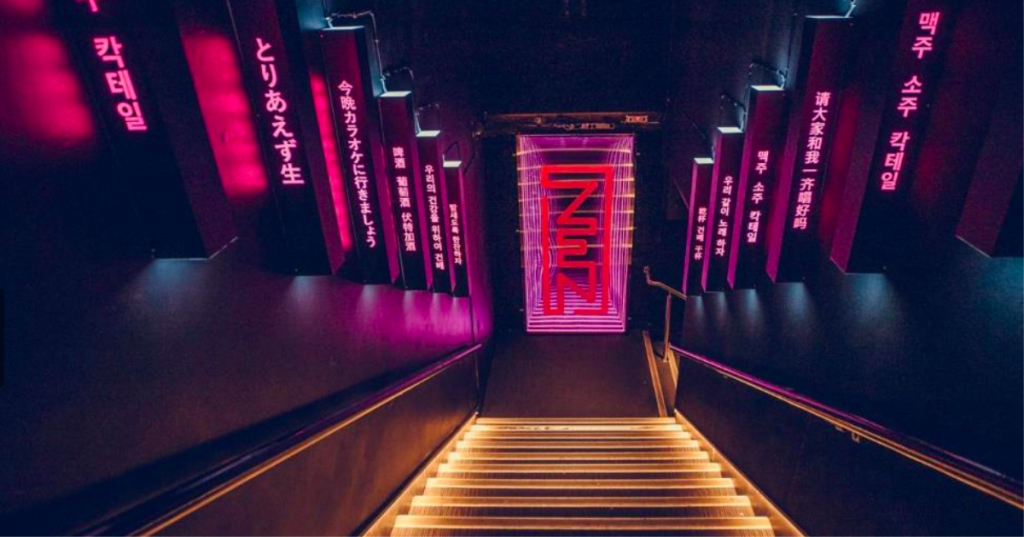 This nightlife hotspot in Sydney is where you need to go if your team loves to unwind by belting out '80s power ballads. Taking inspiration from popular destinations in Japan, Hong Kong, China and Korea, this hip venue is a karaoke/electronic darts bar that's perfect for office celebrations and team-building events.
Discover more Sydney venues for corporate events
2. Virtual reality room (Sydney, Melbourne)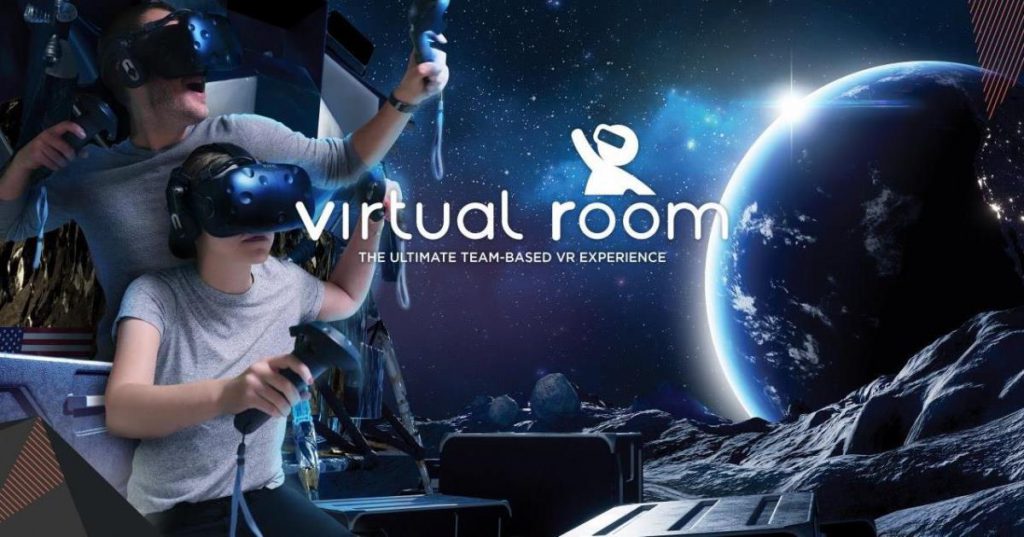 Immersive virtual reality experiences offer teams a unique way to work together in a non-work setting whilst having loads of fun. At this venue, groups of up to 12 go on a virtual time travel adventure whilst strategising with teammates and trying to solve missions. If you and your coworkers are in the mood for a team-building activity that will get your adrenaline pumping, book this venue in Sydney or Melbourne now.
Why host a team-building event at all? Read our blog on the importance of team-building to learn more.
3. Bowling, laser tag and arcade games (Melbourne)
How about some good old bowling, but in a seriously swanky setting? At this impeccably designed private function space in Melbourne, you get an exclusive cocktail-style lounge with a fully licensed Patron Tequila bar, karaoke and DJ equipment. But that's not all! You also get easy access to bowling lanes, laser tag and arcade games, which means you and your colleagues won't run out of things to do!
Explore Melbourne corporate function venues
4. Outdoor activities (Brisbane)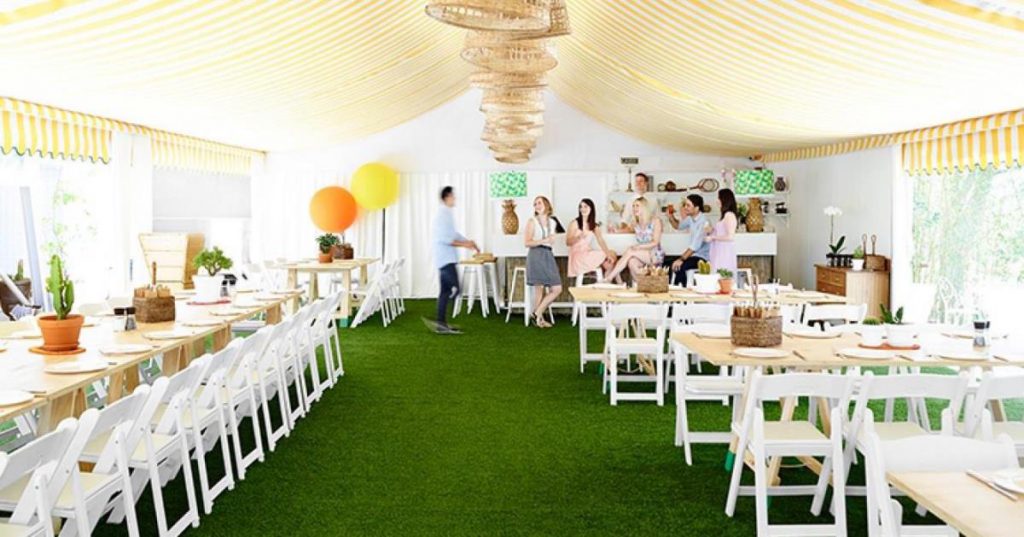 Located just a short drive away from the city, this venue features several different function spaces, each with its own private bar, outdoor terrace and scenic views of the neighbouring golf course. With its vintage garden furniture, draped ceiling and urban Tropicana vibe, the Orchard Room has a super relaxed feel. There's a ping pong table, space for outdoor sports and an outdoor grill area, so it's ideal for whatever you've got planned — whether it's a workshop, charity events, office Olympics, amazing race team activities or just socialising with colleagues.
5. Private cooking classes (Brisbane)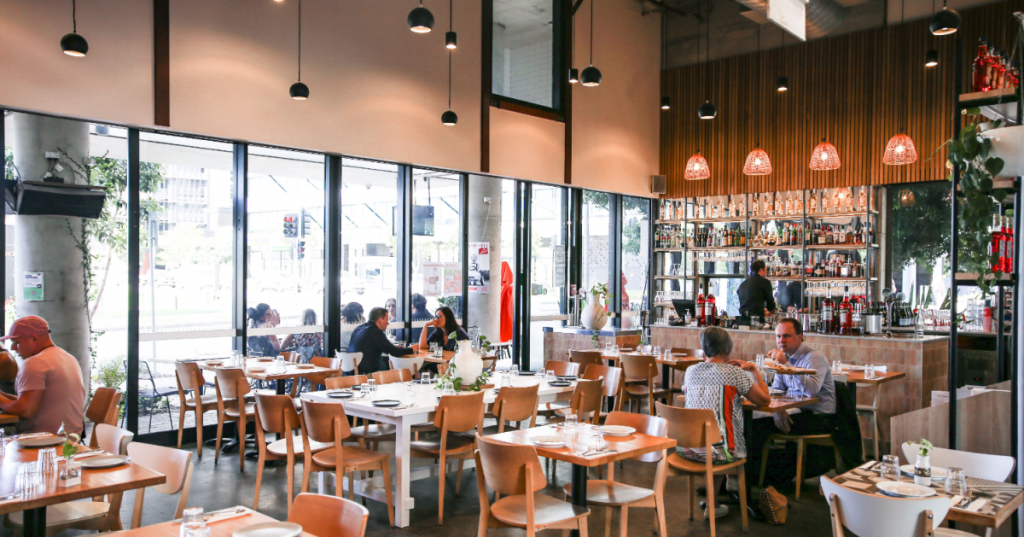 One of the best ways to bond with your coworkers is to try to learn a new skill together. There's something about fumbling your way through a new experience together that helps break down walls and foster relationships, especially when that experience is a gourmet one that leaves you with a full belly.
At this family-owned Italian restaurant, a team of experienced teachers will guide you through a hands-on cooking class. So whether you're entertaining a client, hosting a team-building activity or celebrating a coworker's birthday, this is a unique experience that will help you build rapport — and your cooking repertoire.
How much is a corporate event?
Calculate your event cost in under 5 minutes
6. Board games and trivia night (Brisbane)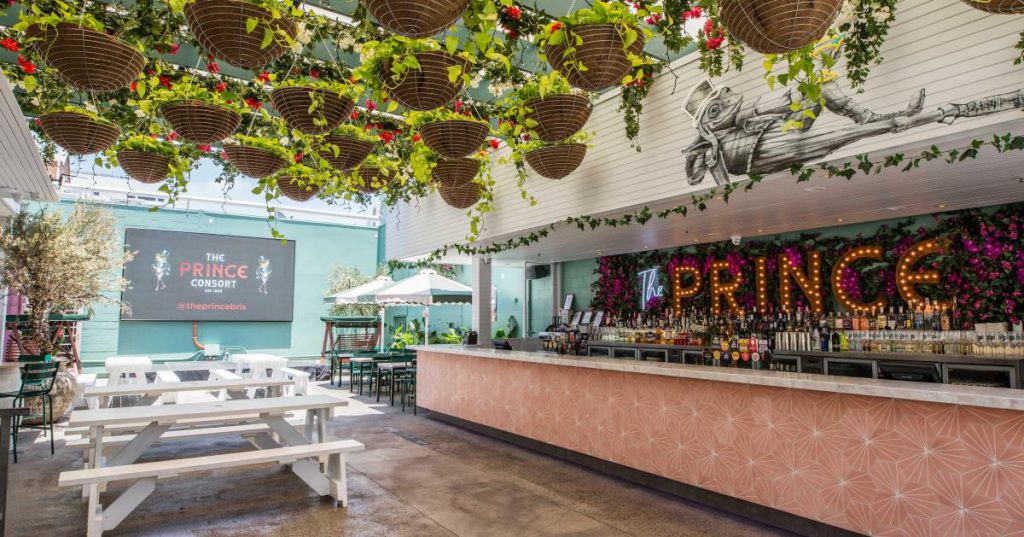 Holding up to 250 guests, this cheerful spot in the heart of Brisbane's entertainment precinct has everything you'd look for in a function venue. There's a private bar, full AV access, DJ facilities, and dedicated restrooms. The garden bar is the perfect spot for knocking back martinis during trivia night or whilst playing giant board games. It is great for corporate groups and businesses looking to conclude their team events and bond over good food.
Find top-rated corporate venues in Brisbane
7. Wellness programs (Perth)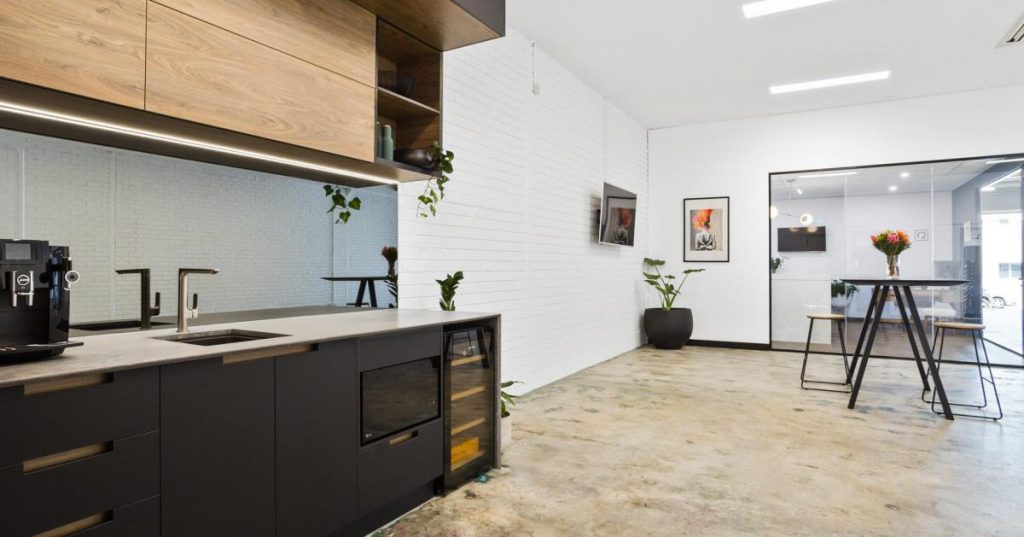 Planning a corporate wellness day? This converted warehouse in West Perth is a great "blank canvas" space for a day filled with yoga, fitness classes, meditation, stress management sessions, healthy eating and other activities that will help your team shed workload pressures. The venue's open-plan layout and minimalist design make it easy to tailor the space to your requirements.
Check out these Perth corporate function venues for your next event
8. From cocktails to seminars (Adelaide)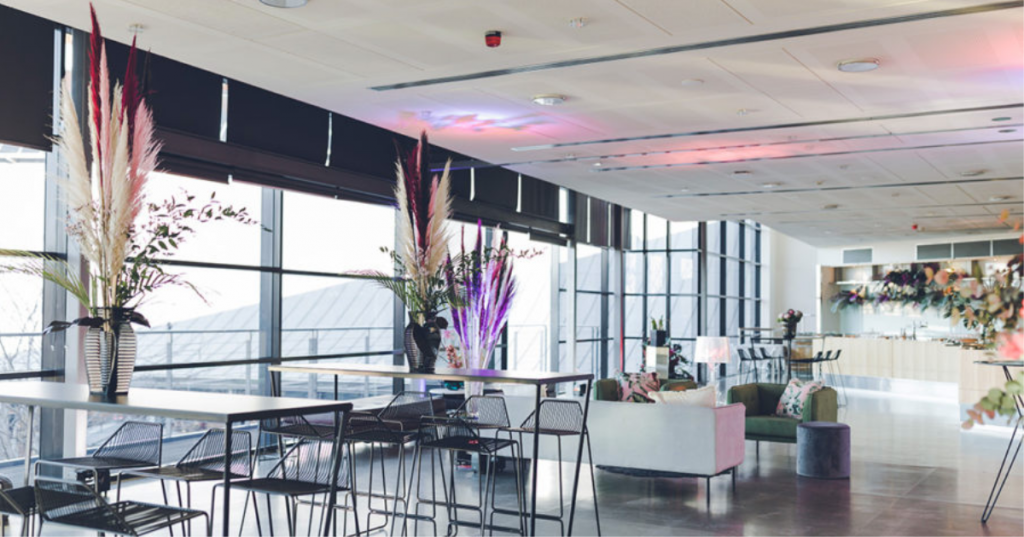 Located in the beautiful National Wine Centre of Australia, this light-filled venue is perfect for almost any type of function. Whether you're holding a conflict management seminar or throwing a dinner party to celebrate a project milestone, playing office trivia or hosting an employee engagement workshop, this versatile and cosy space can be configured to suit your needs.
Aim to impress with these Adelaide corporate venues
9. Pool, arcade games and more (Canberra)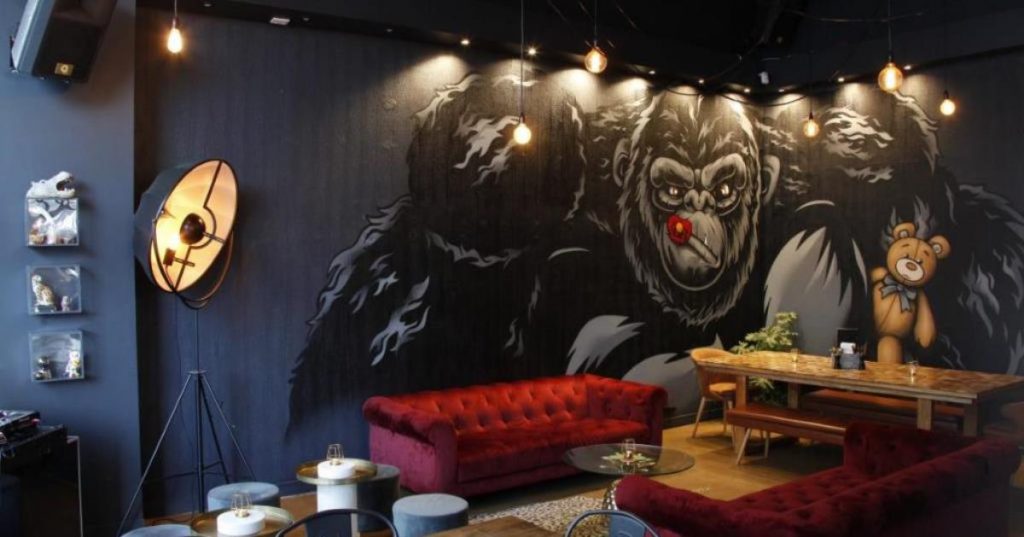 Conveniently located in the heart of Canberra, this venue is what you need for anything-goes gatherings and late-night shenanigans. Book a private section for your team and sit back with beers in hand or book the dining room for a scrumptious meal. Feel up to a challenge? The venue has pool tables, pinball and classic arcade games — perfect for a night of fun and games!
Book your next team-building at one of these Canberra corporate function venues
Where is the best place to find team-building venues in Australia?
Hold corporate events in Sydney from the Sydney CBD; Sydney Harbour, Manly and northern beaches; North Sydney; Coogee, Bondi and the eastern suburbs; Parramatta and the western suburbs; and, Sydney Olympic Park.
Find amazing corporate team-building venues in Melbourne including the CBD; Yarra Valley, Mornington Peninsula and Philip Island; the Dandenong Ranges and Yarra Valley; docklands and Port Melbourne.
Brisbane has some of Australia's top corporate team-building event venues, from suburban areas such as Woolloongabba and Nerang to the Brisbane CBD.
Adelaide has many conference venue options ranging from secluded wineries with scenic views of McLaren Vale to function rooms in major hotels in the city centre.
Perth also offers great team-building experiences at stunning beachside locations like Scarborough Beach or South Fremantle, as well as function venues in Perth's central business district and surrounds.
Canberra has some of the best corporate team-building venues, from stunning bars like The Dock to award-winning restaurants such as Akiba on Lonsdale Street.
No matter what kind of team-building activities you're looking for, Australia is sure to have something for you. With a wide range of venues, activities and locations, you're bound to find the perfect spot for your next corporate team activities!
Find more great venues on VenueNow
Not sure which of the team-building venues above will suit your needs? Fill out an event brief and we'll help you sort it out. Want to see more venues? Use our venue finder for a curated selection of venues for corporate events with space and amenities for fun team-building activities.
Looking for a corporate venue?
VenueNow has you covered with over 2,000 venues across Australia ranging from large event spaces to small meeting rooms. Find your perfect venue for hire faster than anywhere else.
Follow us on social media to stay up to date with the latest news
Call our support team on
1300 647 488 during business hours
AEST or chat online.
© Copyright VenueNow 2022 | SPARE GROUP PTY LTD | ABN 22 607 830 302