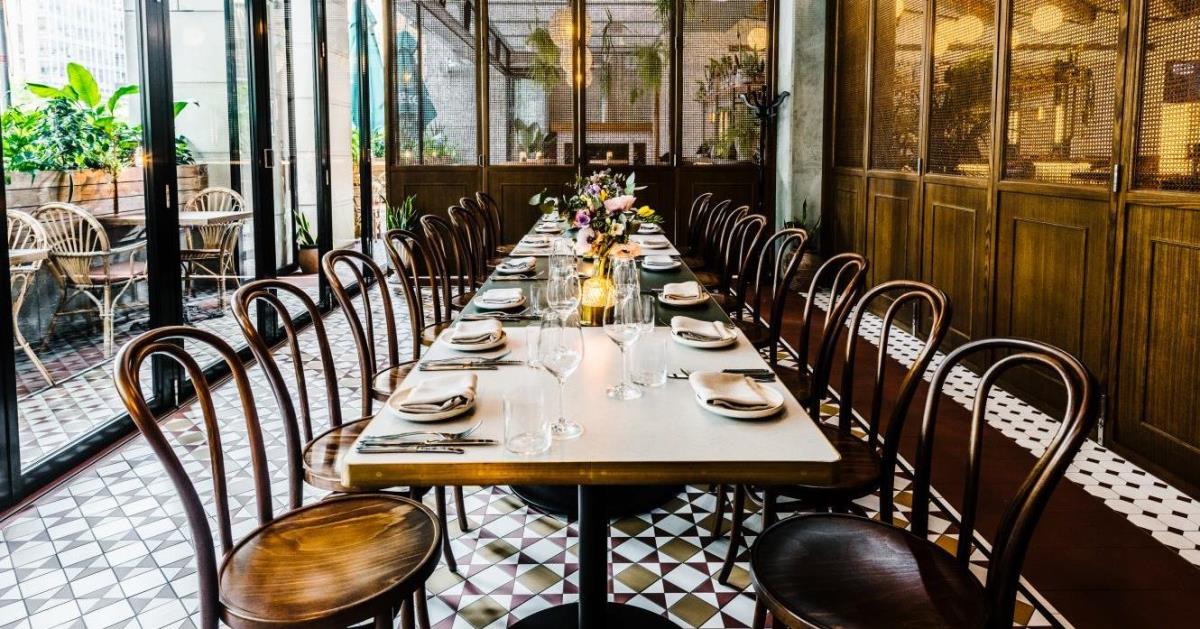 Verandah Bar
55-65 Elizabeth Street, Sydney NSW 2000, Australia
(View on map)
2209 people are interested in this space
Frequently Asked Questions
What function spaces are there at Verandah Precinct?
There are eight different function spaces at Verandah Precinct including:
Verandah Bar
Verandah Whole Venue
Verandah Bar is Sydney's stylish entertainment precinct. With a multitude of unique events and dining options, your needs will be met within one chic place. From cocktails to canapés, larger events or light lunches - Verandah has it all! Whisked away from the busy streets of Sydney by our elegant decoration and ambient music sets every Friday evening; you'll find yourself in an indulgent world at Verandah Bar.
Lover's Lane
Lover's Lane, a semi-concealed nook within the Verandah Bar precinct, offers just enough privacy to fall in love with our food and wine. Lover's Lane has direct access to the bar and is available for both casual pop-ins or exclusive use as well as larger functions that incorporate The Lookout next door.
The Lookout
The Lookout was created to make the ultimate social space for both small and large gatherings. By using zig-zag art deco tiles, bar seating, and communal tables they are able to provide their customers with a place where they can have fun no matter what size group of friends you come in as.
Naughty Corner
All the cool kids end up in the Naughty Corner! Loosen your tie behind the neon sign and enter a space where you can finally be yourself.
Social at Verandah
Social Whole Venue
From its central bar to a fireplace glowing with warmth, Social at Verandah is the perfect party location. With luscious greenery and different dimensions around every corner, it's easy for guests to create lifelong memories in this space.
Private Dining (Social)
If you're looking for a place to host your next event, the Private Dining Room may be just what you need. With its intimate setting and balcony overlooking Sydney's busy streets, not only will guests have exclusive access to fine wine but also an unforgettable view of this gorgeous city!
Balcony & Fireplace (Social)
The Balcony, with its neo-colonial feel and lush greenery, is a place where you will want to while away your evening. The plush seating sets the tone for an exemplary service that has become known as one of Sydney's best clubs. This semi-alfresco space provides access to Central Bar, Fireplace and breathtaking views of Sydney hustle; it draws many people from all over Australia who are looking for something special in their nightlife experience.
Verandah Public
Whole Venue
Verandah Public is the perfect venue for any event you are planning. From conferences to weddings, this space has everything your guests will need and want during their stay at Verandah. The state-of-the-art big screen is great for presentations or watching an athletic game on a Sunday afternoon with friends while there's also open-air seating in case things get too hot inside when it's warm outside! A private bar offers hospitality service as well so if making drinks isn't your style then don't worry about adding that task into what already seems like a daunting list of tasks for hosting our next party!
---
Where is Verandah Precinct located?
Verandah is in an ideal location at 55-65 Elizabeth St, Sydney NSW 2000, just metres from Martin Place station.
---
How much does an event cost at Verandah Bar?
Events at Verandah Bar start from 500.00.
This may be subject to change due to seasonality, day of the week, duration and your specific requirements. For an accurate quote for your event please send an enquiry or contact one of VenueNow's Event Booking Experts.
---
What type of events can be hosted at Verandah Bar?
The following types of events can be held at Verandah Bar:
- 30th Birthday Party
- 40th Birthday Party
- 50th Birthday Party
- AGM
- Bar Mitzvah
- Birthday Party
- Christmas Party
- Cocktail Party
- Corporate Function
- End of Financial Year Party
- Corporate Offsite
- Engagement Party
- Function
- Meeting
- Networking Event
- Product Launch
- Seminar
- Trivia Night
- University Ball
- Workshop
- Wedding
- 21st Birthday Party
- Awards Dinner
- Baby shower
- Bat Mitzvah
- Bridal shower
- Christening
- Conference
- Hens Night
- Gala Dinner
- Private Dining
- 18th Birthday Party
- Bucks Night
- Ceremony
- Corporate Retreat
- Executive Retreat
- Residential Conference
- Training

If your specific event type is not on the list, contact one of VenueNow's Event Booking Experts and they will check if Verandah Bar is able to facilitate your event or will help you find an alternate venue.
---
How do I find out if Verandah Bar is available for my event date?
The best way to find out if Verandah Bar is available for your event date is to send an enquiry through or get in contact with one of VenueNow's Event Booking Experts.

Availability at many venues around the country is limited so if your date is flexible, please let the VenueNow team know and the venue may be able to provide a range of dates that suit your needs.
---
What catering / food and beverage options are available at Verandah Bar?
The following food and beverage / catering options are available for guests at Verandah Bar:
- Bar Tab
- Filtered Water
- Inhouse Catering

For more information regarding food and beverage / catering options, please contact a VenueNow Event Booking Expert.
---
What steps are involved in booking an event at Verandah Bar?
There are a few steps involved in booking an event at Verandah Bar and the VenueNow team are here to do the heavy lifting for you.

Firstly, contact the VenueNow team by submitting an enquiry or speaking to one of our team members online or over the phone. We'll need to collect a few details from you, such as your:
- Event type
- Number of people attending
- Preferred event date & time (and if this is flexible)
- Budget (per person or total)
- Room layout
- Food and beverage / catering requirements
- Any other requirements

Once we've gathered these details, the VenueNow team will contact the team at Verandah Bar to check:
1) Can they host the event on your preferred date / time? If not, what are some alternate dates / times?
2) What is the estimated cost based on your event requirements?

This process tends to take around 1 business day on average to receive a response from the venue. Once we've received a response, the VenueNow team will contact you as soon as possible.

If you're happy with the proposed price and dates / times, the VenueNow team will connect you with Verandah Bar to finalise your booking (which may include a site visit if you choose to do so).

VenueNow provides this service free of charge to you as we are paid a small fee by Verandah Bar if you book via us.
---
I have more questions. How do I get in contact?
There are a number of ways you can get in contact:
1) Call the VenueNow team on 1300 647 488 during business hours AEST
2) Contact the VenueNow team via our online chat in the bottom right of the screen
3) Submit an enquiry via the form on the page

The VenueNow team usually reply within a few hours during Australian business.
---
What do people love about the Verandah Bar, Sydney?
The Verandah Bar and Restaurant is a one-stop entertainment hub where delectable food, decadent cocktails and impeccable service meet to create the perfect urban oasis.
With a plethora of event and dining options, your entertainment needs can be met within one stylish precinct. From cocktails to light lunches or afternoon drinks set by our resident DJs every Friday evening - Verandah will delight you with its variety!
Located in Sydney's bustling CBD, the Verandah Restaurant and bar features 8 event spaces that cater for any adventure you can think of! Each of these rooms boasts a jungle vibe, luxurious feel to ensure a unique event for you and your guests. Need a space for larger events? Not to worry cause you can even book the whole venue for your exclusive use!
With all that it has on offer, the Verandah Precinct becomes the pitch-perfect refuge in Sydney's bustling CBD. So what are you waiting for? Book Verandah bar today!
Your Contact Details
The venue will contact you directly
Phone Number Verification
Please enter the code we just sent to your phone
Save to a list
Create a list
Sign up