UPDATED 2022: It's the most wonderful time of the year...unless you have a Christmas party to plan and then things take a turn. Rather than wait to the last minute, get going with your Christmas party planning now. That will mean come December 1st, you're basking in the glow of the season, not wishing it would end soon. Here are 20 amazing venues around Australia that are perfect for hosting your Christmas party this year.
Christmas Party Venues in Sydney
Harbour views? Tick. Great lighting? Tick. Generous capacity? Tick. These five party venues in Sydney really do have it all.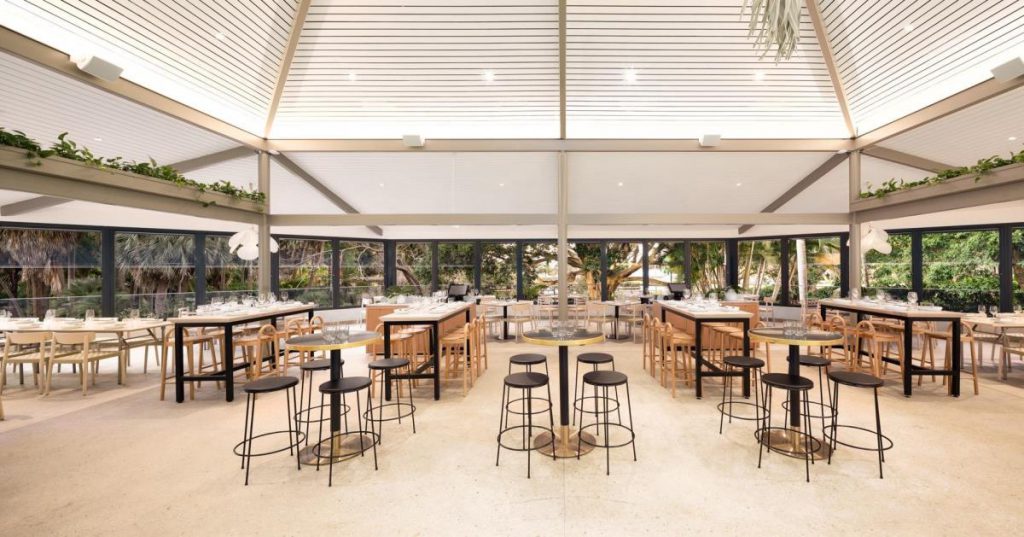 Botanic House
In the lush surrounds of Sydney's Botanic Gardens, you'll find Botanic House. The venue has been carefully designed to take full advantage of the gorgeous setting; with an open-plan setup, outdoor terrace and plenty of natural light. It's a real showstopper with a capacity for 80-300 guests, depending on whether you choose a seated or cocktail event.
Cruise Bar
Day or night, it's hard to beat panoramic views of Sydney Harbour, the Opera House and city skyline. Which is what makes Cruise Bar one of the best Christmas party venues in all of Sydney. With large indoor and outdoor spaces, you can host a party for up to 400 guests that will take their breath away.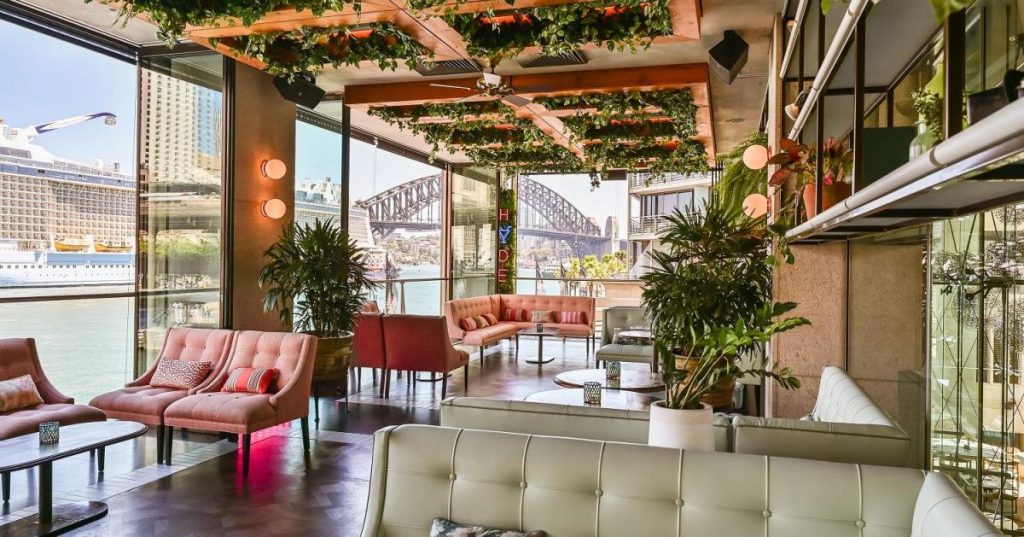 Hyde Hacienda
Food, beverage and decor are all 5-star at Hyde Hacienda. It's one of Sydney's favourite nightlife spots, and it can be exclusively yours for this year's Christmas party. Plan an event for up to 200 with all the trimmings. We're talking harbour views, South American inspired eats and a seriously good drinks list. Add a little extra with a welcome cocktail from their signature selection.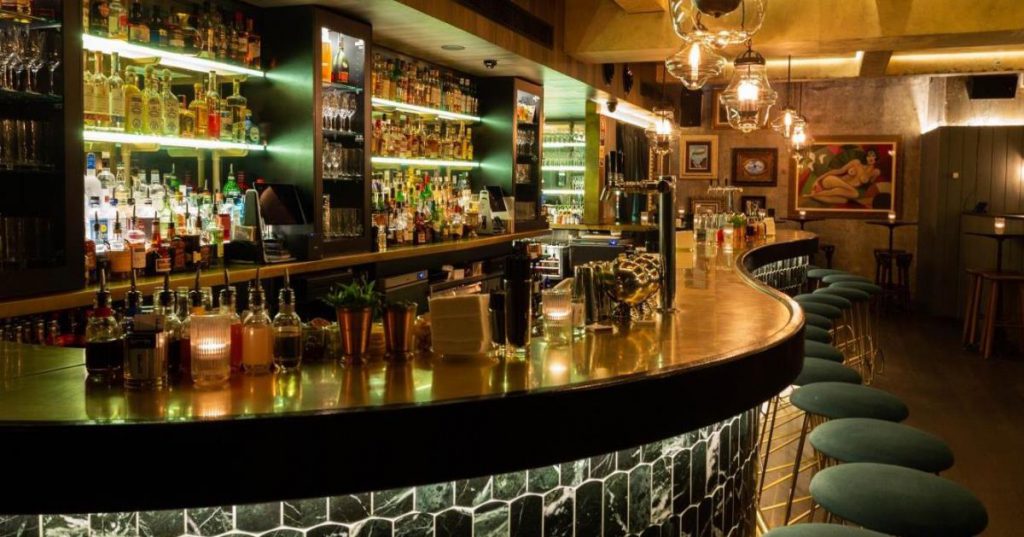 Employees Only
What's a Christmas party without a pun or two? Host your 2021 event at Employees Only bar...get it? Taking inspiration from the original venue in New York's West Village, there's room for 80-200 guests at this underground bar. Finding the venue is its own delight with the entrance tucked behind a psychic sign. You can even add tarot readings to your event entertainment.
ivy Penthouse
For a truly unique party, and maybe a bit of showing off, try the ivy Penthouse. Featuring a private spa, custom-built bar and balcony - it's a venue with more than a touch of class. You can plan a cocktail party for up to 120 guests, or opt for indulgent private dining for a group of 22. Post-party there's endless options to explore in the rest of the ivy complex.
How much does an event cost?
Calculate your event cost in under 5 minutes
Christmas Party Venues in Melbourne
Melbourne is known for so many things - from rooftop bars to sporting events, luscious gardens and inner-city vibes. These five venues celebrate the best that the city has to offer.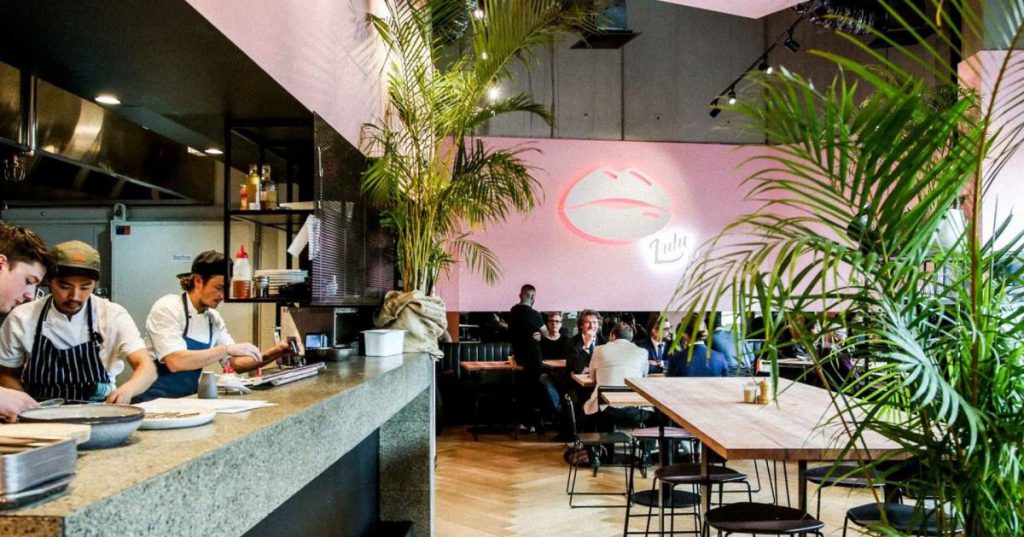 House of Lulu White
Hot pink walls and Palm Springs inspired interiors set the scene at Lulu White for your end of year event. The space can hold up to 60 for a sit-down dinner or 90 for a cocktail reception. There's an ace sound system that works great whether you're planning a DJ, a band or a playlist.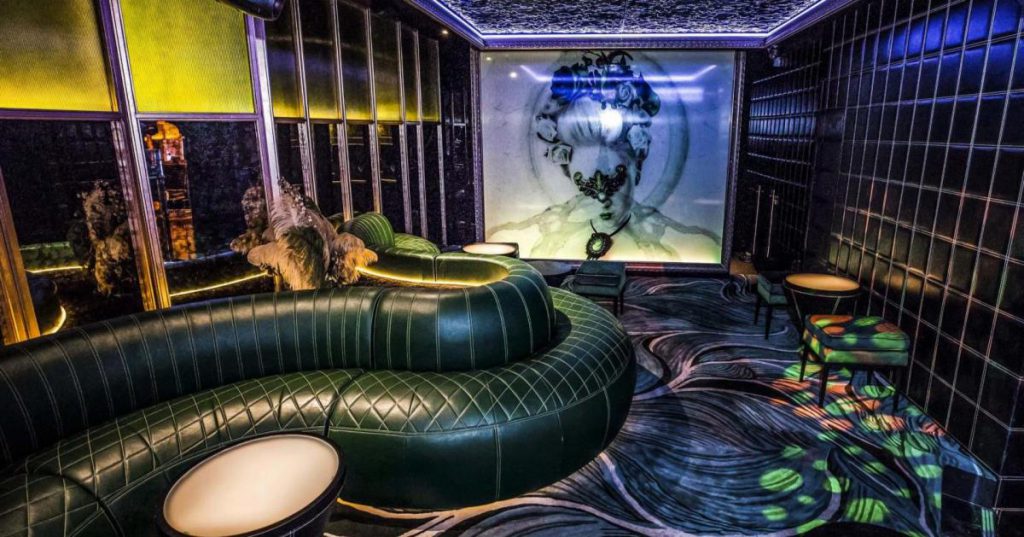 Baroq House
Every single corner of Baroq House has been decked out in luxurious decor. From the emerald green lounge suites to the golden drapes, this is opulence at its best. The in-house events team know what it takes to throw an unforgettable party. They'll help you with everything from food and beverages to entertainment options.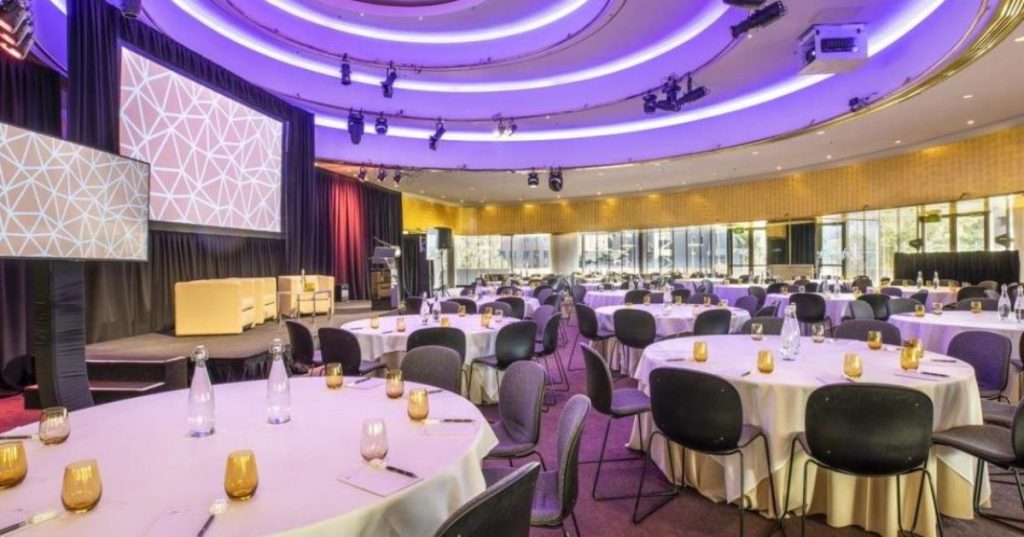 Arts Centre Melbourne
Take your Christmas party to one of Melbourne's most iconic landmarks. The Arts Centre has more than one spectacular space for you to choose from, but The Pavilion is one of the most popular. With its wraparound balcony and views over the Yarra - it's easy to see why. The space can host from 240-500 guests, depending on event style. You'll also have access to a light-filled entry foyer featuring an impressive display of woven tapestries.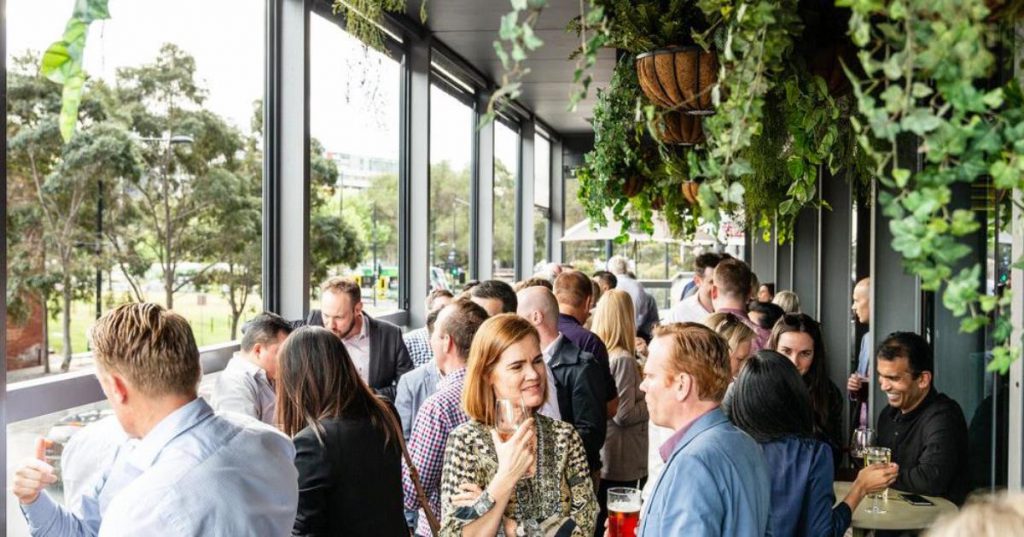 Hightail
A hidden gem of Melbourne's venue scene, Hightail is a true garden oasis in the heart of the concrete jungle. There are multiple spaces available with private bars in each and capacity for anywhere between 100-400 guests. Our favourite? The Atrium, pictured above, with its large glass windows and hanging greenery. Choose between grazing tables, a seated menu or classic canapes to feast on for your event.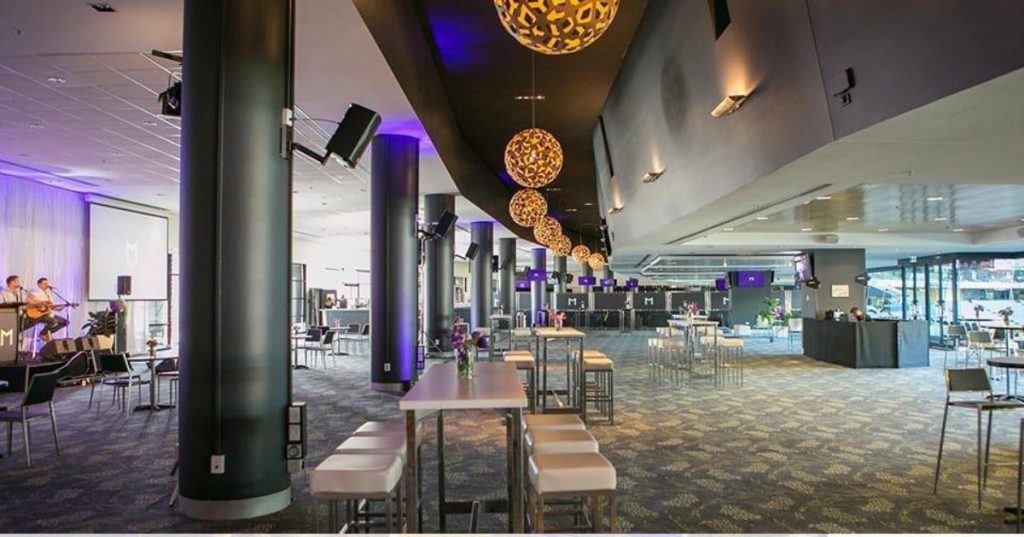 Marvel Stadium
When it's not filled with cheering sports fans or concert goers, Marvel Stadium plays host to spectacular corporate events. From conferences to Christmas parties, you'll be in safe hands with their events team. The Medallion Club is one of their premium rooms which hosts 300-500 for a banquet meal or up to 1200 for cocktail events.
Christmas Party Venues in Brisbane
From the glamorous 1920s to the coast of Italy, these top venues in Brisbane will take you to a world far, far away for your Christmas party.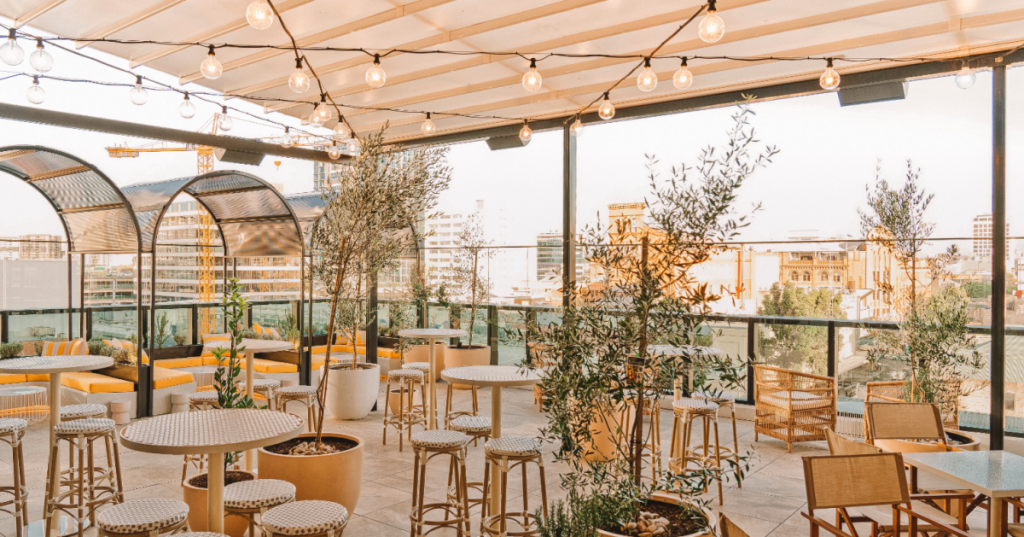 Cielo Rooftop Bar
Walking into Cielo Rooftop is like escaping to the Italian Riviera. With food and decor inspired by seaside destinations from Sicily to Sardinia and Liguria, it won't feel like you're in Brisbane anymore. There are plenty of booths for lounging with a cocktail, plus a balcony with supreme views of the city. You can plan an event for anywhere between 40-180 guests.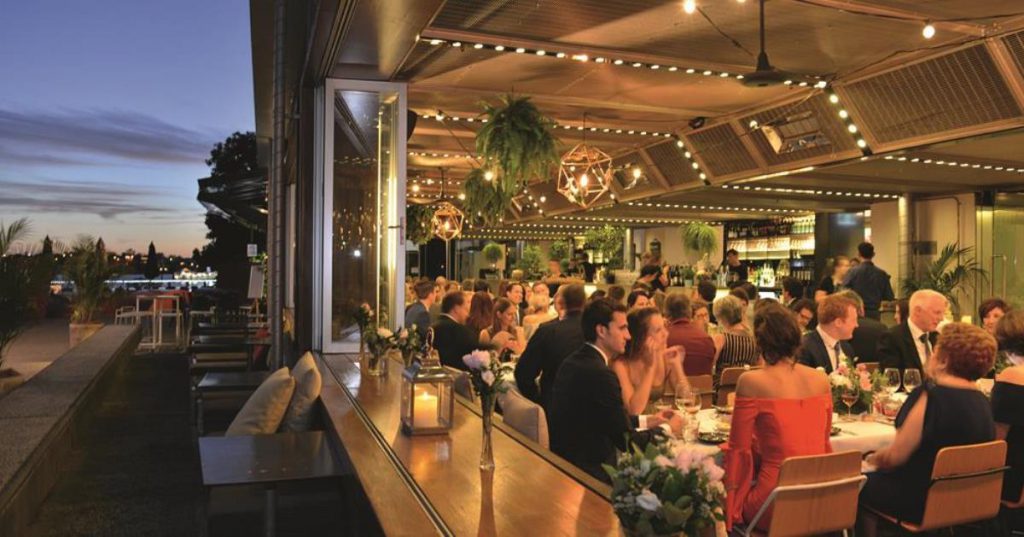 Mary Mae
Mary Mae's is an open-plan restaurant with four amazing spaces for your private dining or cocktail event. You can book just one, or hire out the whole venue for up to 300 guests. With views to the Brisbane river and industrial minimalist styling, the backdrop is set for whatever party theme you desire.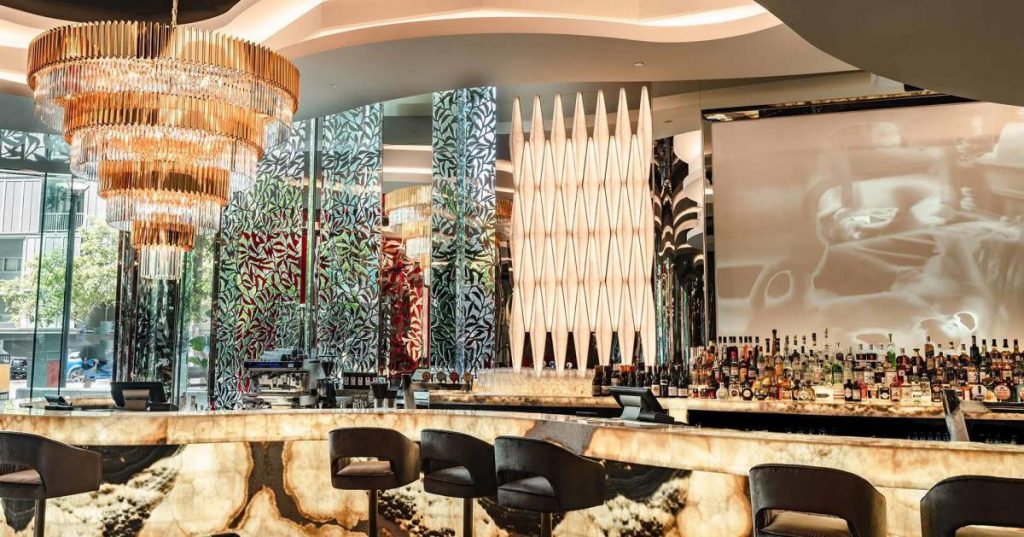 Emporium Hotel Piano Bar
The theme at the Piano Bar is 1920s jazz. From the swinging chandeliers to the impressive cocktail list; they haven't missed a beat. It's the perfect venue for you to host a glamorous Christmas party - think feathered dresses, swish suits and pumping jazz throughout the night. This space holds up to 100 guests for a cocktail party.
Christmas Party Venues in Gold Coast
Whether you're looking to be entertained or to host a classically elegant end of year event, these top venues on the Gold Coast have it covered.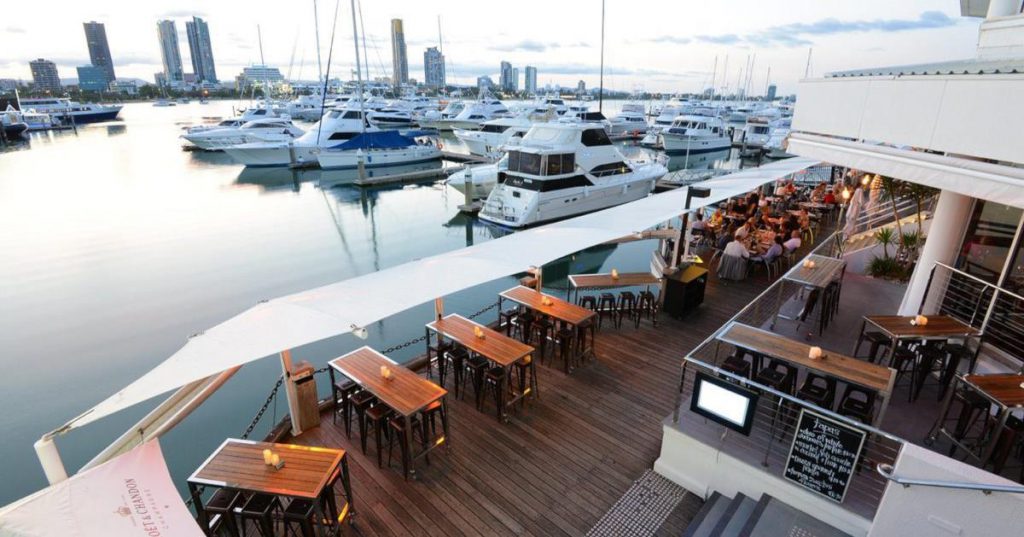 Glass Dining Lounge & Bar
Crisp white tablecloths and waterfront views ensure every event at Glass Dining & Lounge Bar is brimming with elegance. There's space for up to 300 for a cocktail event or 180 for a fine dining banquet. It's a truly professional event space that toes the line between corporate and fun in all the right ways.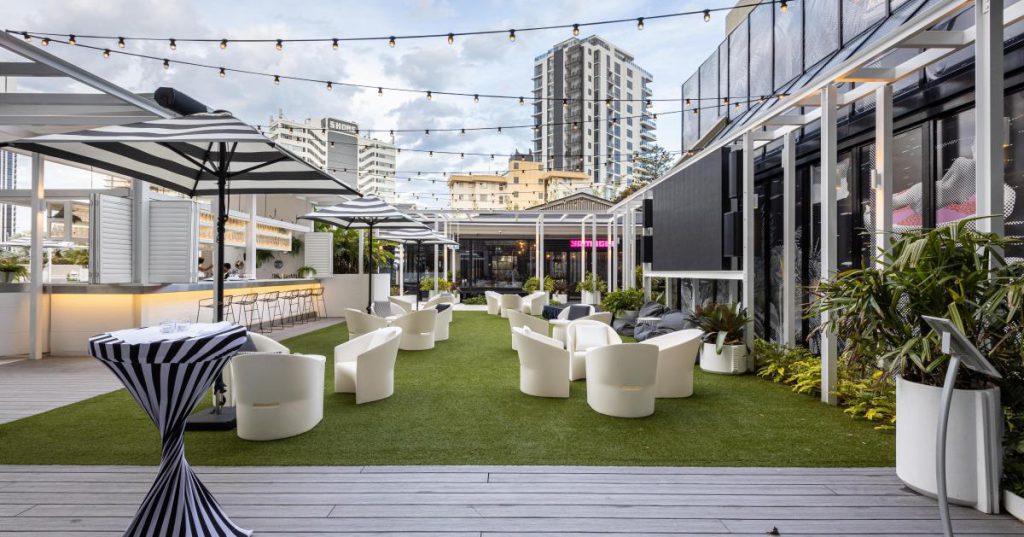 QT Gold Coast
A Christmas party is more than just a celebration - it's a branding opportunity for your company to entice the best talent. Give everyone who doesn't work for you FOMO with a party on The Green, part of QT Gold Coast's poolside precinct. You can host 80 guests for a seated buffet dinner or 150 for a cocktail party.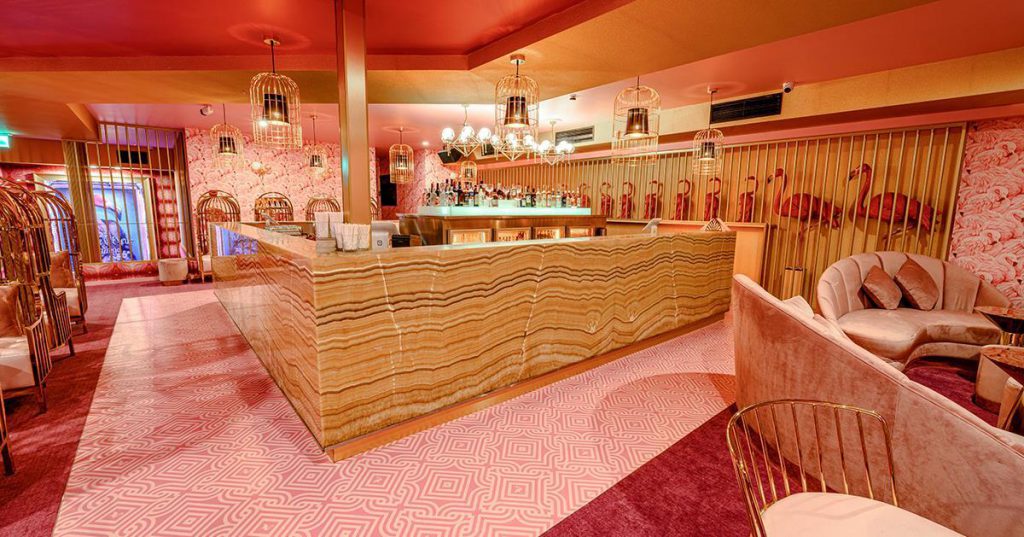 The Pink Flamingo
Flamboyant and pink, just like its namesake, the Pink Flamingo is one of the Gold Coast's most unique venues and event experiences. Where they really stand out is with entertainment. Your Christmas party could feature fire breathers, acrobats, contortionists, comedy, drag queens and much, much more. Book it for up to 100 guests.
Christmas Party Venues in Adelaide
The food, the culture, the festivals - Adelaide is a top event city and there's more than enough venues to match your perfect Christmas party style. Here are our two top picks.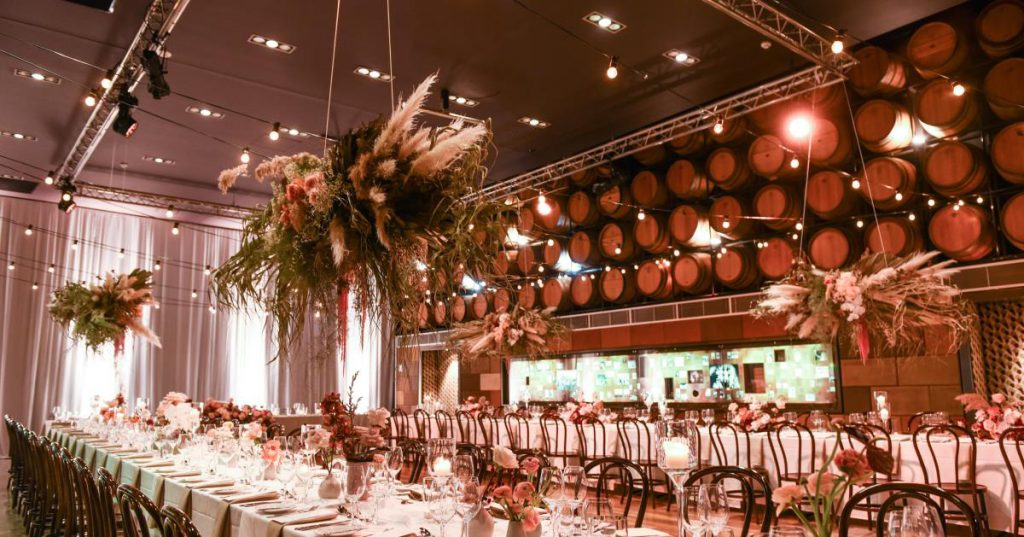 National Wine Centre of Australia
With its bountiful wine regions, Adelaide is the perfect city for a winery Christmas party. But you don't have to travel out of the city for a great venue. The Exhibition Hall at the National Wine Centre of Australia features all the winery memorabilia, and it's in the centre of the city. They have dedicated Christmas party packages and space for between 120-200 guests.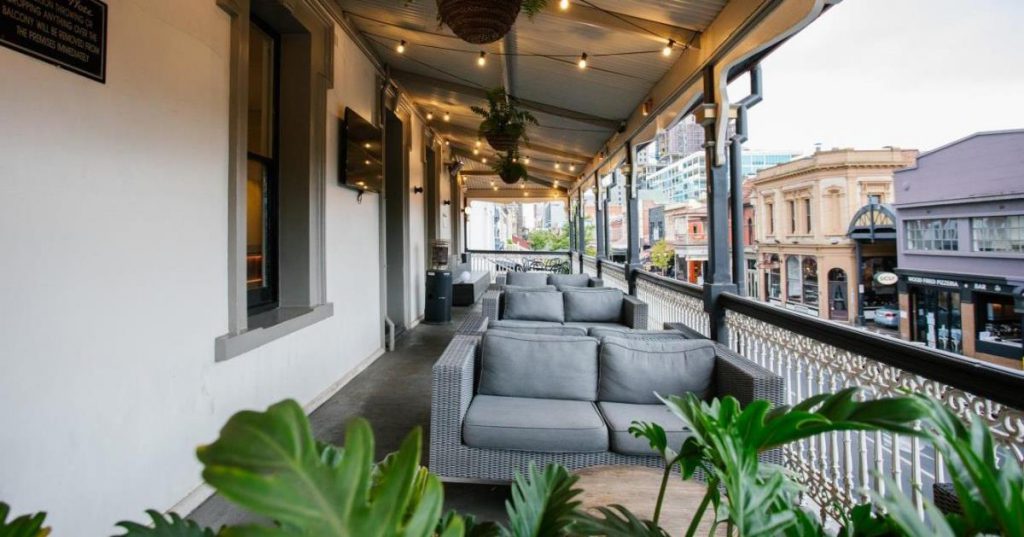 The Stag Public House
Pubs make a classic venue for any event. The Stag Public House is a dressed up version of your local down the road. You can hire a private room for your function or take over the whole of level one, including a balcony overlooking Rundle Street and the East End Parklands. The Stag has space for up to 350 guests.
Christmas Party Venues in Perth
Perth is so much more than beautiful beaches. It's also a premium events hub with stunning venues to give your Christmas party a designer edge. Here are two amazing options.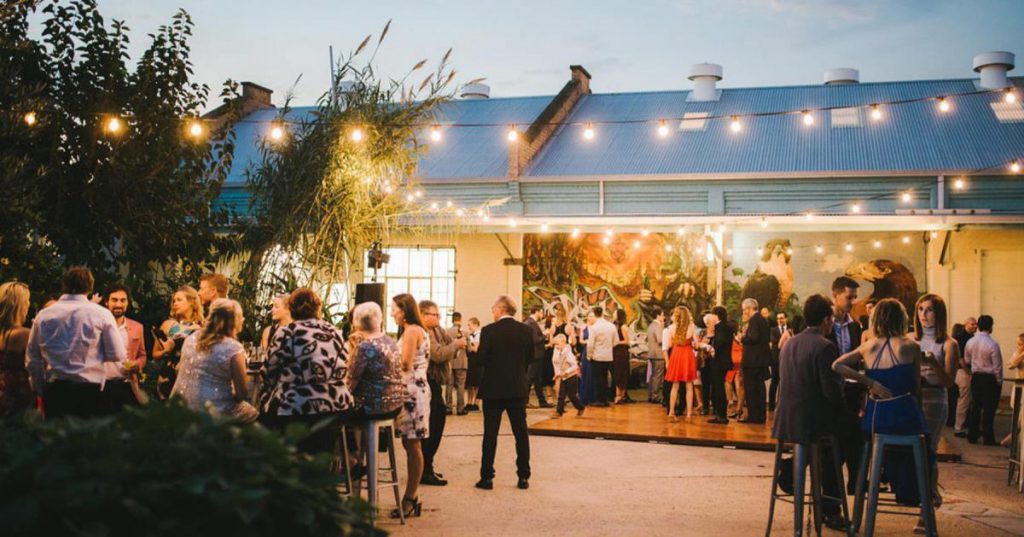 Perth City Farm
What sort of impact is your Christmas party going to have? With the right venue and suppliers, it could be a positive one. Perth City Farm is a not-for-profit organisation with a beautiful rustic barn and courtyard that can be hired for events. It's an ideal blank canvas - they provide the space, you provide the party. Everything from the furniture to the catering is up to you. Your event can host anywhere from 150-400 guests.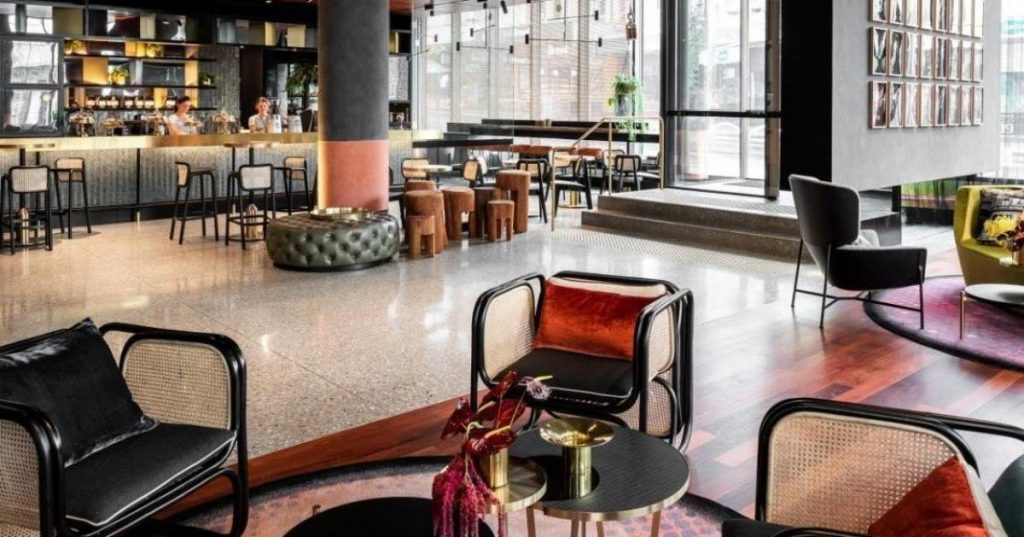 QT Perth
Home to the finer things in life, QT Perth is a premium events destination. The Lobby Bar is a designer space for cocktail parties between 30-150 guests. As day turns to night, they swap the coffee grinds for champagne and the atmosphere takes on a touch more sophistication. Add a signature cocktail on arrival to give your event that extra je ne sais quoi.
Plan an unforgettable Christmas party
There are two things that take a Christmas party from great to unforgettable; one is the guests, the other is the venue. Let us help you find the venue of your dreams for this year's event. Search our venue finder to see options in your city or submit an event brief and our friendly team will take over planning. VenueNow lists over 2,000 event and meeting spaces across Australia - we're sure to have your perfect fit.
Get a shortlist of available venues
Venues are booking up fast for end of year events, but we know which ones are still available. Submit your event brief and we'll match you with the perfect venue ASAP.
Follow us on social media to stay up to date with the latest news
Call our support team on
1300 647 488 during business hours
AEST or chat online.
© Copyright VenueNow 2022 | SPARE GROUP PTY LTD | ABN 22 607 830 302