Choosing a blank canvas venue gives you maximum creative freedom and allows you to include all of the details that make your event meaningful and special. These venues are the ideal setting for those who want complete control over the event's look and feel (a big reason why event planners love them).
Blank canvas venues are suitable for just about any type of gathering you want to personalise — from themed birthday parties and weddings to trade shows and product launches. Looking for the best blank canvas venues in Sydney? Here are 9 of our top picks of blank canvas venues Sydney has to offer.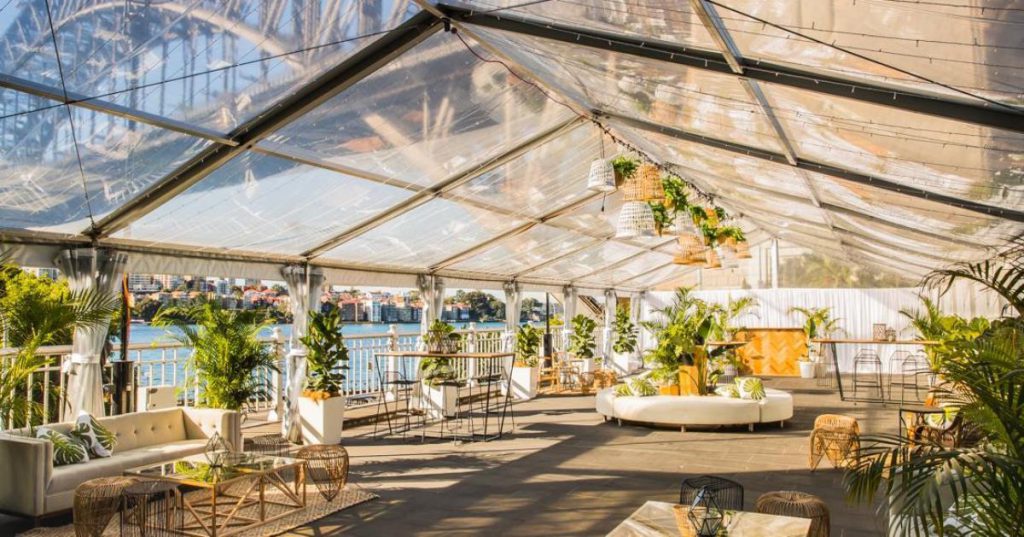 Pier One Sydney Harbour
It's possible this is the most versatile blank canvas venue in all of Sydney with 18 unique function spaces to choose from. Our top pick? The Bridge Marquee is an exquisite, open-air option that can be customised to suit your every need. It's a hero of the wedding scene and a popular choice for corporate events and cocktail receptions. The space boasts an abundance of natural light. Plus, who can forget the unparalleled views of Sydney Harbour Bridge, Walsh Bay and the city skyline?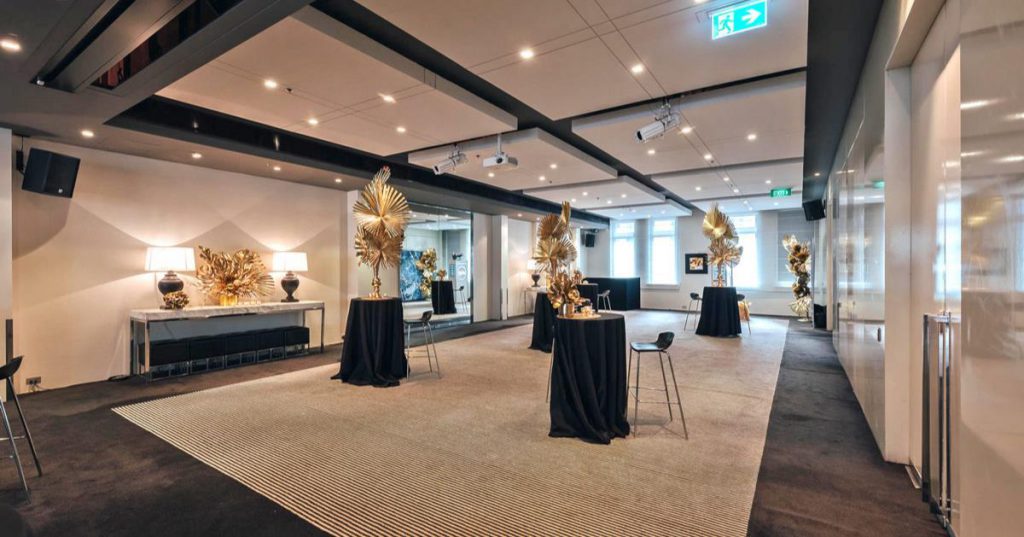 Establishment
Establishment offers three function spaces that can seat up to 350 guests. Function spaces offer gorgeous views of The Establishment Garden whilst adjoining smaller rooms serve as breakout areas during conferences. For this venue, it's all about the location. In the centre of the city, your guests will find it easy to get to your event and be moments away from more great venues for an after-party. Think late-night drinks from Hemmesphere or Palmer & Co., the on-site bars, and Cantonese-style dishes from Mr. Wong.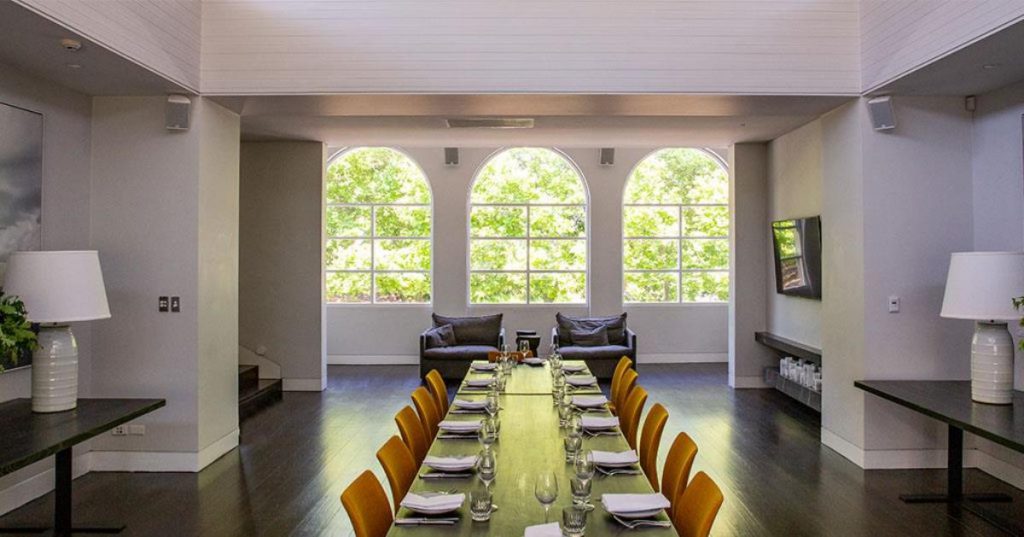 The Apartment Hotel Centennial
Converted from a former private residence, this modern minimalist venue makes you feel like you're entertaining from your own home. The property exudes elegance but has an inviting air that makes it so suitable for intimate gatherings. If you're looking for a venue for an engagement party, anniversary dinner, or client lunch, you'll love the huge boardroom, in-house AV equipment, and light-filled warmth in this space. It's a great spot for both day and evening events for business or pleasure.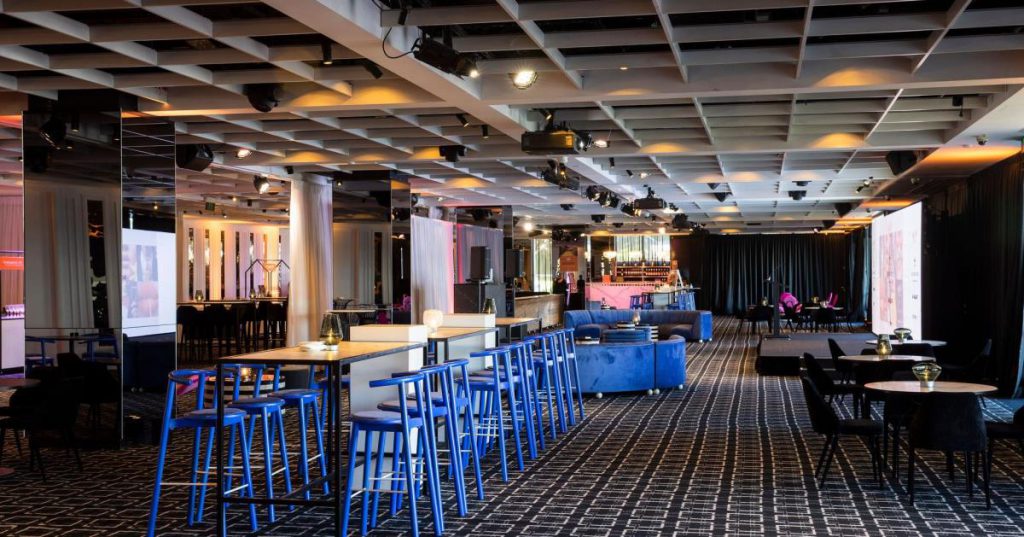 Doltone House Darling Island
Doltone House Darling Island is located within minutes of Darling Harbour, the International Convention Centre (ICC) and the Sydney CBD. This creative space in Sydney City features three levels of private event spaces that can cater for up to 1000 guests. The contemporary design provides flexible entertaining areas and the professional staff offers friendly, experienced service. With its sheer grandeur, Doltone House is perfect for celebrating special occasions such as weddings and milestone birthdays.
How much does an event cost?
Calculate your event cost in under 5 minutes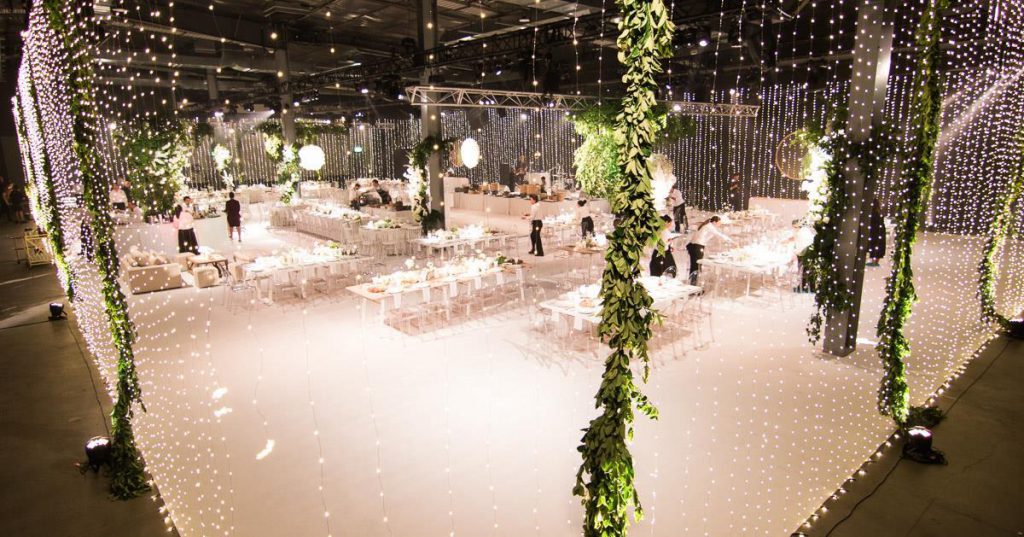 The Venue Alexandria
This venue is one of Sydney's newest premium warehouse spaces. This unique heritage venue situated between Sydney's International Airport and Sydney CBD played host to a huge range of events from cocktail parties to trade shows, fashion shows, conferences, exhibitions and banquet dinners. The sky's the limit for your event design with generous 7.6m high ceilings and 1,900 sqm of floor space at your disposal. To top it off, there are cloakrooms, onsite parking and great air conditioning to keep your guests comfortable all year round.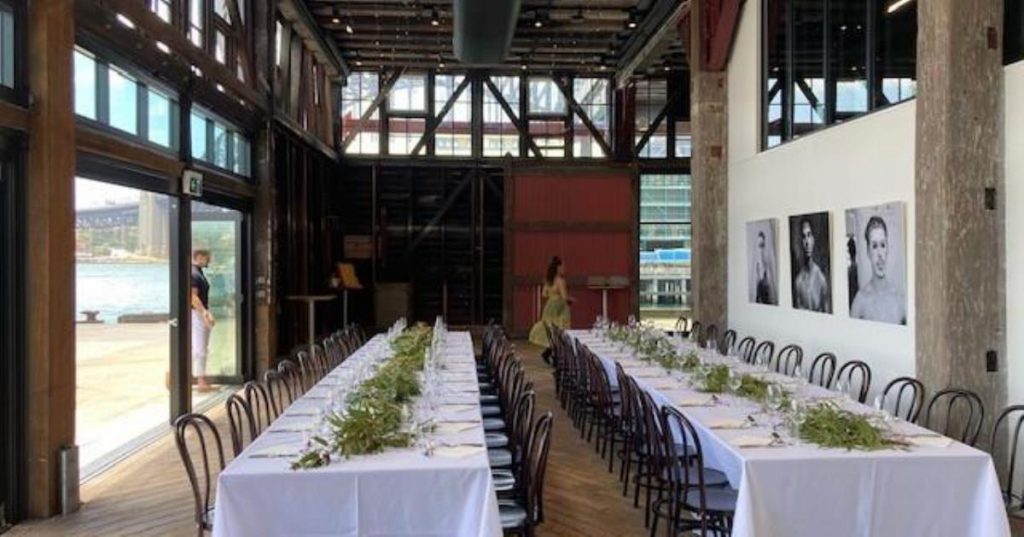 Bangarra Dance Studio
A refurbished, heritage-listed dance hall, this blank canvas wedding venue is in a prime location in Sydney: right on the edge of Sydney Harbour, in the middle of the bustling Walsh Bay arts sector with spectacular views of Luna Park, the Harbour Bridge and North Sydney. Bangarra is the country's top Indigenous performing arts company. This dance studio is a creative centre for some of Australia's most well-known Indigenous artists and is imbued with a unique creative spirit.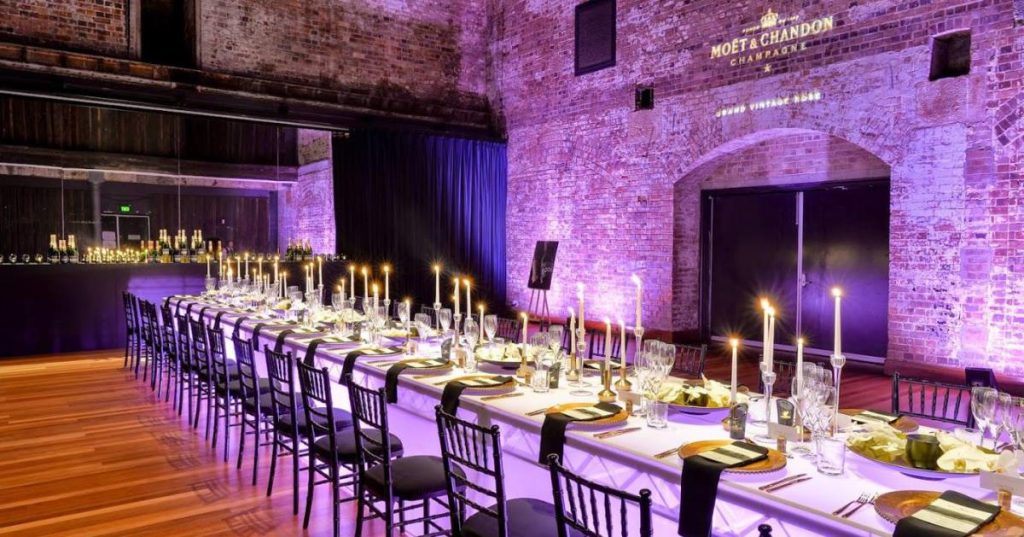 Walsh Bay Kitchen
Walsh Bay Kitchen is a world-class restaurant housed in the Roslyn Packer Theatre (previously Sydney Theatre) and boasts an exceptional position just minutes from Circular Quay. The venue has a semi-private dining room that's ideal for smaller gatherings such as midweek company lunches or after-work celebrations. The food philosophy at Walsh Bay Kitchen is all about serving attractively presented, flavourful food that reflects the exceptional quality of Australian seasonal and sustainable produce.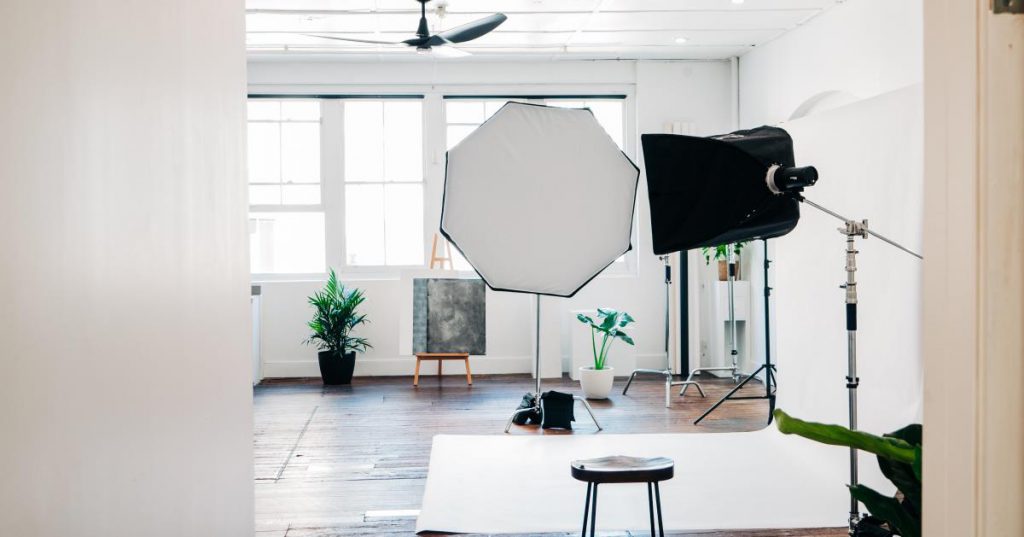 Studio Palms
If you're looking for a smaller space for about 40 seated guests, this light-filled venue is perfect. Studio Palms is also the ultimate space for content creators. They can help you with photography, videography, events and workshops, to name a few. Studio Palms counts many of the country's most important filmmakers, designers and marketers as friends and family, and you'll often find them right here.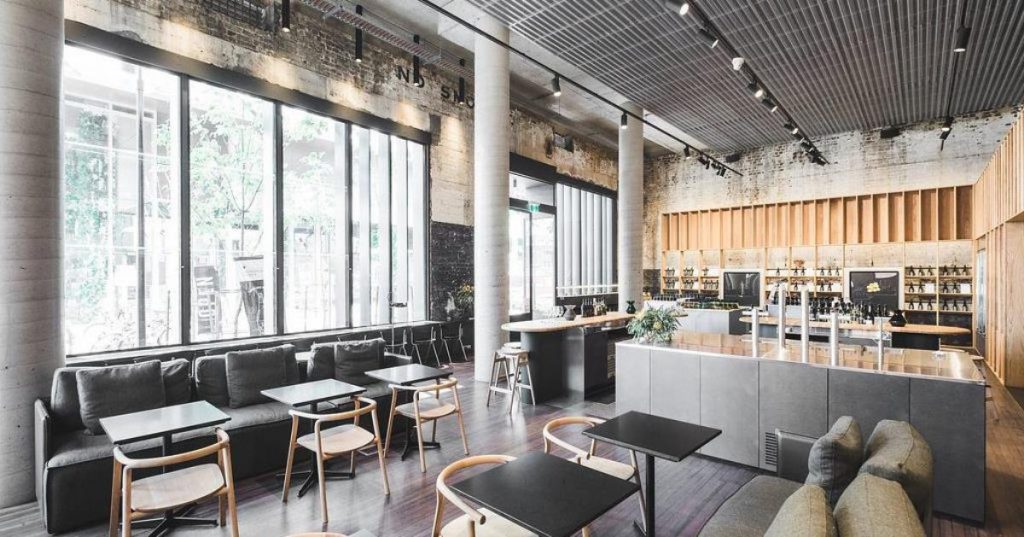 Handpicked Wine Cellar Door
Handpicked Wines, located in a converted industrial warehouse, has delivered a one-of-a-kind cellar door experience to Sydney's CBD. In addition to daily wine tastings and wines by the glass in the lounge, Handpicked's cellar door offers two unique rooms for your gatherings. The Experience Room at Handpicked is ideal for business events such as board meetings and team-building activities, as well as private parties and educational wine experiences.
Whatever event you're planning, VenueNow can help you find blank canvas venues in Sydney on which to build your vision. Whether you are organising a wedding, exhibition, live performance or a corporate team-building exercise, we invite you to explore our warehouse & Blank Canvas venue options in Australia for your next event. Submit an event brief to get started.
What should I keep in mind when looking for a blank canvas venue in Sydney?
Whether you're planning your dream wedding, cocktail party, or other social gatherings, there are a few things you should consider when booking a blank canvas venue:
Venue Size
Your guest list and the type of event you're planning will be key when selecting a blank canvas venue. Preferably, look for venues that are not too large or too small, as this will ensure all attendees have enough space to move around comfortably while also leaving room to set up furniture, decorations and other elements according to your style.
Catering & Bar Service
Accessibility and convenience are two of the main factors when looking for a blank canvas venue. A great way to ensure that both these requirements are met is to select a venue that offers its own catering and bar services so that you don't have to worry about finding your own external providers. This will also avoid additional costs in hiring third-party providers. Some of the blank canvas venues are even BYO venues that allow you to bring your own food.
Accessibility
Choosing a blank canvas venue with adequate parking and easy access for your guests is essential. If you're hosting an event that requires numerous vendor services, make sure the location has enough loading zones to accommodate them all. Additionally, consider what type of transportation options are available nearby, as well as how far away your guests will be coming from.
Facilities
The venue should have all the necessary amenities and services for your event, including a kitchen, tables & chairs, sound systems, AV equipment, WiFi access, and more. Make sure to ask about these before signing any contracts.
Budget
Hiring a blank canvas venue in Sydney doesn't have to break the bank. Consider your budget when selecting a venue as some may charge extra fees for certain services and amenities. Negotiate these costs with the management ahead of time so that you don't get any unexpected surprises at the end of your event.
Looking for a venue to hire?
VenueNow has you covered with over 2,000 venues across Australia ranging from large event spaces to small meeting rooms. Find your perfect venue for hire faster than anywhere else.
Follow us on social media to stay up to date with the latest news
Discover Australia's Top Venues and Function Rooms
Venue Hire Canberra
Venue Hire Gold Coast
Call our support team on
1300 647 488 during business hours
AEST or chat online.
© Copyright VenueNow 2022 | SPARE GROUP PTY LTD | ABN 22 607 830 302