One of the most common briefs the VenueNow team receive at this time of year, is Christmas party venues with a view. In Melbourne, there's plenty of places to choose from, that will take your party to the next (top) level. 
There's something incomparably romantic about Christmas party venues with a view: the sweeping city skyline, the hills in the distance, watching the sun set over the horizon. Venues with a view add that extra element of dramatic sophistication...plus it's just nice to look at. And it's a great way to boredom-proof your event. You can't be bored if you have a stunning view to occupy you.
There's no better view than from 35 floors above the CBD. The Sofitel Melbourne on Collins has a range of spaces that offer expansive views of the CBD. Combine this with an extensive drinks list, and award-winning cuisine, and you definitely have a successful Christmas party on your hands.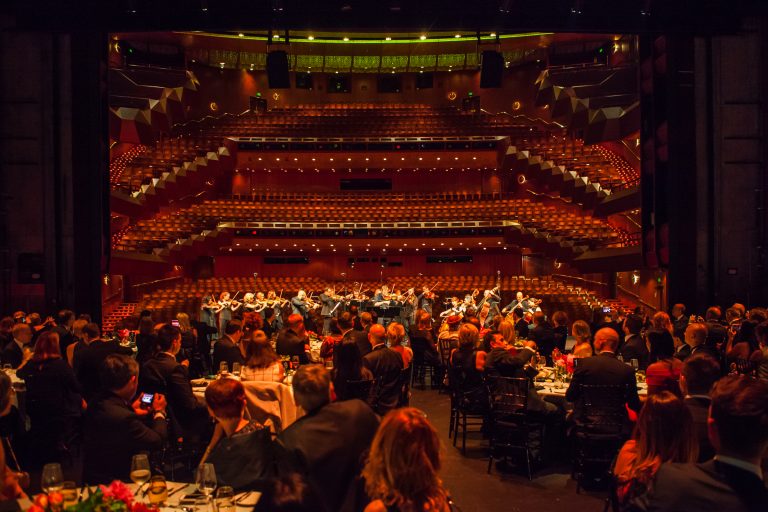 Where do you wanna start? The Pavilion? With its private balcony that looks out towards the gardens and city lights? Or perhaps you want to go all out, and opt for a view that very few see? Hosting your event on stage inside the State Theatre is one of those views that's hard to beat. And unless you're one of the dozens of world class performers that grace its stage each year, chances are it's a view you're not likely to see again.
The name should really give it away. Situated amongst manicured gardens, SkyHigh Mount Dandenong has the most grand views of the greater Melbourne area, reaching 40km into the distance to the Melbourne city lights. This venue is a great option for a day event: bus the troops up the mountain, and then back down again when they're good and merry.
Whether you want a cocktail affair for the whole building, or an intimate dinner for your team, either way, your guests will love it. The Baths Middle Brighton look out over the calm waters of Port Phillip Bay. Celebrate the year's achievements as the sun dips below the horizon, or as the boats sail by.
This is a sunny perennial favourite in St Kilda. Sip cocktails while the soft bay breeze keeps you cool. Across the road from St Kilda beach, this venue mixes chill beach vibes with stylish interiors and comfort. Possible inspiration: Richard Branson's Caribbean mansion.
Located on the South Wharf boardwalk, BangPop is the perfect venue if you're catering to a room full of foodies. With a focus on seasonal ingredients, the modern Thai menu pops with flavour. The decor is bright and inviting. And on a pleasant summer's day, you can't beat a spot on the terrace.
This sleek cocktail bar allows guests to basque in the glow of the city lights...whilst being protected from the notoriously unpredictable Melbourne weather. Maeve Fox has a bespoke cocktail list, and is super close to the city – making it a popular choice amongst the corporate crowd.
Need some more inspiration for your Melbourne venues with a view shortlist? Click here to see more great venues in Melbourne >>
Looking for a Melbourne Christmas party venue?
VenueNow has you covered with over 2,000 venues across Australia ranging from large event spaces to small meeting rooms. Find your perfect venue for hire faster than anywhere else.
Call our support team on
1300 647 488 during business hours
AEST or chat online.
© Copyright VenueNow 2020 | SPARE GROUP PTY LTD | ABN 22 607 830 302